You don't have to be methodical to prepare a freezer full of homecooked meals. Freezer cooking suits a variety of kitchen styles.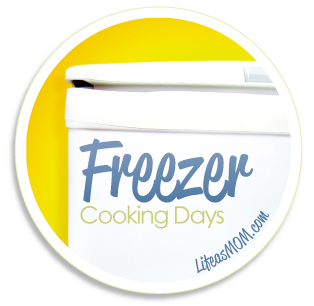 This past week, motivated by ravenous wolves children who are always often hungry, I decided to get ahead of the game by doing an extended freezer cooking session. I know from experience that if there are meals and snacks prepared and waiting in the freezer, I've got major assets to draw from on busy days.
I can breathe a little easier — and keep that nervous twitch at bay.
I've been talking about how I want to work a little harder at buying more nutritious foods at the same time as keeping our grocery spending in check. My conclusions from a recent grocery spending audit was that I needed to:
make more snacks
bake more bread
do a mega freezer cooking session
consider once a month shopping
shop the pantry
strike a balance between good eating and wise spending (they aren't mutually exclusive)
(If you missed the comments on my recent keeping it real and grocery audit posts, hop on over to Good Cheap Eats. The conversation was really helpful and thought provoking!)
Three Birds, One Stone
I decided to combine the first three objectives (homemade snacks, homemade bread, freezer meals) into one major cooking session this week. One fun resource that I had handy was this: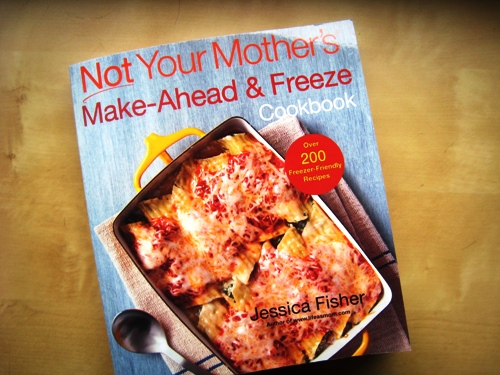 Can you even believe it?!
This is an uncorrected bound galley copy of my cookbook! What fun it was to use this to do my freezer cooking this week instead of from print-outs and scribblings. You can preorder your copy here. And yes, I do get a portion of the sale. 😉
On a side note, I must say that it was soooo much fun to write. I gained ten pounds. And we discovered all sorts of fabulous, new favorite meals. You're gonna love the Manicotti with Feta and Spinach. And the Roasted Vegetable Quiche. And the Caramel Key Lime Bars. And the…
Not only is the book full of delicious recipes (if I do say so myself) it's got loads of cooking plans included to help you make the most of your time in the kitchen. I used one of those plans during my last big cooking session and even I was impressed at how easy it was to prep so many meals in short order!
Fly-by Freezer Cooking
However, this month I decided to take a more spontaneous approach. While it entailed a few extra trips to the store for items I ran short on, it was still just as productive, if not a little more "free-form." Which just goes to show you, you can make freezer cooking work for you, no matter your style.
Here are my notes and haphazard lists of what I hoped to accomplish: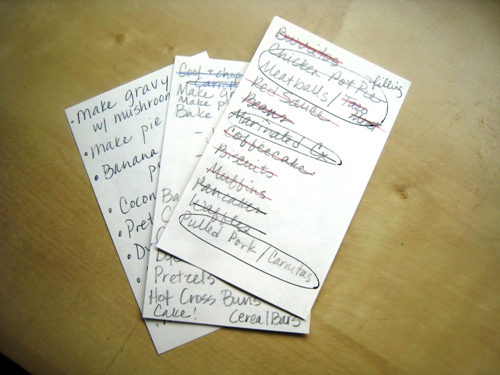 I spread my cooking out over several days. FishPapa was out of town for a couple days last week for work and so that meant I was chief cook, bottle washer, and everything else. We all survived and in the meantime we have a chock-full freezer.
Here's the freezer before: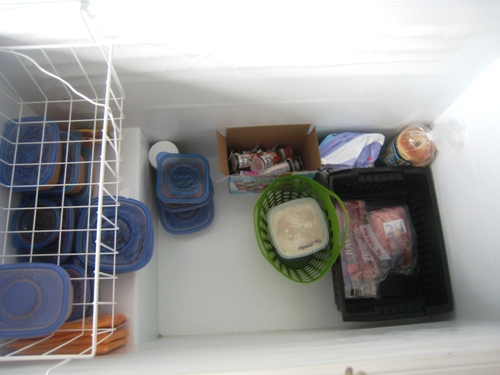 How sad. Applesauce, butternut squash puree, a few packages of hot dogs, frozen berries, juice bars, bagels, some chicken broth, and a meal or two from February's Freezer Cooking. The freezer was "practically empty." Sure, there was food there, but one can eat only so much butternut squash puree in one sitting.
So, here's how this thing went down.
Day One
sort, rinse, and soak beans
spend the day at the zoo
come home and after piddling around the house for awhile, drain beans, chop onion, start Homemade Pinto Beans cooking in the slow cooker
cook 4 pounds of Seasoned Taco Meat
divide the meat into 4 portions, chill 3 to freeze and turn one into Lawnmower Taco for dinner
shred 2 pounds of cheese in the food processor
fry tortillas for enchiladas
assemble Cheese Enchiladas (3 pans)
chop more onion and start Red Sauce on the stovetop
bake Lawnmower Taco and toss salad
eat dinner and go to a hockey game
portion the red sauce (6 dinners' worth)
season the cooked beans and assemble 30 Burritos to chill and freeze.
go to bed — it's late!
Day Two
The second day was not as methodical as the first — and that's not saying much. This was the day I had to ditch my plans. So, I cooked in snatches throughout the day. I can't really remember the order that I did things, but this is what we got out of it: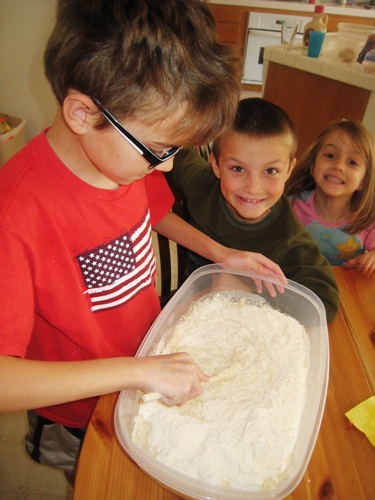 I am trying, trying, TRYING to include my kids more in the kitchen. I have to do this. To survive. It's hard to loosen the control, but I'm just going to have to let them loose and hope that we don't waste too much food in the learning process. Sounds uptight, doesn't it?
My nine-year old loves to mix the Artisan Bread Dough in 5 minutes. We mixed up a double batch to eat as boules and for pizza dough. The other two were dying to stir, but he wasn't into sharing. The next day, however, they got to bake cookies. Look at those faces!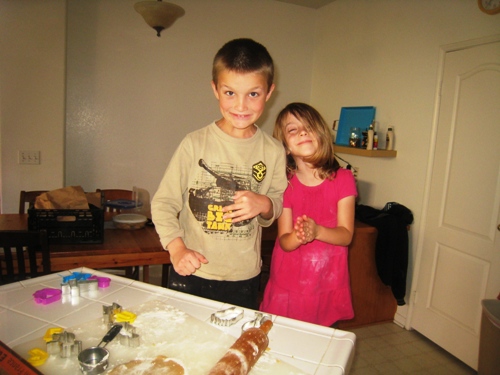 Day Three
The third and final day was a little more low key. It was a leisurely day mixed in with some errands, hockey practice, produce run, etc. I had mixed up the cookie doughs the night before, so all we had to do was bake them. The kids really enjoyed participating. Again, I need to do this more!
The marinated chicken took just a few minutes to mix the marinades and drop the chicken tenders into the bags. The mac and cheese resulted from my using up leftover pasta that was taking up valuable real estate in the refrigerator.
Whew! That all seems totally crazy, doesn't it?
Please note: I didn't spend three whole days cooking. I spent portions of each day rather than trying to do it all in one day when my husband was out of town, my daughter needed to go to the pediatrician, we had two hockey events, a broken dishwasher, and a water heater with an unlit pilot light.
Trust me when I say that the freezer cooking portions of this program were some of the least stressful moments of the week!
The kitchen was in a constant state of mess, however, a far cry from the deep cleaning I had given it just a few days prior.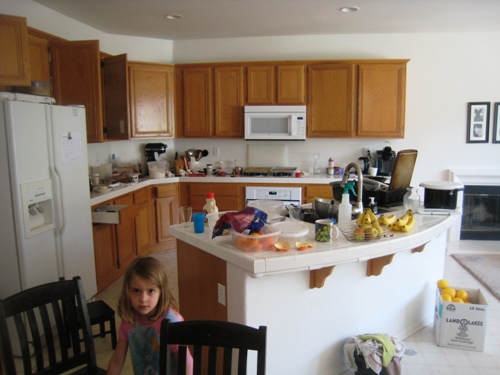 But I have a full, full, FULL freezer! I can't tell you how happy this makes me. I feel like I'm ahead — in just one area of life. And it feels so good!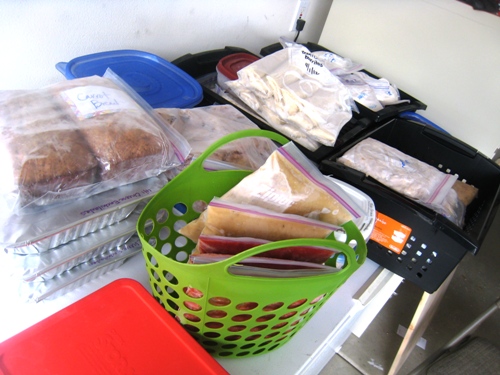 This is most of the new stuff that I added to my freezer stash this week. So, now it looks like this: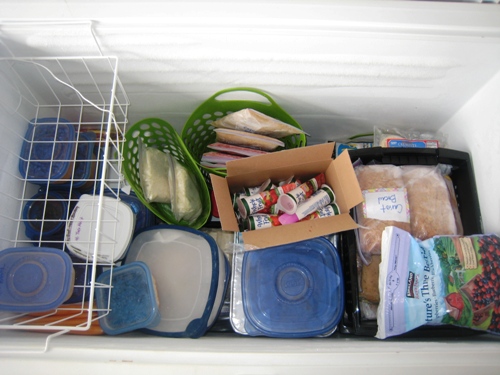 We are set with breakfast, lunch, and dinner for a few weeks, if not more. I'm pretty sure that we'll be able to follow the month's meal plan and maybe save some time at breakfast and lunch time as well.
At least you can't say I didn't try.
What's your style in the kitchen?