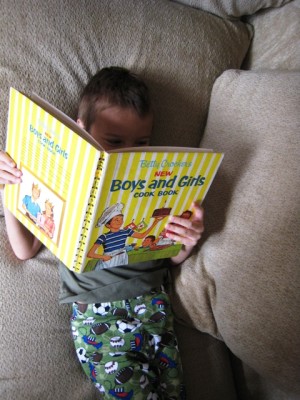 As you know we are a family of gluttons foodies. We love to cook. We love to eat. We love to learn about food.
Years ago, I read in a cooking magazine that a kitchen scale was essential to proper baking. The reason is that flour weight can vary by manufacturer, so to just add "1 cup" to a recipe can result in very different results, depending on the manufacturer. I bought a cheapo scale at a discount store but it seemed to give me inaccurate readings. The same bowl of potatoes would weigh different amounts each time I weighed it. Obviously, it wasn't calibrated properly.
So, I added a digital scale to my kitchen wishlist, but didn't really move on it. Then Alton Brown told FishPapa that we needed one if we were going to properly prepare "good eats." So, two of us had "digital scale" on our wishlists.
How pleased we both were when EatSmart Products sent me their Precision Pro Kitchen Scale to review. It is a small, lightweight scale that easily fits inside a kitchen drawer for quick access. My previous scale was bulky and inaccurate, requiring me to assemble several pieces, recalibrate each time, and then disassemble it in order to store it. Conversely, this baby is sleek.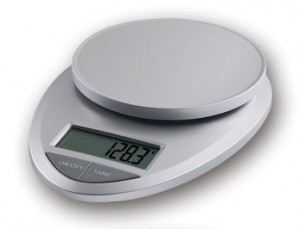 And by the way, the silver version is super easy to keep clean (in our experience.)
We've used this scale for all sorts of things: weighing ingredients for baking, comparing the price breakdown of buying trimmed meats versus untrimmed, dividing up ingredients, like shredded cheese from a bulk bag, for long-term freezer storage. I've even used it to weigh letters and small packages so that I can determine the proper postage needed.
I am really impressed with this scale. If you're just getting used to the ins and outs of your kitchen, put it on your wishlist for later. It's not a beginner's necessity.
However, if you are looking to get a little more serious in your culinary endeavors, I think this is a great tool to have and one that fits a reasonable price point. It's currently $25 on Amazon with free shipping. (And if you have Swagbucks gift certificates, well, then it would be free.)
This week, in honor of LifeasMOM's blogiversary, two readers will each win a Precision Pro Kitchen Scale.
Simply leave a comment, telling us what kind of foodie are you: Are you a beginning cook? Can you hold your own? Are you ready to be the Next Food Network Star?

For an extra entry, tweet (use @FishMama) or blog this giveaway. Make sure to link back to this giveaway and leave a second comment here, telling me how you spread the news.
Giveaway will be open until Sunday, May 16th 8 pm PST. Winners will be chosen at random and notified by email. Those who don't respond with 48 hours of their notification email will forfeit their prize.
Disclosure: EatSmart Products provided me with a Precision Pro Kitchen Scale for review purposes. I was not compensated in any way for reviewing this product or offering this giveaway, nor was I required to do so. My opinions are my own. For more information, please see my disclosure policy.