The Golden Rules of Frugal Friday
We are a participant in the Amazon Services LLC Associates Program, an affiliate advertising program designed to provide a means for us to earn fees by linking to Amazon.com and affiliated sites. We participate in other affiliate programs as well. For more details, please see our disclosure policy.
Sharing money saving ideas is a great way to participate in Frugal Friday and to help others learn how to save money.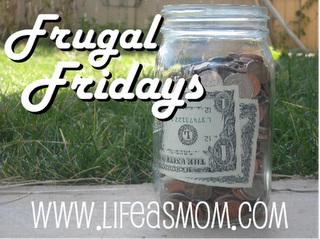 Last week I smacked down Frugal Friday abusers shared some ideas about how we can collectively improve this wonderful exchange of ideas called "Frugal Friday." This week, I wanted to bring just a little more clarification to the guidelines that I mentioned last week. It appears that there was some confusion. So, let's dispel it.
Here are the golden rules, if you will.
1. This is a forum to help folks save money.
The Frugal Friday carnival was established many years ago as a way for folks to swap ideas about how to pinch a few more pennies. My family personally has benefited from this forum for at least four years. We were deep in debt and it's thanks to folks linking up here that we paid off those debts.
2. Time is money.
Readers visit the links on Frugal Friday in order to learn and to save money. Irrelevant links waste everyone's time. The reader clicks through and finds something unhelpful. Waste of time. The irrelevant linker links up but later gets deleted for being irrelevant. Waste of time. Me and my team of minions spend time deleting irrelevant links. Waste of time.
Don't waste  your time or ours by posting irrelevant links. Time is money.
3. Giveaways and deal posts are not allowed.
If you have a giveaway, there are other carnivals to participate in. Deal posts, those that list current sales at some store or offer coupon matching, are a dime a dozen. This is not the place for them.
4. Recipes are okay, but….
I mentioned this in the comments section last week, but it bears repeating. Recipes are acceptable. Cooking from scratch is a fine way to save money. Making homemade convenience food can save you money.
However, you must explain in the text of your post how this is a money-saving idea. For example,
My kids eat a box of cereal in one sitting. This costs me at least $2 at Trader Joe's. However, I've found that I can make homemade granola for $1 a batch. We now eat healthy, homemade breakfast cereal and save $1/day.
Please make sure you spell it out for us how your recipe benefits us.
These are the things that come to mind. Violators will be prosecuted to the full extend of my law. I have a delete button and I know how to use it.
Now go save some money!