The Grass is Always Greener: Find Living Water
We are a participant in the Amazon Services LLC Associates Program, an affiliate advertising program designed to provide a means for us to earn fees by linking to Amazon.com and affiliated sites. We participate in other affiliate programs as well. For more details, please see our disclosure policy.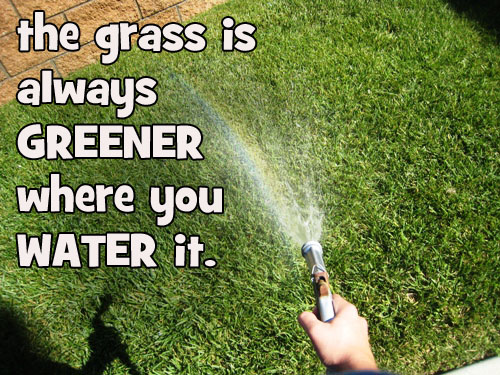 This is an ongoing series. If you missed the first installment, you can go back to the beginning.
Discontent. Comparison. Jealousy. We all fall victim to these temptations at one time or another.
Ever find yourself wondering why someone else has what you want? Sometimes it's seemingly random as to who gets the gold in this life. Other times it's the difference of our not being able or willing to put time and attention toward a certain area of life.
If I actually got to exercising more than a few times a week, I, too, might have a fashion model's body.
Maybe.
Not.
Regardless of the reason, there are many areas of life where we might look at someone else and wonder, why can't I have what she has?
What kind of weeds do you have?
These comparisons can sprout like casual weeds, like dandelions. A few don't mess up the yard too badly — and their flowers are fun to blow off. Or these weeds of discontent can be those with prickly thorns and gushy insides that are impossible to uproot.
The grass can certainly appear greener on the other side when those kinds of weeds have taken root.
I think one of the keys to ridding the yard of those weeds of discontent is to feel right in your skin, to know who you are, to identify what motivates you, and set a course toward being the best you there is.
If you are comparing yourself to YOU, compare away. Have you grown? Have you developed some bad habits? Have you conquered a pesky weakness?
But, if you're measuring yourself by someone else's standards or achievements, you're setting yourself up for disappointment.

God made YOU.
And He made you to be different than the celebrity, the co-worker, the sister, or the neighbor that you're comparing yourself to.
Being content means trusting God for the strengths (and weaknesses) He's given YOU. Each of us has been designed by the Maker in a unique and wonderful way. We're not meant to be copies of one another.
God is too complex and creative for that!
Be the best YOU you can be.
Identify the strengths God has given you (ask a friend if you're not sure) and go with those strengths. Find out how you can serve others through those God-given gifts.
On the last and greatest day of the festival, Jesus stood and said in a loud voice, "Let anyone who is thirsty come to me and drink. Whoever believes in me, as Scripture has said, rivers of living water will flow from within them." — John 7:37-38
Trust in what Christ has done on the cross for the forgiveness of your sins — as well as in who He created you to be before the beginning of time.
Rest in who you are in Christ.
Next: Watering with God