The Grass is Always Greener – Series in Review
We are a participant in the Amazon Services LLC Associates Program, an affiliate advertising program designed to provide a means for us to earn fees by linking to Amazon.com and affiliated sites. We participate in other affiliate programs as well. For more details, please see our disclosure policy.
Jealousy and want can plague each of us from time to time. But, when we turn our attention to our own gardens, we get a glimpse of great beauty and a better way.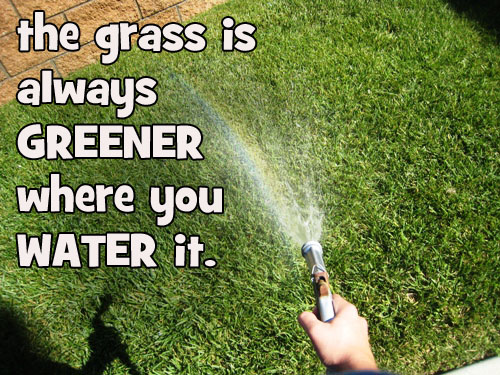 Last fall I shared a series called, "The Grass is Always Greener." It was an exploration of how we can make things bloom right where we are. We talked about a range of topics including womanhood, marriage, parenting, and jealousy over what someone else has.
While there is no quick fix to the problems in our lives, there is always a different way to look at our circumstances and often many options to walk this path of life gracefully.
From the introduction:

It can be all too easy for us to compare ourselves to someone else. It can be the celebrity on TV, a co-worker, a family member, or the girl next door.

And sometimes that comparison leads to jealousy and want. What we once thought was sufficient somehow pales next to what someone else has. Yes, the grass is always greener….

But more specifically, the grass is always greener — where you water it.

….But as far as comparison and discontent are concerned, sometimes we need to turn our focus to our own yards and not worry and fuss over what the neighbors have flourishing in theirs. Sometimes we need to reexamine our priorities and determine how much we're willing to give to get those blossoms we so desire. And sometimes, we need to turn a blind eye to some renegade dandelions and just not worry about it.
If you missed the series, today might be a good day to catch up.