The Hobbit (Booking It: July Update)
As an Amazon Associate I earn from qualifying purchases. For more details, please see our disclosure policy.
Booking It is an online book club where we discuss what we've read over the past month as well as review a monthly assigned book. This month's book is The Hobbit by JRR Tolkien.
(Heads up: if you make a purchase through any Amazon links in this post, I do receive a small percentage of the sale.)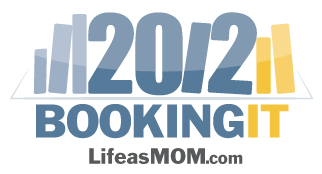 This last month has just flown by! I must confess, this Booking It report took me by surprise. It's the 12th already?! So, this won't be the most eloquent of book reports.
The dog ate my homework.
This month's assigned reading was The Hobbit by JRR Tolkien. In that first novel, Tolkien created another world. I don't think he knew when he crafted The Hobbit that he would go on to write the epic Lord of the Rings. But, the Middle Earth that he created has captured the imaginations of generations of people.
I was first assigned The Hobbit in 8th grade English. The geeky boys around me cheered. I groaned. I don't even remember reading it, though I must have. I almost always did my homework. But, I don't think I enjoyed it.
About fifteen years later I picked it up again. I know not why. In quick succession, I read The Hobbit, and all three volumes of The Lord of the Rings. I was hooked.
And once again saw that "children's literature" is often more for adults than it is for kids.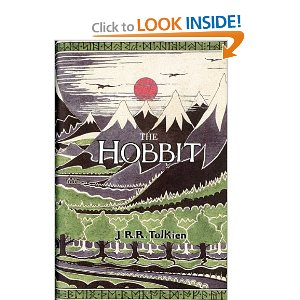 The Hobbit tells the tale of a hobbit. What is a hobbit you ask? Well, they're like people, but not. Shorter, hairier, surely of Anglo-Saxon descent, and precious.
The hobbit in question is named Bilbo Baggins. He's a homebody who is stretched to become an adventurer. He joins a band of dwarves and heads out on an epic journey, fighting trolls, wolves, and goblins. He finds an enchanted ring along the way, learns what is to do hard things, and loves his friends better than himself.
Though Tolkien often rejected the notion that The Hobbit was a "Christian story" there are many elements of God's truth presented throughout. But, all good stories do, even if the author didn't have a clue.
Be sure to have a box of kleenex handy before you start reading, especially if you are reading it aloud to your kids. I hiccuped and sobbed my way through the last few chapters.
My kids are used to it by now.
The Hobbit is a fantastic read-aloud and a great intro to the Lord of the Rings series. If you haven't read it yet, or haven't read it to your kids yet, I highly recommend that you do. And, be sure to get it read before the movie is released late this fall. We don't go to the movies as a family very often, but this is one that we definitely will.
Have you been Booking It?
Tell us about the books you've read! If you read The Hobbit, be sure to tell us what you thought of it.
Check out the list of 12 books that we'll be reading together this year. Next month's book is Desserts in Jars by Shaina Olmanson. Be sure to read the intro chapters and try to test at least three recipes between now and then.
Disclosure: if you make a purchase through any Amazon links up there, I do receive a small percentage of the sale.