The following post is sponsored by Put Me in the Story personalized books:
I've always been a bookworm. My parents, both teachers, taught me to read when I was about three or four. I wasn't brilliant or anything, but it did open up a new world for me. Books became my everything.
My mom would take us to the Valencia Library on Saturdays. There was free air conditioning and loads of free books. I would come home with a stack of ten and read them all over the weekend. It was only later that I learned that the corner library had been my mom's oasis as well and that she, too, was a ravenous reader.
As I grew older, I became a late night reader, sometimes reading into the "wee smalls", as they say in the books I read. My room was across the hall from my parents'. My dad, also a night owl, would come knocking on my door every hour or so, telling me/commanding me/ordering me to turn off the light. I would say, "Let me finish the chapter," and proceed to finish the book!
Sometimes I would go so far as to place a blanket around the foot of the door to block the light. Ha! As if he couldn't see the light around the other three edges of the door!
One of my biggest hopes for my children has been that they would love reading. So far I've taught five kids to read; the sixth is not too far behind. Yesterday at least four of them carted their own books into the dentist's office. And I've had to tell/command/order at least one child to put down the book and turn off the light.
Only I'm a little smarter than my dad was; I take the book with me when I leave the room. Hmpf. I know how that game is played!
There are lots of things you can do to encourage kids to read. One thing is to read with your child as soon as they can sit up and later read lots and lots of storybooks. Our family has always loved family read alouds.
Creating a book loving culture involves
favorite stories to be read again and again.
cuddling up with a stack of books on a cold or sad or fussy day.
visiting the library and coming home with a bagful.
So often we imagine ourselves in the story and are able to relive the experiences of the characters. My kids and I talk all the time about what we would do in the protagonists shoes or how an alternate ending might play out. Reading gives kids a better grasp of vocabulary and helps them interact with you and the language.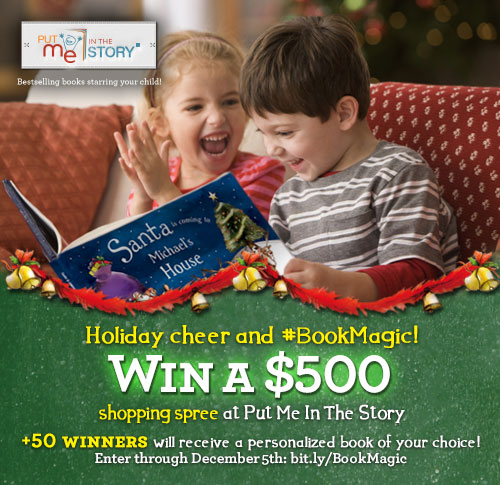 Meet a fun collection of books called Put Me in the Story. They are customizable books for all ages that add your child's name and even picture to the story. They are a fun way to engage in books in a very tangible and personal way.
Currently, Put Me in the Story is running a giveaway on their Put Me in the Story collection. The grand prize is a $500 shopping spree on their site with an extra 50 people winning free books. You can enter the contest here.
Head on over to enter to win. What fun Christmas gifts you could get for the kids in your life!
What has helped YOUR kids gain a love for books?
Disclosure: I have been compensated for my time writing this post. All opinions are my own.