This giveaway is now closed. Congrats to the winners: joannwhite@ and cathy@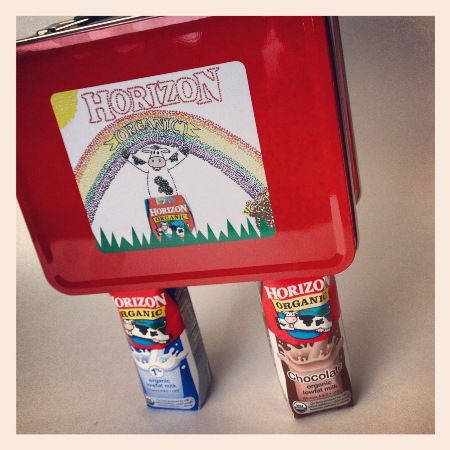 Chances are you're rushing around this afternoon getting ready for the school week to start. We are. For me that means making sure I've written out lesson plans and to do sheets for the week, done a general pick-up around the house, and have some idea of a meal plan for suppers, but also for breakfasts and lunches.
If your kids go off to school, you have the added challenge of making sure homework is ready, backpacks are loaded, and lunch boxes are ready to fill.
The Milk Box Challenge
This year Horizon Organics is putting folks to the Milk Box Challenge. By switching out juice drink boxes for milk boxes in school lunches, you can replace ingredients like high fructose corn syrup and artificial preservatives often found in juice for the calcium, protein and vitamin D found in milk, all of which are important for growing kids.
I think it's a great plan. When I was in school, juice wasn't all that common. I usually brown bagged it, but my mom also gave me eight cents to buy a carton of milk at school. That was the norm. I'm guessing that times have changed.
Yeah, eight cents pays the sales tax on the milk!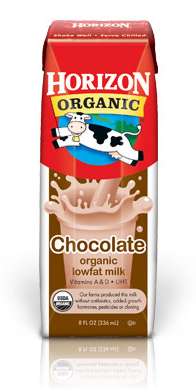 We took the Milk Box Challenge recently. My kids were absolutely thrilled. They love anything that comes in its own packaging. The younger ones are familiar with with the milk boxes because this is the type that Chipotle sells.
My kids are great milk drinkers. What a treat to have especially boxed milk at lunchtime! If we were regularly packing lunches to tote to school or work, I would definitely consider including these boxes. Giving milk boxes at home seems a little wasteful of packaging, especially with six kids.
This week, two Life as MOM readers will win a lunchbox like the one pictured above as well as some free product coupons to give the Milk Box Challenge a try.
To Enter:
Simply complete the information on this form. Please know that the information is only being gathered for the purposes of mailing you your prize in the event that you are chosen as the winner. This information will not be sold, traded, or given away.
This promotion is open until Sunday, November 18, 2012, at 8 pm PST and is limited to US residents, 18 years or older. Friends and family of Jessica Fisher and Life as MOM are ineligible for entry. The winner will be chosen randomly. The prize for this promotion is provided by and shipped by Horizon Dairy and/or its representatives. This post will be updated with the beginning of the winner's email address. Jessica Fisher and Life as MOM will not be held responsible for unclaimed or undelivered prizes.
Disclosure: I received sample product. All opinions are my own.