The New Heartlake City at Legoland California
As an Amazon Associate I earn from qualifying purchases. For more details, please see our disclosure policy.
The Lego Friends now have their own space at Legoland California. Here's what's new at the resort's Heartlake City.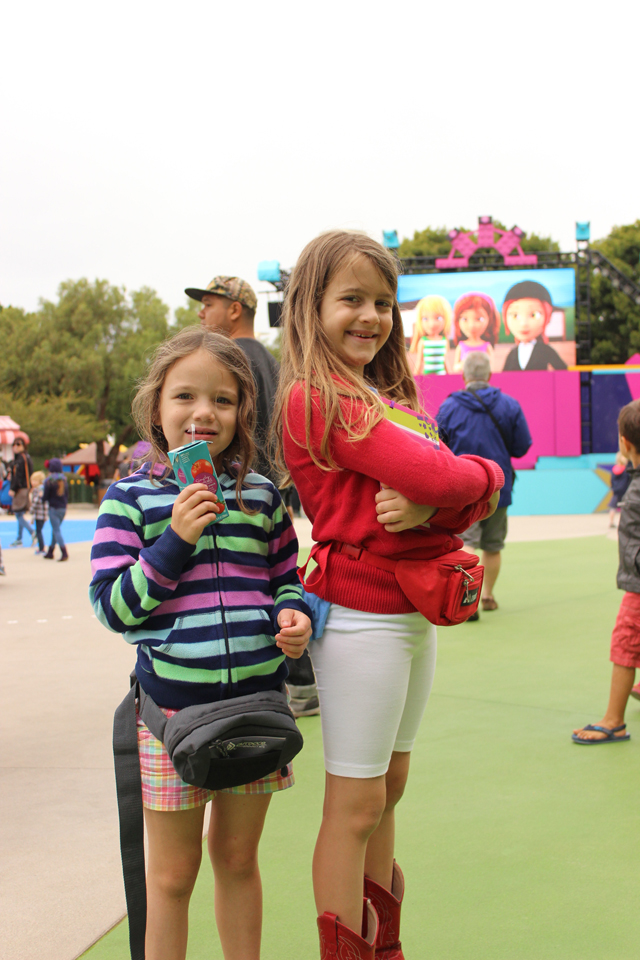 Legoland wasn't around when I was a kid, at least not that I know of. But it was one of the first amusement parks that I heard about as a young mom. Our friends inaugurated their kids' theme park experience at this Lego-themed park in Carlsbad, California.
Back then we lived in Paso Robles. Who knew that we would ever live in Legoland's backyard?!
Well, not backyard, but we drive by the place a few times a week, so close enough.
While I am a self-professed Disney fan, I must confess that my friends made a good choice. It's not a cheap date, but Legoland is pretty chill. I can't think of a time when I've ever really felt harried at Legoland. Disneyland doesn't boast the same record.
Legoland is certainly working to bring more new things to their California resort. Last week we were invited to visit the latest addition: Heartlake City. 
Last week was the grand opening of the new LEGO Friends Heartlake City, a half-acre of the part developed to feature the toy line targeted toward girls. While there's nothing specifically "girly" about this area, it will very likely appeal to your daughters.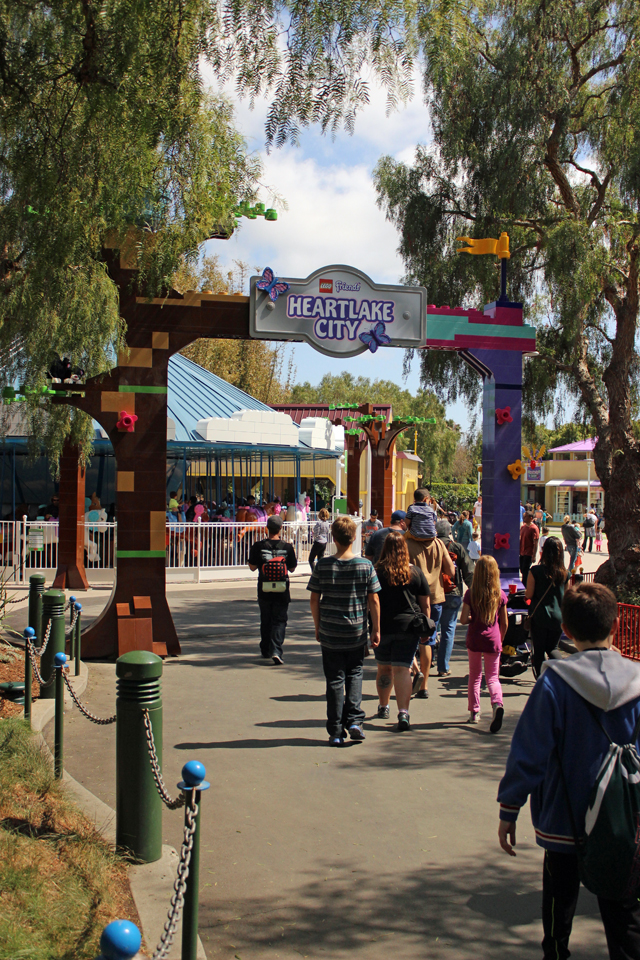 My Facebook friends know that I have mixed feelings about the Friends. I've been slow to warm to all the pink, girly stuff. Mainly I'm annoyed that they have bobble heads instead of regularly minifig bodies, but my girls like them. And I confess, I do like the brightly colored bricks and the myriad of accessories. Playmobil has always had plates and food, but I'm not sure Lego has.
I can build all the cafes and juice bars I like with these lego. 😉
Anyway, the girls were super excited about visiting Heartlake City. They've purchased a few Lego Friends sets and watched some of the cartoons, so they were familiar with the stories of Emma, Stephanie, Andrea, Mia, and Olivia.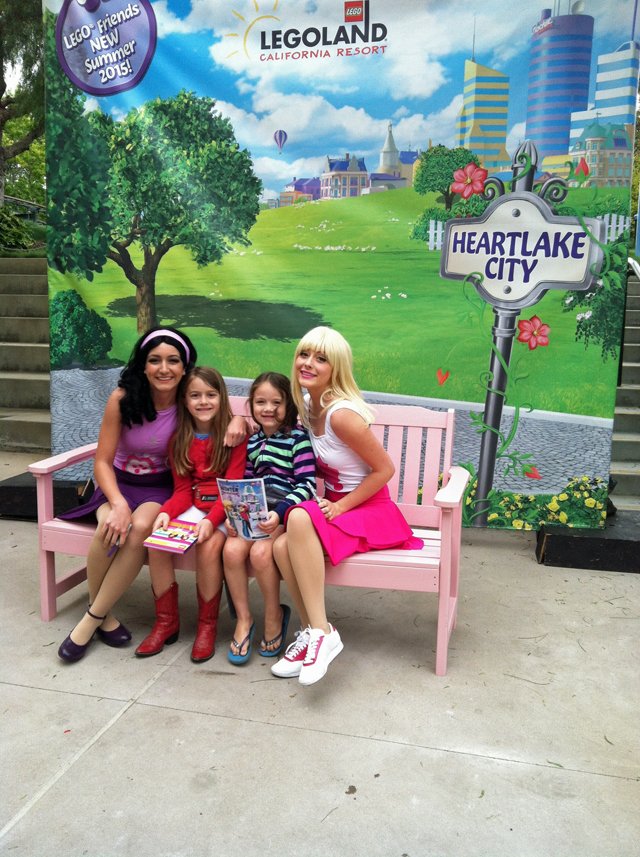 And you can bet, they were pretty excited when they got to meet Stephanie and Emma.
Those of you who've been to Legoland before might remember the music and water area. That is what was removed in order to make room for Heartlake City. In its place has been added: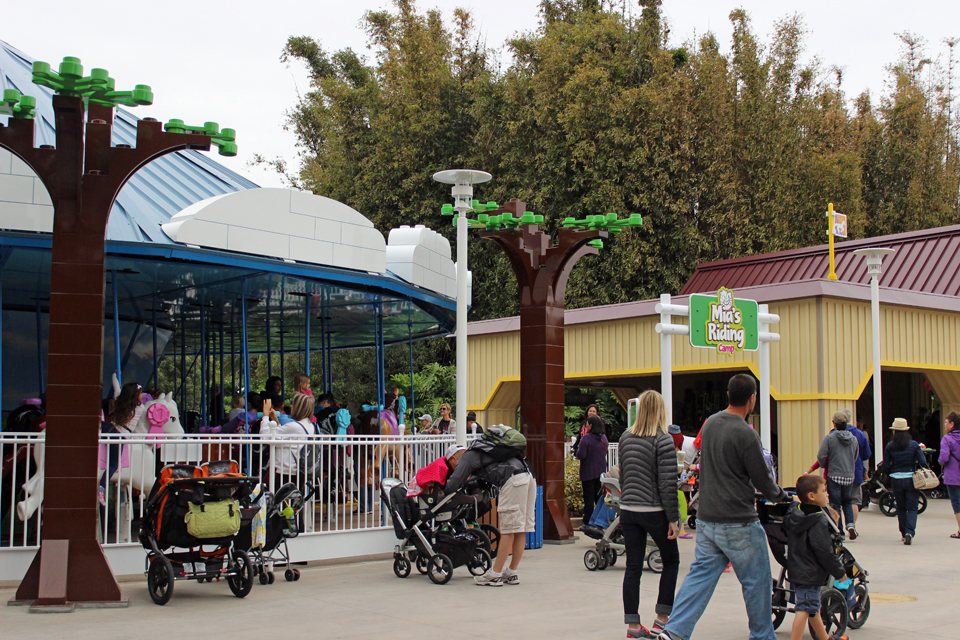 A new ride: Mia's Riding Camp is a carousel. I don't normally go on the rides, but FishChick6 was thrilled when I rode a horse with her. It's a short ride, but so was the line.
The Heartlake Fountain: There's always been a splash area in this part of the park. Now it's a heart-shaped splashpad where you're invited to cool off. Just be mindful that this is recirculating water. We're in a drought, right?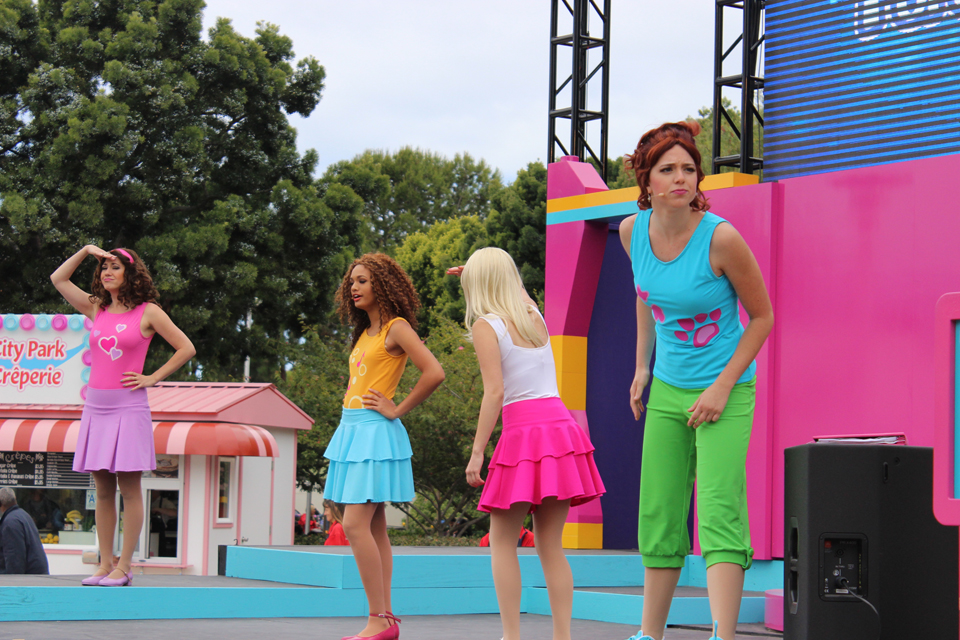 A live show: The Lego Friends perform on the Friends Forever Stage 5 to 6 times a day. Guests have an opportunity to meet with the characters in between shows. It's a pretty lively show — and more than just the girls have been humming the catchy tune since we got home.
The Heartlake Stables: This Lego building area features interactive displays about horses and their equipment. Unfortunately, the lego are all primary colors. Perhaps they will continue the Friends theme into the stables, but I was surprised that they were traditional colored lego and not the pinks, purples, etc that we  were expecting.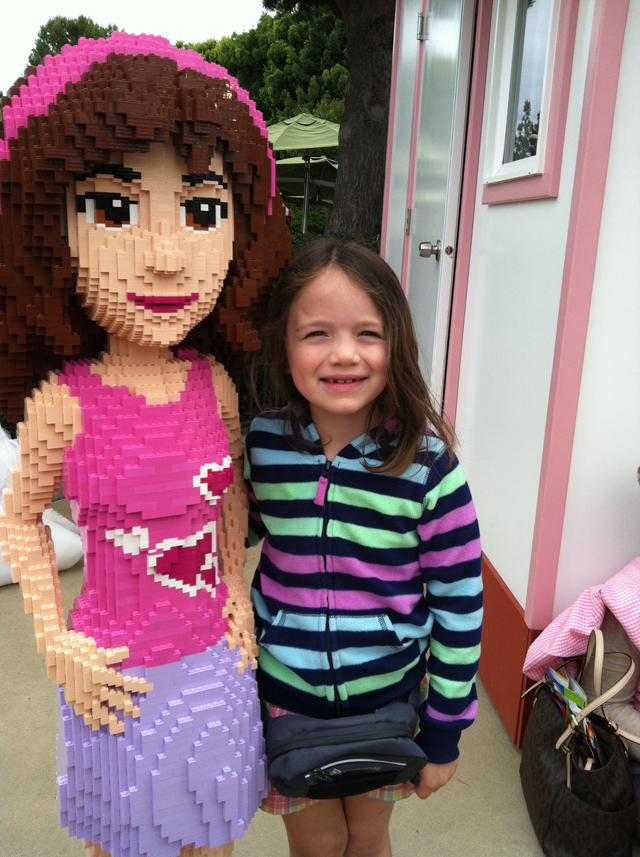 New Lego models: There are 50 new Lego models built, specifically for Heartlake City. We got to chat with one of the Master Model Builders while we were there. There are five on site and 25 elsewhere in California who build for the other theme parks worldwide.
Each of these Lego Friends models takes 30,000 bricks, but they are made of traditional bricks. Your children could build the same models — if they had that many bricks. Ha!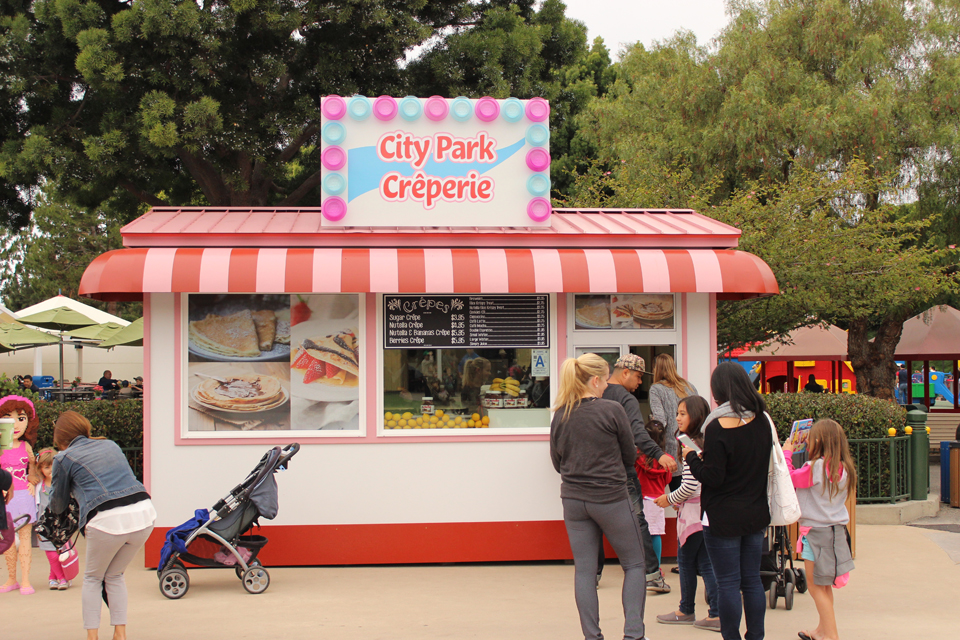 The City Park Creperie: Each area of Legoland has a complementing eaterie. Granny's Apple Fries are our traditional favorite.
In Heartlake City, there are crepes! Having eaten crepes en France not too long ago, the creperie gets our approval, with a caveat. Our recommendation is that you stick with the sugar (and the traditional lemon juice) or the nutella versions. Though fresh berries are shown in the photograph, that's not what is served. Perhaps that will change, in the future, for now, be sure to ask so you know what you're getting and can avoid disappointed kiddos.
Heartlake City is a small, but sweet addition to the park. There's something for everyone in the target age range, boy or girl. There's nothing overly girly about it, so it does a good job of appealing to preschool and young grammar-aged kids.
FishChicks give it two thumbs up.
Disclosure: I was given complimentary passes and a food and beverage gift card to Legoland. All opinions are my own.