Dust mites can wreak havoc on your family's allergies. Consider an air purifier to help mitigate the dust and other allergens. A web-enabled purifier can be controlled from anywhere.
The following content is sponsored by Jarden Consumer Solutions: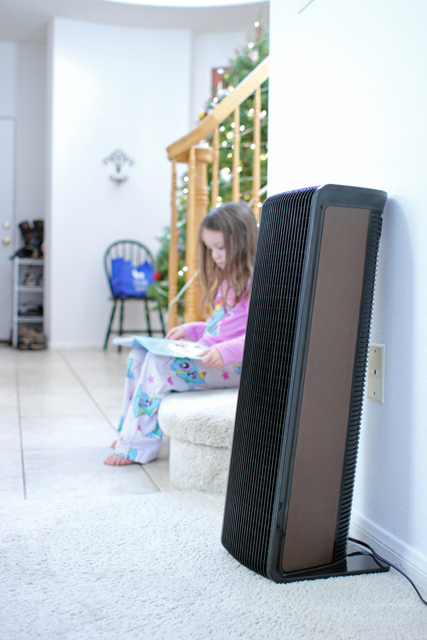 FishChick6 has several different allergies, including peanuts, but the ones the allergist called severe are to dust and weeds.
You wouldn't think this was a big deal, right? So the kid gets the sniffles. I've seen firsthand how severe her dust reactions can be. Last winter when we were up at the grandparents' ranch, the Santa Ana winds were whipping up all kinds of dust and pollen. She came running in to say that her eyes hurt. She had hives breaking out on her eyelids! Oy!
Since that episode, I am extremely careful about carrying all the meds with us at all times as well as making sure that we are mindful of giving her a dose of antihistamine (per the allergist's orders) prior to entering an area that may be high in allergens.
Obviously, I don't want her on meds all the time, so I work to make our home as allergen-free as possible. Fighting dust mites takes some effort, but it's not difficult. One weapon to help me in the fight is an air purifier.
An air purifier, both in the living spaces and in her bedroom, removes contaminants like dust, pollen, pet dander, mold spores, and dust mite feces (eww) from the air. HEPA filters are said to trap up to 99.97% of the allergens in a room.
Recently, Jarden Consumer Solutions sent us their Holmes Smart Air Purifier with WeMo capabilities.
What's WeMo?
WeMo stands for WeMoments. It's taking technology (like slow cookers, lights, or air purifiers) and making it serve you remotely when you can't be there to turn it on or adjust the settings. This commercial is fascinating in showing how technology has really evolved.
A WeMo device can be turned on manually but it can also be controlled via an app on your phone. The appliance connects through your wifi to your phone. But, more than just flipping the on switch, you can set a schedule or check on the progress of a system.
WeMo-enabled devices include Crock-pot, light bulbs, light switches, heaters, humidifiers, cameras, coffeemakers, and electrical switches.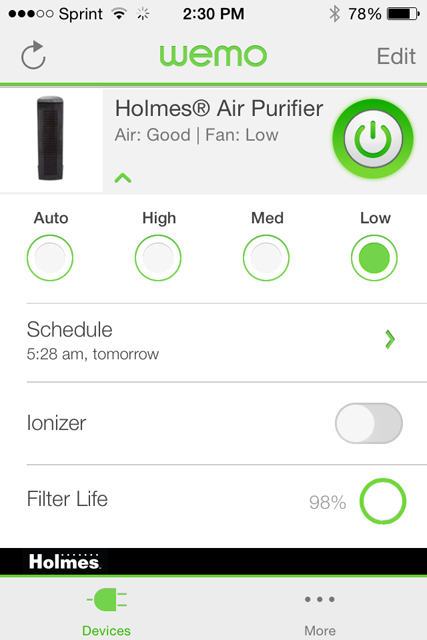 The New Holmes Smart Air Purifier with WeMo
In the case of the WeMo Holmes Air Purifier, you can also get alerts when the filter needs to be replaced and even order replacement filters directly from the app.
If you're away from home and know that allergens are high that day, you can adjust the power of the air purifier so that it runs on high. If the dog is rough-housing, your husband is burning something in the kitchen, or your son is painting the bathroom, you can adjust the settings to suit those situations as well — without even being in the room.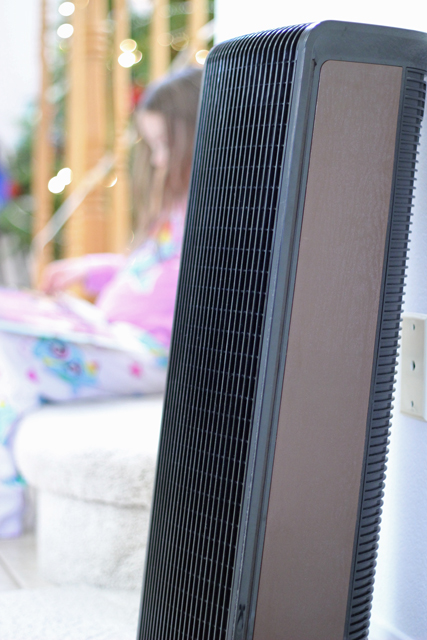 We've been running the Holmes Air Purifier for about a week. It's been doing a great job in keeping dust levels low. I rest more easily knowing that we're doing all that we can do to keep the air clean and help FishChick6 avoid an allergic reaction.
How do YOU mitigate allergens at your house?
Disclosure: As a Jarden Consumer Solutions WeMo Ambassador, I've been compensated for my time spent writing and have received complimentary review product. All opinions are my own.