The Person I Want to Be All Year
We are a participant in the Amazon Services LLC Associates Program, an affiliate advertising program designed to provide a means for us to earn fees by linking to Amazon.com and affiliated sites. We participate in other affiliate programs as well. For more details, please see our disclosure policy.
This week at a Twitter party, a fellow blogger tweeted something quite profound. Meagan said, "The holidays are a reminder to be 'the mom I want to be', even if that's not sustainable year-round."
That stopped me in my tracks.
Yes, that is why I try to make a big deal of fun in December. Christmas reminds me that time is passing; that my kids are growing; that these moments are fleeting. And I want to do better. Some days I'm just biting my tongue, trying to cross things off the to do list, and get things done without being a total crab to my kids and husband.
But, at Christmas I can put on my happy face.
Not only that, I'd say the holiday season reminds me to be the PERSON I want to be all the time, but am too embarrassed, stressed, self-conscious, or self-absorbed to be.
When else can you buy the person behind you at Starbucks a latte and not look like a total dork?
What other time of year is it acceptable to send out tons of handwritten cards to folks you rarely see?
When can we unabashedly give gifts, sing songs, or bless both friends and strangers?
What other time is there a fire in our belly to bake cookies, play games, and otherwise delight in fun with our children every single day?
It's like Christmas is that time when we can throw off some of our inhibitions in the name of the Christmas Spirit and do good things, the good things that would bring a smile to someone's face no matter what time of year.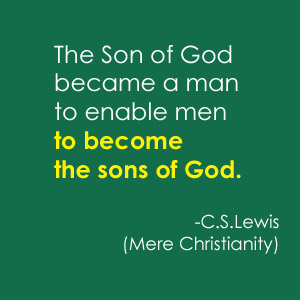 "God with us" calls us to be who we are made to be.
I would venture to say that Christmas, the time when God deigned to become man, that time when we celebrate "God with us" is that moment when we feel God's call to be the people He wants us to be.
All the time.
May our Lord Jesus Christ himself and God our Father, who loved us and by his grace gave us eternal encouragement and good hope, encourage your hearts and strengthen you in every good deed and word. —
2 Thessalonians 2:16-17
The question here is, of course, how can I sustain THAT all year long? The answer?
Only by God's grace.