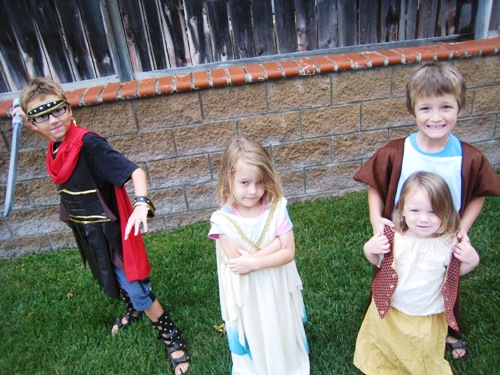 Costumes have always been a huge deal at our house. We have several large (read: ginormous) boxes of dress up clothes. In the early years of my parenting it was chock full of cowboys, pirates, and Star Wars. It's only in recent years that we've added some princess garb.
For many years, getting into costume was as regular as pulling on normal clothes in the morning. My boys totally embraced their assumed identity for the day. In fact, they would get so much into character that they would often wear these get-ups out of the house. Like to the store. My sister was stunned.
You're letting him go into the store dressed like that?!
Yes, yes, I am.
Quite honestly, I loved to see the looks on people's faces when a pirate or a cowboy or a Roman soldier came prancing by. It's too bad that we don't smile so freely all the time. It would seem that this hat has brought a smile to many a face: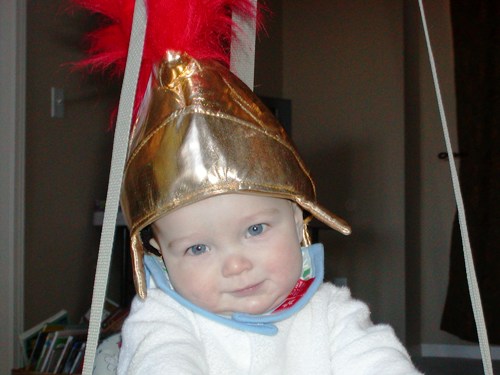 Imagine a cold wintry day and you're driving the cold, deserted streets of the 'burbs on your way home. You can't wait to get out of the cold and into your warm house. But, as you turn the corner of the cold street, you see a young mom pushing her bored children in a stroller while they wait for Papa to come home. One little boy in a bright red coat and this golden Roman helmet brings a smile to your face.
I loved seeing the looks on their faces. I did not love how stinking cold it was that day. But, the memory of my little Roman still makes me giggle.
Yes, we get into character.
The bigger boys once attended a sonogram appointment of mine dressed as Davy Crockett and George E. Russel. They even sang the Ballad of Davy Crockett to the ultrasound tech. She wrote down in my file, "Davy Crockett's mom." And you can bet that she still remembers us seven years later. (Hi Lynn!)
Yes, costumes have that effect on people.
Since we are history buffs, all of our kids have spent a fair amount of time reenacting days and worlds past. When we study the American War for Independence, we don tricorn hats. When we study medieval times, we bust out the knight's armour and shields.
So, when Halloween Costumes contacted me about reviewing kids' costumes, I knew my kids would love it. I chose dress-up clothes that fit the time period that we are studying: the Ancient World.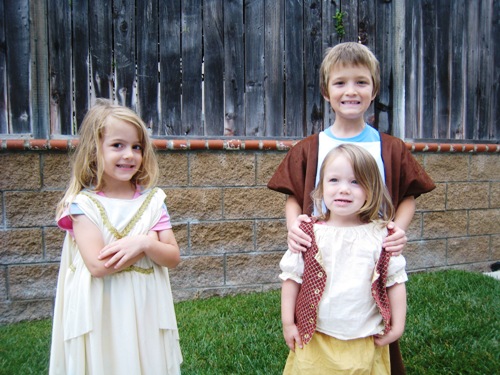 Roman soldiers, greek women, and Biblical characters are great multipurpose get-ups for kids exploring the story of the world. Right now we're studying the Hebrew exodus from Egypt, and our shepherd Moses is leading us.
I'm really impressed with the quality as well as the price of the costumes we chose. My four younger children absolutely love to wear them. The girls love dressing up as Hebrew and Egyptian women and the boys are loving reenacting ancient times.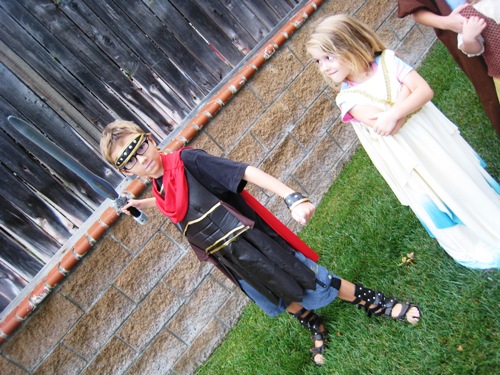 (Please keep in mind that not all the costumes on the site are appropriate for young children. So use discretion when browsing.)
Win a gift certificate for dress up costumes
This weekend three LifeasMOM readers will each win a $50 gift certificate to Halloween Costumes.
To Enter:

Leave a comment on this post telling us your favorite "dress-up" memory, either of you or of your child.
This giveaway will be open until Sunday, September 25, 2011 at 8 pm PST. Winners will be chosen at random and notified via email. Please respond within 48 hours to claim your prize.
THIS GIVEAWAY IS NOW CLOSED. CONGRATS TO THE WINNERS: andrea.evans1@, susanmcunningham@,  kcjbtw@
Disclosure: I received children's costumes for review and compensation for administering this giveaway. All opinions are my own.