The following post is sponsored by Hallmark. All opinions are my own: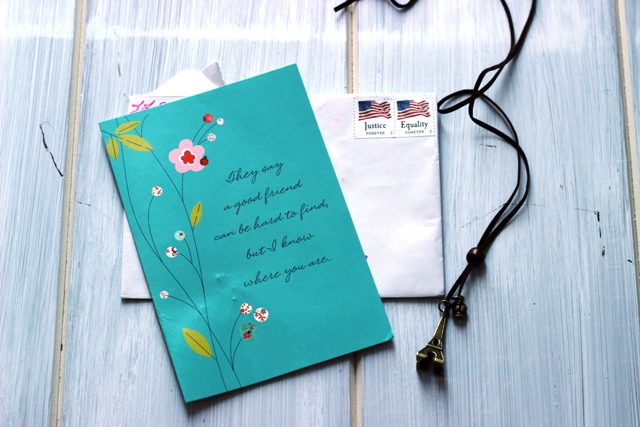 I had an amazing surprise waiting for me in the mailbox on Friday. My friend JessieLeigh sent me a surprise card and gift. How fun is that?! (Thank you, JL!)
Plus, she made me cry. Inside the card with some sweet words of encouragement was a necklace representing England and France, our big crazy dream for next year.
While JessieLeigh and I have never met in real life, we've been real friends for five years. She has been a help and an encouragement to me in many ways, through phone calls, emails, messaging, etc. Her card in the mail is a tangible reflection of that friendship.
It got me thinking about how important cards are. I have boxes of cards and letters that I've saved over the years, from college, from France, from when our babies were born.
Cards are more rewarding than email.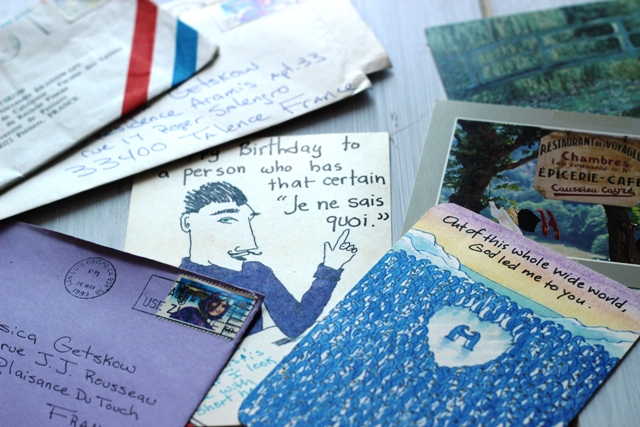 Hubs and I started dating just a few months before I left for France. We continued our "courtship" mostly through the written word — and some very expensive phone calls. Email and the internet just weren't the thing back in 1992.
Instead I received these wonderful letters chock full of news, romantic mushy stuff, pictures, and trinkets. I've got a full banker's box full of our correspondence as well as letters from my parents, Gramma John, and my siblings.
I'm kinda sad for the new generation who doesn't know cards and letters like we do. Who's going to scroll through old emails and texts twenty years from now? Really?!
But, to open an old letter with a real stamp? Well, that's pretty amazing actually. I like that. I think we need to keep cards alive!
Hallmark Card Rewards

Hallmark sees the rewards of cards and raises the stakes. Hallmark has recently introduced a new rewards program that allows you to earn points for every Hallmark card you buy — no matter where you buy it! Now that so many stores like Walgreens and CVS carry Hallmark greetings, it's nice to know that you can be rewarded for buying Hallmark wherever you go.
Through Hallmark Rewards, you'll earn a reward of your choice—redeemable for dollars off merchandise, dining or other perks from program partners —  when you buy 5 cards. Monthly and annual limits apply. Plus, you'll also get exclusive offers and ideas just for signing up.
Once you sign up for the account, you can start reporting your purchases, either by scanning the card through an Android or iPhone app or by typing in the barcode. You can track your progress toward rewards online, but Hallmark will also send you a monthly statement to let you know what rewards points you've earned. Then you can cash them in for cool stuff.
This is a very new program for Hallmark. As an incentive to trying out the program, one of the first 400 new members will win $500. Plus, each of those first 400 will receive a Hallmark card pack to get their rewards started. If you're a cardy kind of person, then this is a way to earn a bonus on something you already do. Go here to see the official rules for Hallmark's sweepstakes.
Sign up for Hallmark Rewards and start earning points right away.
What's your favorite card memory?
Disclosure: I have been compensated by Hallmark. All opinions are my own.