The Spring Clean Along: Organizing All That Stuff
We are a participant in the Amazon Services LLC Associates Program, an affiliate advertising program designed to provide a means for us to earn fees by linking to Amazon.com and affiliated sites. We participate in other affiliate programs as well. For more details, please see our disclosure policy.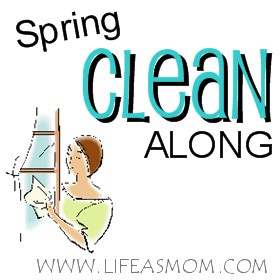 This here's the month to get cleaning! Want to come along?
Last week we talked a little about dejunking. For many of us, it's not the dirt and dust that gets us down, it's the stuff. And I will hazard a guess that most of us have more stuff than we truly need. I know I do.
I've filled one bag to donate in the past week and have two more to take to Children's Orchard. And I've yet to even scratch the surface!
As part of the Spring Clean Along, I want to encourage you not to think you have to do your entire house this month. Sure, if you have the time, energy, and motivation, go for it! But, if life is crazy, just try to take baby steps.
Pick a Zone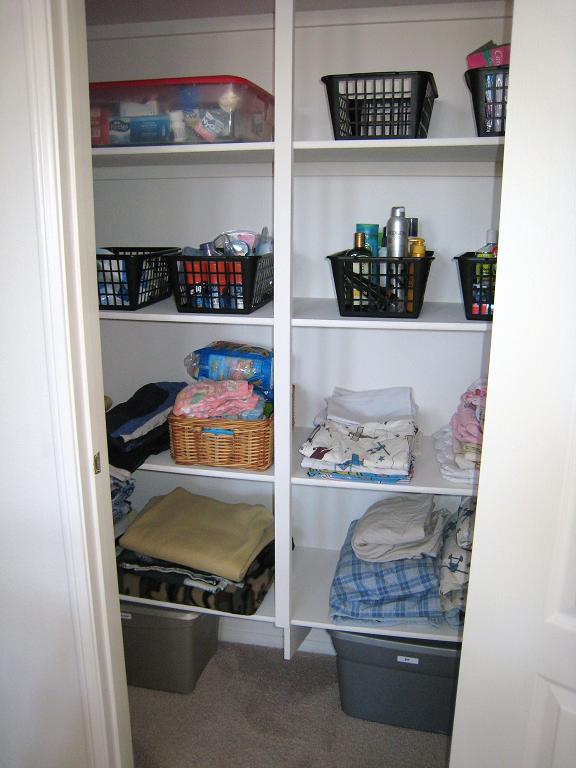 For me, I know that there are 52 different kinds of trouble areas in my home, but I'm tackling just three for this month. Last week, I showed you my linen closet. This week it's the foyer. Next week, it's my bathroom. Maybe.
I know from experience that I can be an "all or nothing" kind of girl. And I'm finding that this usually sets me up for disappointment as I bite off more than I can chew and then feel bad about it. I want to set you — and me — up for success. So, this week, pick one zone.
Dejunk that Trouble Spot
If you missed it, review the questions to ask yourself about what to keep, what to store, and what to give away. And then do attack that zone with a vengeance. If you've really limited yourself to that one zone, you should be able to get 'er done within a reasonable amount of time, and you'll feel sooo good when you're done!
Next – Organize That Stuff
There are a number of ways that you can organize your possessions.
Store like with like – In my storage closet last week, I showed you how I sorted the different toiletries and supplies and kept shampoos in one spot, dental supplies in another, pillowcases in another, etc. This is a huge help in finding the product you need. And it just makes good sense! Grocery stores (generally) keep all of one kind of item in the same location.
Store things that you use together in the location where you use them – I read this in a kitchen organization book years ago, and it astounded me. The author recommended keeping all your baking supplies, tools, and pans together in one cupboard as opposed to having a pantry, gadget drawer, and baking pan cupboard. She reasoned that it made much more sense to store all these things together and near the place that you use them. So you might not want to have a "cleaning cupboard." Instead, you might want to store just the bathroom cleaners and tools in the bathroom and store the furniture polish in a living room closet.
Store items in containers – I am a geek for containers. I love baskets and boxes. If they're pretty, that's great, but I'd much rather have them be organized so that I can find what I need when I need it. I find clear Sterilite boxes with lids to be super handy for storing toys, school supplies, and craft stuff.
Be Proud of the Transformation
I don't know about you, but once I've set an area to rights, I love to brag on it, look at it, and make my husband go look at. When somethings is nice and clean, it makes you want to keep it that way, doesn't it? So, now's the time to show off! What did you do this past week?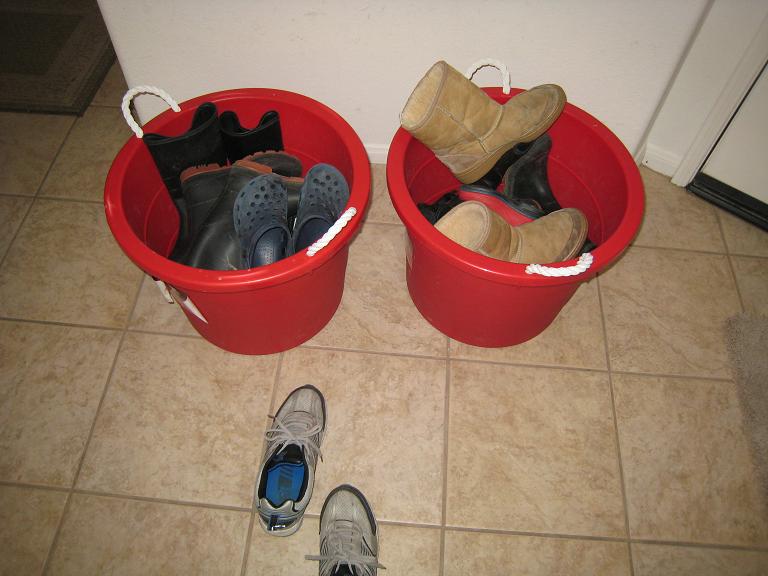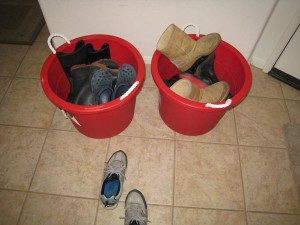 One of the areas I tackled was our foyer, specifically, the shoe area and the coat closet. Our kids have always loved to kick off their shoes as soon as they come in the house. With new carpet, I'm very thankful for this deeply ingrained habit. However, our shoe area was getting to be a bit much. Last fall we started using these red buckets to corral all their shoes. Putting them away was certainly easy, but as you can see, it was somewhat of an eyesore. And some still didn't make it in the bucket.
This is what it looked like on a good day. Usually, shoes were everywhere.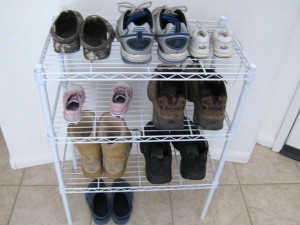 Time for some reorganization! So, I sorted out all the shoes and relegated the black rubber boots to a storage closet. They are great for rainy weather, but the rain is gone now until Fall.
I allowed each kid access to one pair of shoes downstairs. (Parents were allowed two pairs.) Then I brought out this shelf to use to hold shoes. There's plenty of room for each person's shoes, and it looks a lot better. this was a pretty quick fix, but one that has the potential to change the room dramatically.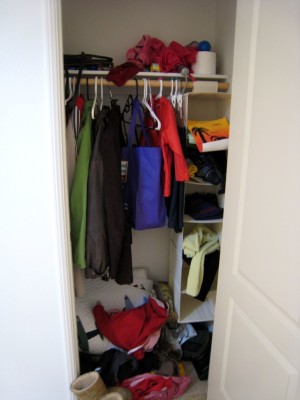 Next, I tackled the coat closet. Prior to this springtime makeover, it was a jumble of scarfs, jackets, shopping bags, blankets, hats, a bocci ball, and a roll of toilet paper. Talk about your scavenger hunt fodder!
Winter coats and scarves were relegated to deeper storage, blankets to the upstairs linen closet, toilet paper to the bathroom, etc. Except for a few light jackets and some baseball caps, I really didn't see the "need" to store much else in here, so it was an absolutely perfect storage spot for our travel and adventure bags.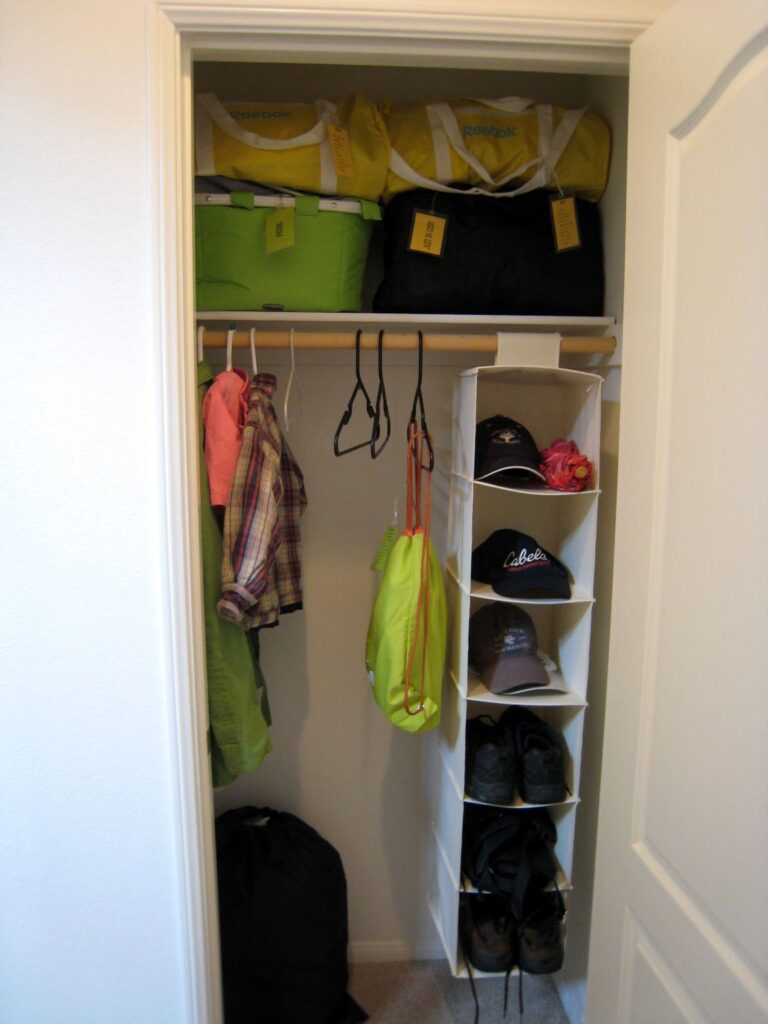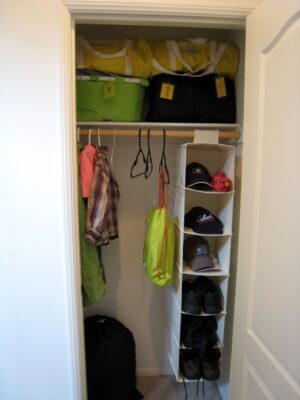 As you can see, the top shelf works great for holding them until our next family field trip. Hats and extra shoes fit nicely on the closet organizer and a bag ready for the beach sits on the floor.
So, come clean!
What did you do this week? If you didn't do anything, that's okay. Tell us what you're going to do — either in the comments or by linking up your post about the Spring Clean Along.
Everyone who participates through a link or a comment on this post will be entered in a giveaway for a copy of Houseworks – How to Live Clean, Green, and Organized at Home by Cynthia Townley Ewer. CEO, as she's known on the web, founded the site, OrganizedHome which played a major part in my early homemaking years.
Giveaway will be open until Sunday night, April 25th, at 8  pm PST. Winner to be chosen at random.
What's your favorite way to organize stuff?