The Tooth Fairy is a Big Spender at Our House
We are a participant in the Amazon Services LLC Associates Program, an affiliate advertising program designed to provide a means for us to earn fees by linking to Amazon.com and affiliated sites. We participate in other affiliate programs as well. For more details, please see our disclosure policy.
This post is sponsored by Tom's of Maine:
This was my big girl late last summer. She's got a bug bite on her forehead and a tooth dangling by a thread. She was so excited to be a "big kid" and start losing teeth.
Teeth, as it would turn out, are a big deal around here. There's a lot of backstory to teeth in the FishFam.
Years and years ago, when FishBoy15 was a wee lad, we were shocked and amazed that our baby had grown old enough to lose a tooth. What?! Since we don't do Santa Claus, the Easter Bunny, or the Great Pumpkin, it only followed that we weren't going to play up the Tooth Fairy either.
Instead my husband said, "Well, in the Fisher family, when you lose a tooth you get $5."
My jaw hit the floor. Say what?! I looked at him stunned and amazed. I might have even said, "Your parents were nuts." I know I thought it.
When I was a kid, I was lucky enough to get a quarter or a sandwich bag with a handful of loose change. FIVE dollars?! What were they thinking?!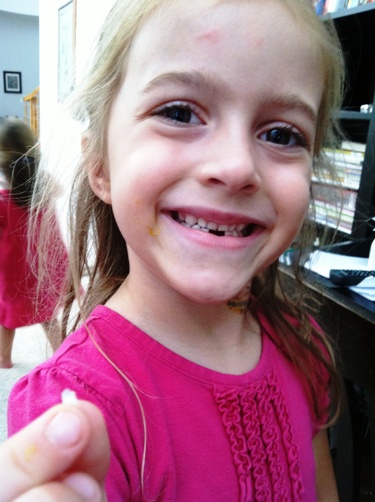 Years went by, and every time a child lost a tooth, FishPapa would pay up with five bucks. Until the time when…
a child lost a tooth while Gramma was visiting.
Gramma saw FishPapa hand over a five dollar bill in exchange for a tooth neatly preserved in a sandwich bag. She said, "What?! Wow the Tooth Fairy got rich in the last few years."
I stared at her. Huh? "Isn't that what you paid for teeth?"
"No way," she said.
As it turns out, on that long ago day when FishBoy15then6 lost his first tooth, FishPapa had created an Insta-Tradition. He never lied, but he did let me blame it on believe it was his parents.
He explained, "I wanted the prize to be big enough that no kid would want to let it dangle for days on end. Five dollars is the mother lode to a child. He'd be willing just to yank it quickly and get it over with instead of torturing us with it for days."
Ha! We still laugh at this story. And FishPapa still hands over $5 in exchange for a tooth in a plastic bag.
You think we're weird? My mother still has all my baby teeth.
Tom's of Maine "Be a Tooth Fairy Hero" Program:

Be a hero this winter and help bring much needed oral care to families in your area.

The new Tom's of Maine "Be a Tooth Fairy Hero" art project, part of the company's annual Dental Health for All charitable giving program, invites children to break out their crayons and creativity to draw an artistic interpretation of the beloved Tooth Fairy to help smiles in need.

Enter your child/children's drawing of the Tooth Fairy into a national drawing here. There's a coloring page available to make it easy or kids can draw their own creations. Ten entries will be randomly selected, awarding a $10,000 donation on each winner's behalf to a dental clinic in your state, plus toothpaste for your child's entire school.

The last day to enter is March 15, 2013.

What a fun and simpler way to help raise awareness about the need for access to dental care and an opportunity to talk to your kids about good oral care habits!

This year marks 10 years of the Tom's of Maine Dental Health for All program and $1 million donated to community dental clinics nationwide, dedicated to providing more families with regular screenings and check-ups. To date, the company's funding has helped make more than 200,000 additional patient visits possible.
Does your family have a funny tooth story?
Disclosure: This post is sponsored by Tom's of Maine. Even though I have been compensated for my time spent writing, Tom's is a product that I love and buy for my family. I think this contest is a great opportunity to help your school and community.