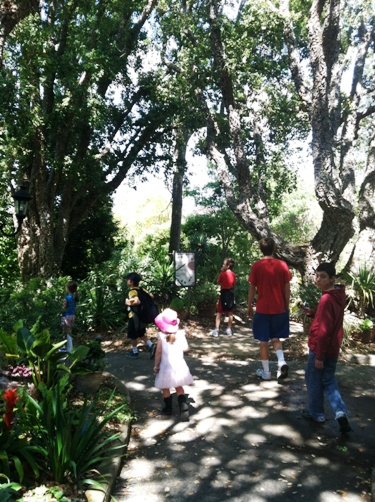 It was a mellow week as week's go. No one threw up. That, in itself, is cause for celebrating. And we did, actually, on Monday.
FishChick6 reported that she had "pooped logs". If you're a mother whose child has ever had diarrhea for a week, you know that this is indeed, worthy of celebrating. We don't know if hers was a stomach virus or the Costco-induced hepatitis A, but we are very thankful that she is well. As the family reaches the edge of the six week mark since we ate the ill-fated berries, I am ready to breathe a little more easily. Thank you for praying!
We visited the San Diego Botanical Gardens on their monthly free day. It was an absolutely beautiful day, a great time to literally stop and smell the roses.
School is done. While we didn't go out with a bang, we didn't entirely phone it in, either. The kids are all doing some type of "summer school", so it doesn't really matter. Learning shall continue full speed ahead. But, at least the pressure is off.
Yesterday I finally got the fridge cleaned out. It had been on my list all. week. long. and it just never happened. I actually know what we have now, which made dinner prep last night so much easier, especially since I didn't have a meal plan.
Small victories, people, small victories.
We're going into a weekend with longtime friends. I'm really excited to just shift gears, move into summer, and hang out. We've known Jessika and Devin for 17 or 18 years. They waited through the watches of the night while I labored with FishBoy15-almost-16-on-Wednesday. That's friendship!
Meanwhile, here's what's been happening on Life as MOM:
Coming next week:
Meal Planning Ideas and a Twitter Chat
more Summer Fun
Helpful Housewarming Gifts
What's in the Produce Box
and more….
Be sure to let me know what stories and articles are helpful to you and what you'd like to see more of in the coming weeks. I want to make your "life as MOM" as fun and as easy as possible.