Fun week here! Janel and her two girls came to stay for a few days. All eight of our family's cousins were in one household. It was fun to see how they mingled.
This is me and my youngest sister Janel. Yes, the only picture of us — bed head and all. I can post this without guilt because I'm the bossy big sister.
My younger niece, Lucie, is a bit shy and quiet. I think I heard her talk twice when I visited them in Virginia last May. So, I joked that I'd pay five bucks to the first person to break the ice and get Lu to speak directly to him or her.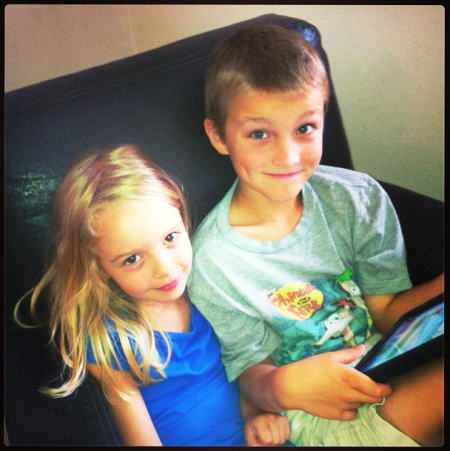 This guy nabbed the prize. He absolutely doted on his cousin all weekend, not knowing that there was cash at stake. They played and played and eventually, Lucie was chatting up a storm.
Here's hoping that Uncle Brett gets a job in California next year when he finishes law school!
Meanwhile, here's what's been happening on Life as MOM:
Coming next week:
another FREE printable meal plan
How to Use the Produce Box Squash
Simple Ways to Improve Your Posture
School Supplies Already?
Be sure to let me know what stories and articles are helpful to you and what you'd like to see more of in the coming weeks. I want to make your "life as MOM" as fun and as easy as possible.