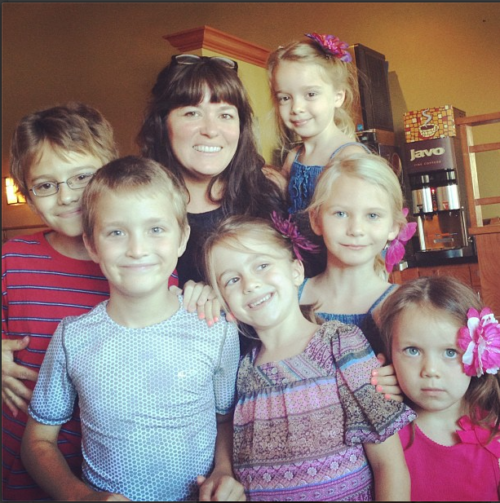 This week was a busy one! Monday arrived and we got to watch over Jack, the neighbor's dog. My kids were in love, eagerly looking forward to the time to go to Jack's house and play with him. They are pet lovers, but we have no pets. So, they were thrilled to "puppysit."
On Tuesday I took the 11 and Under set north, venturing through LA traffic to see my mom, brother, sisters, and nieces. That's my sister Jamie and six of her nieces and nephews. I left two at home to go check on Jack.
Janel's California summer is ending; it will be at least a year until we see them again. If sitting in a parking lot, otherwise known as "the 5" in 90 degree heat isn't love; I don't know what is. The kids have discovered Facetime, however, so it will all be fine.
Wednesday we met Jillian and her daughter at the pool. It's been HOT here in San Diego this year. Usually I wear sweatpants and long shirts, but not this year. (Water was still cold, though.)
On Thursday, I spent hours at a coffee shop with a friend. Mamas of littles, your day will come! I am surprised that we had the luxury of just chatting for hours. It was amazing.
Friday I cooked up a storm for a cookbook I'm working on. I invited a couple friends and their kids over (6 boys to add to my own) to sample the new creations. It was a full house, to say the least. But, so fun.
And that's the week! It went by fast.
Meanwhile, here's what's been happening on Life as MOM:
Coming next week:
another FREE printable meal plan
Zone Defense: Bathrooms (new assignment)
Eat Well, Spend Less: Back to School
Filling the Freezer
Be sure to let me know what stories and articles are helpful to you and what you'd like to see more of in the coming weeks. I want to make your "life as MOM" as fun and as easy as possible.