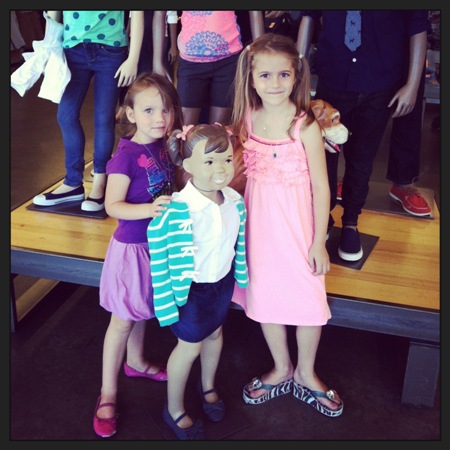 My girls love to hang with the mannequin at Old Navy. I have no idea why, but it's the HIGHLIGHT of their trip. If I have my phone handy, I snap a photo. We will have an entire collage of Old Navy shopping photos when they are grown. Kinda sweet, actually.
That was one of the highlights of the week — shopping with the girls and FishBoy9. I let them pick out a few new duds that were on sale and got to figure out what sizes everyone really is. Old Navy and Target are my two go-to shopping spots, so I'm thankful that their sizing is very similar. We headed to Target later and got everyone new tennies. Very happy people — and feet — around here.
I also got my hair cut. I'm not sure I like it yet. I'm growing it out, which makes a hair cut seem counter-intuitive, but I don't want to look like a mess for the next six months. Went with a little thicker bangs (or fringe as one might say overseas). Not sure that I love it. But, hair extensions don't seem to be budget friendly.
Never in my life did I think that I would consider hair extensions!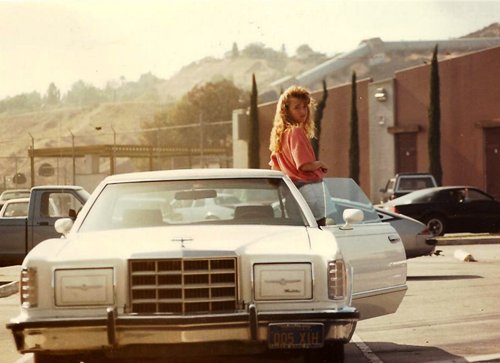 I mean, really. Once I like my current hair, I'll share a picture.
Meanwhile, here's what's been happening on Life as MOM:

This week we've been talking Back to School with the Eat Well, Spend Less series. It's our farewell series. It's been a great experience. Check out these posts if you missed one:
Or browse the entire series here.
Coming next week:
another FREE printable meal plan
Time Management Tricks for the School Year
How to Make Working Out Work for You
Our Homeschool Curriculum for the New Year
Be sure to let me know what stories and articles are helpful to you and what you'd like to see more of in the coming weeks. I want to make your "life as MOM" as fun and as easy as possible.