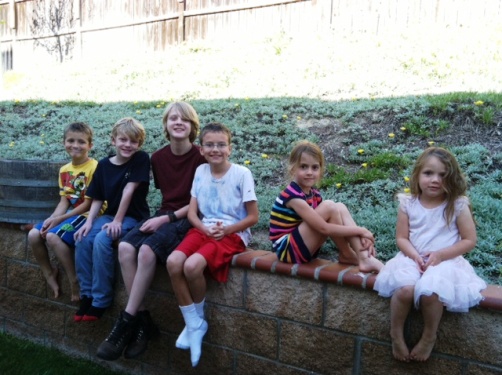 This week has just flown by! I don't know what all we did, but there were clearly some high points:
Two of the kids in the picture aren't mine, but we got to borrow Sam and Jonah for a full day before they all moved to Australia! We're going to miss them something terrible.

We briefly entertained the thought of following them. Australia needs guys in construction, apparently. I've got the man for the job! Unfortunately, he's also too old to get a visa. (Yep, FishPapa turned the big 5-0 this year.) That's okay; it was a great mental exercise to go through — contemplating a move to the other side of the world — but we decided the grass is just as green right here in our own backyard.

The chiropractor has been successful in treating the scar tissue in my back and shoulders. Yay! Now to find a way to do computer work without making my back and hip pain flair up. That is going to be a challenge.
I got all caught up on the bookkeeping. After spending HOURS getting ready for taxes this year, I decided that next year will be different. I'm not going to put off the bookkeeping anymore. You heard it here.
In other news, here's what's been up with Life as MOM:
Coming Up Next Week
What Organized Looks Like
How to Host A Clothing Swap
A Free Printable Meal Plan with Grocery List
Zone Defense: Laundry and Linens
More Outside in 30 ideas
Be sure to let me know what stories and articles are helpful to you and what you'd like to see more of in the coming weeks.