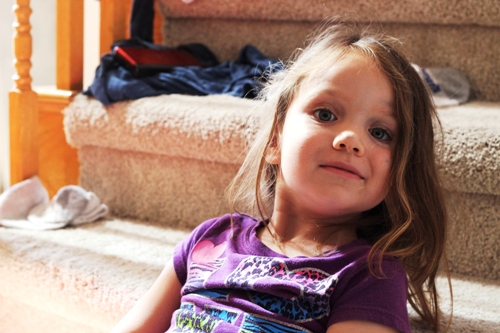 We finally upgraded from our 7-year old point and shoot camera and got the real thing. I've been saving and shopping — and bugging my photog friends for opinions for years. Finally took the plunge and it came this week. I know nothing about taking good pics, but I hope to learn, eventually.
I was rather proud of myself to take the shot above — without knowing what I'm doing. Yay! Now, to learn how this camera really works. As you know, I don't like to read directions. I guess that's why there are photog friends and YouTube.
Anyway, I'm having fun playing with my new toy. And no, I'm not letting the kids touch it. And yes, those are someone's abandoned socks on the stairs behind my beautiful girl. That's our life.
Meanwhile, here's what's been happening on Life as MOM:
Coming next week:
another FREE printable meal plan
Kids Can Clean the Bathroom
Creating a Vision Board for Our Trip to Europe
Our Homeschool Binder
Planning Ahead
Be sure to let me know what stories and articles are helpful to you and what you'd like to see more of in the coming weeks. I want to make your "life as MOM" as fun and as easy as possible.