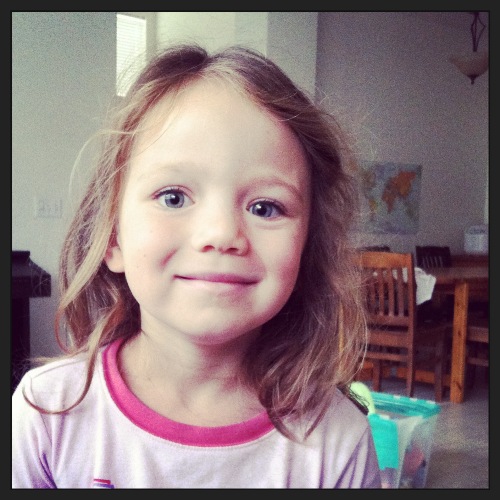 Oh my. What a week. It started out strong, meaning I was productive, energetic, and on top of things. Then on Wednesday afternoon, my girl there had a fairly severe allergic reaction which involved a frenzied scramble through the house for Benadryl and eventually a few hours spent in the doctor's office getting extra treatment.
All's fine now. We've got our Auvi-Q (a talking epi-pen of sorts) and a referral to the allergist. But, it all stopped this mama in her tracks.
I am so thankful that it wasn't worse, that I found some Benadryl, and that we have a plan to get a handle on further allergy diagnosis. But, ugh. That kind of blindsided me.
Everyone's fine now. We're celebrating the girls FIFTH birthday. How did that happen?! Remember this day? Wow. Rereading through the memories of her dacrocystocele gave me hives. Even with your sixth kid, motherhood is anxiety-producing. Let me tell ya.
Here's to many more years of surviving minor medical emergencies….
Meanwhile, here's what's been happening on Life as MOM:
Coming next week:
a FREE printable meal plan for school lunches!
Booking It – Come share your latest reads
Why You Should Exercise
a Zone Defense check-in (see this month's assignment)
How to Save Money on Homeschooling Supplies
Be sure to let me know what stories and articles are helpful to you and what you'd like to see more of in the coming weeks. I want to make your "life as MOM" as fun and as easy as possible.