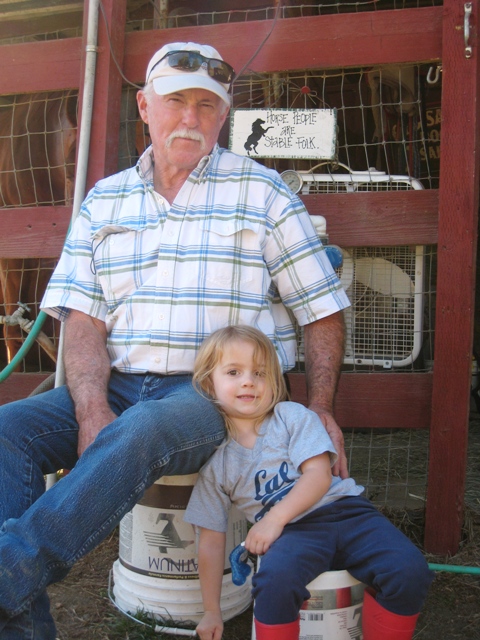 The week was pretty uneventful — until this morning. Grampa Lee had a heart attack. Thankfully, he recognized the signs that something was amiss and got medical care right away. He's recovering in the hospital for the next couple days. This pic is of him and one of his favorite little cowgirls from a few years ago. We appreciate your keeping him in your prayers as he recoups.
In other news, I did a little blog hopping this week. That was pretty fun.
:: Check out my three-part series on freezer meal over at The Kitchn: Intro | 5 Great Meals | Tips for Power Cooking Freezer Prep
:: Head to Keeper of the Home where I'm chatting about Keeping it Real for homeschooling and homemaking, and well, life in general.
School starts on Tuesday, hockey in a week or two, and I have a big deadline at the end of the month. Life is heating up. Time to get my game on. I'm testing out a new app called Schedule Planner HD by Intersog. (That's my affiliate link for the iTunes store.) I found the app when I was looking for something to help me keep track of my time budget. Hoping to get it to work for me.
I'll let you know how it goes. If you've got an app that does that, please let me know.
Meanwhile, here's what's been happening on Life as MOM:
Coming next week:
another FREE Meal Plan to Print and Cook
Emergency Preparedness
Homeschool Organization Tips
There's a Bully in School
Freezer Cooking Days
Be sure to let me know what stories and articles are helpful to you and what you'd like to see more of in the coming weeks. I want to make your "life as MOM" as fun and as easy as possible.