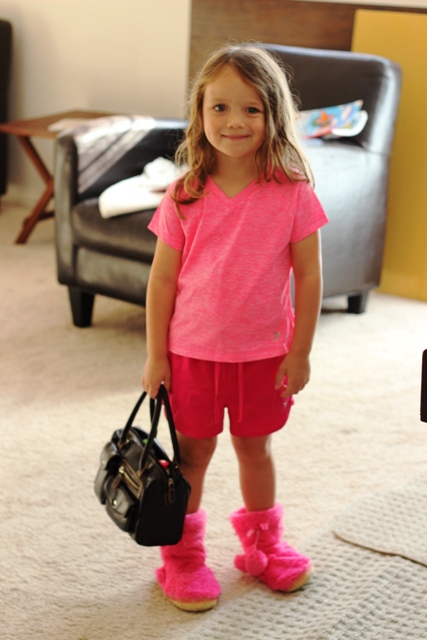 This girl cracks me up. She came down to the family room dressed like this. She said she was ready to exercise, pink fluffy booties and all. In the purse? Are water bottles. Love her — and her creative enthusiasm.
FishChick5 had her allergy skin testing week. Oh, that was not fun. She was so brave, as silent tears rolled down her face. I'm blessed that she was such a compliant patient, even though it hurt. Unfortunately, she tested negative for all food allergens, the things I was most concerned about. Dust mites and weeds, however, have proven not to be her friends.
We've got blood testing and an in-office challenge in our future. Pray that we both can be brave!
In other news, it's been fabulous to have Sarah, my teacher's aide come to the house four days a week. Yay for bringing in the reserves. We will be so sad when she leaves in October. But she's going on a mission with YWAM, so that's a pretty good reason to lose her.
The hockey season has begun with four of my men (FishPapa, included) heading to the rink multiple times a week. The jury is still out whether we will get another cable plan or not….
Meanwhile, here's what's been happening on Life as MOM:
Coming next week:
another FREE Meal Plan to Print and Cook
Dealing with Environmental Allergies
more Falling for Fun
planning for Christmas (yes, really)
I Can't Wait to Homeschool!
Be sure to let me know what stories and articles are helpful to you and what you'd like to see more of in the coming weeks. I want to make your "life as MOM" as fun and as easy as possible.