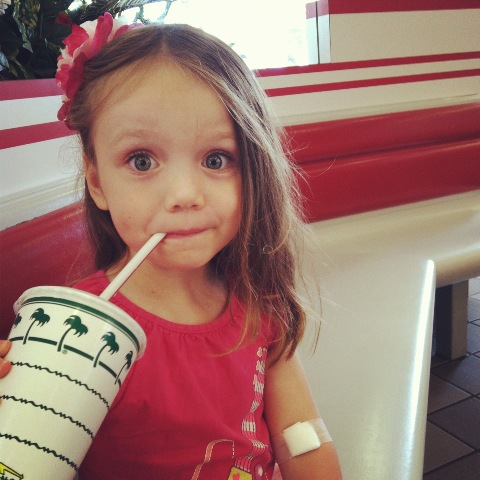 The week flew by in a flash. Some of the highlights?
I worked on my book that is due Monday. I work best under pressure. That's what I tell myself. I won't be early on this deadline. I'm trying to tell the overachiever in me to calm down. I'm spending the weekend rereading and refining it. This is my third cookbook. (Yes, really. Number 2 will be in stores on Tax Day.)  I learn something new every time — and kick myself for not having organized something better.
I finally took charge of my medical care and changed from the mediocre primary care physician I've had for three years and switched to one that came very highly recommended. The new office got me an appointment for NEXT week, while the old office usually made me wait TWO months.
The irony? I was holding off canceling my physical that I had scheduled with the old guy just to make sure that the insurance changes went through on the first. Lo and behold, they called me yesterday to say that he was going to have "routine surgery" on that day — the day I had waited two months for an appointment — and that he would be gone until November. I confess I felt a little smug inside to tell the receptionist to just cancel the appointment. Heavens! What if someone (ie me) had something seriously wrong and they kept getting put off?! Here's hoping that my new doctor will be able to accurately diagnose my hip pain.
I had a long chat with FishChick5's allergist. The initial blood tests came back with positives for dust mites, peanuts, and walnuts. We are not surprised, are we? We went back to the lab for another round of blood tests to know a little more about the peanut allergy. She was quite brave and we celebrated with a milk shake afterward.
We may or may not do an in-office peanut challenge. We probably won't do one for walnuts since she reacted to them so recently and so seriously. It's all a bummer, but it's good to know what we're dealing with, just the same.
I thought I was ready to do another Whole 30, but then we had this for breakfast one morning and I decided not to. I don't want to worry about food so much; I want to enjoy it. Need to think about that one some more and figure out what that looks like.
We said farewell to my mother's helper who came so faithfully for the month September. It was a busy few weeks with school for six plus book writing. Sarah really helped close the gap in my mental and physical abilities as far as home life is concerned. She is off to YWAM training and then to Mexico and South America. We will miss her!
My friend Jules is instagramming a 31-day Eat at Home Challenge. I am super excited to see how it goes for her. You'll have to head over and read her explanation of it. I love the idea of being more intentional about eating at home and making it just as fun — if not moreso — than eating out. (And I LOVE to eat out…) I'm honored, too, that she chose my cookbook to guide her through her October of eating at home. Don't forget to follow her snaps of the experience and follow the hashtags #eatathome and #nymfreezer to see what other folks are doing along with her.
Speaking of 31 Days, Lord willing, I'll be participating in The Nester's 31 Days event again. Last year I tackled a topic on each blog: 31 Days of Freezer Cooking and 31 Days to Stop and Smell the Roses. This year I'll be blogging every day about ways to save time in the kitchen. Over on Good Cheap Eats, I'll be  posting 31 Days of Homemade Convenience Foods.
Meanwhile, here's what's been happening on Life as MOM:
Coming Next Week:
Be sure to let me know what stories and articles are helpful to you and what you'd like to see more of in the coming weeks. I want to make your "life as MOM" as fun and as easy as possible.