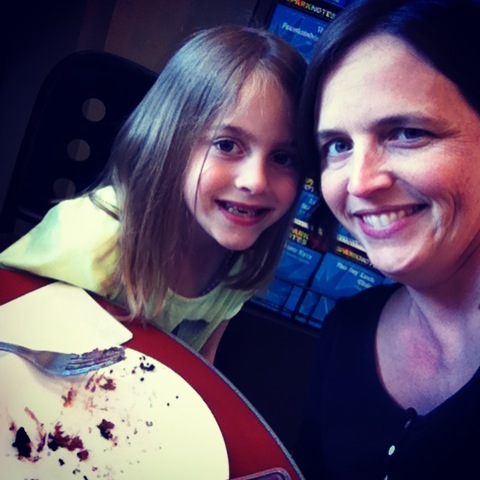 The weeks are flying by. I have a really big project with a due date of May 1st. The days are flying faster than I want them to. Please find the pause button for me.
This week was filled with good things, though, even if it rushed by in a blur.
My big girl and I went out on a date. We browsed the bookstore, shared a piece of cheesecake, and did some shopping at Trader Joe's. Did you know that Barnes and Noble sold cheesecake from Cheesecake Factory? Be still, my heart.
It was so nice to have one on one time with my girl. I can't believe she's six already. She was so amazingly sweet at the coffee shop, asking if she could carry the tray to the table. Little did I know that she was envisioning herself as Fancy Nancy — thankfully without the tripping scene where Nancy's wearing an ice cream sundae. When we were done, FishChick6 collected all the dishes from our table and carried them back to the counter.
How did I get such a sweet kid?!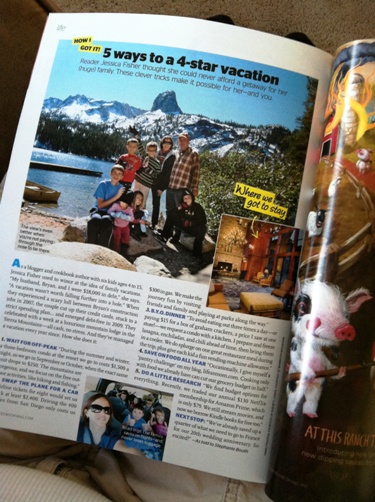 I took the little sister on a date a few days later. She chose a chocolate cake pop and hot chocolate for her treat and was just the sweetest thing, telling me how careful she was going to be and not spill. And she didn't.
Well, only a little on her dress.
She is a fashion diva. I wish I had taken a picture: frilly pink skirt, brown tank top with a turtle on it, black boots. She had a little "Punky Brewster" on her that day. So cute.
While we were out, we grabbed a copy of the Redbook May edition because — SURPRISE! — we're in it! A few months ago a reporter interviewed me about saving money for big things. They ended up sharing how we are able to fund our vacations each year debt-free.
It was fun to bring the magazine home and show the kids. "Hey! That's us!"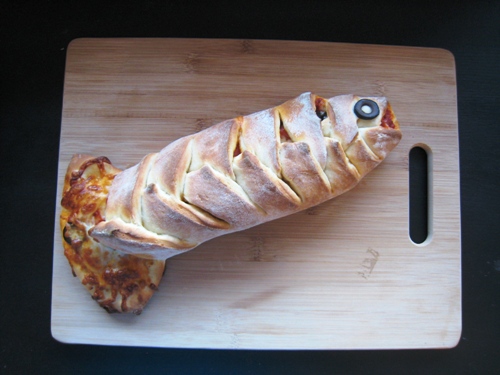 On Friday night I got all crazy with pizza dough origami and made this fish calzone. I'm pretty darn proud of myself. The eyeball is my favorite part. Fish Calzone tutorial upcoming, so you, too, can wow the folks at your table. My friend Mandi said, "That is awesome and terrifying at once."
Mission accomplished.
Meanwhile, on Life as MOM…
Here's what we've been chatting about this week in case you missed something:
Coming next week:
Eat Well, Spend Less – A State of the Kitchen update
another FREE Printable Meal Plan and grocery list (the chicken plan)
more Outside in 30
Fish Calzone Tutorial so you, too, can be both awesome and terrifying 😉
PLUS, I'm going to be signing copies of my book at the LA Times Festival of Books next weekend. I'd love to meet you! I don't have all the details yet, but will post them as soon as I do. Look for the Harvard Common Press booth, and I'll be there Saturday at 2pm. If there is chocolate cheesecake there, so much the better.
Be sure to let me know what stories and articles are helpful to you and what you'd like to see more of in the coming weeks. I want to make your "life as MOM" as fun and as easy as possible.