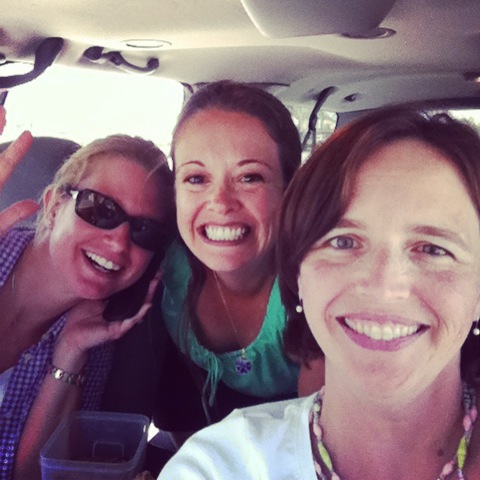 I cannot tell you what a FULL week it has been. Well, I suppose I can. That's the purpose of this post, isn't it? You wouldn't know it was full since my posting has been fairly scarce this past week.
Last weekend Stephanie and Amy flew into San Diego. We feasted, watched FishBoy9's hockey championship, and stayed up late chatting just like at slumber parties of yore, then we headed out of town for Camp Blogaway where Stephanie and I presented. I'm not usually the chauffeur for family outings, but I'm pretty proud of myself for navigating busy freeways and steep mountain roads all on a holiday weekend.
I came home on Sunday afternoon to a sweet family who was very happy to see me. We celebrated my birthday the next day which was also the holiday, so that means we sat around and vegged. I was ready for that.
I needed that in preparation for the Stomach Virus of 2013. FishChick6 got hit hard, keeping nothing down or in for two days. We consulted with the doctor a few times and spent a lot of time nursing her upset tummy. Anxiety (mine) was on a roller coaster. It didn't help on Friday afternoon that I got an automated call from Costco that the organic frozen berries I had bought were causing an outbreak of hepatitis A. Guess what? Hep A looks like the stomach flu.
(We appreciate your prayers for a quick recovery and minimal carnage across the family members.)
Meanwhile, here's what's been happening on Life as MOM:
Coming next week:
Enjoying Great Gifts
5 Places to Look for Summer Enrichment
another free printable meal plan
More DIY on a Dime: Summer Fun
Zone Defense
Why to Vacation in a Condo
Using Your Produce Box Stuff
Be sure to let me know what stories and articles are helpful to you and what you'd like to see more of in the coming weeks. I want to make your "life as MOM" as fun and as easy as possible.