The weekly ramble: where I blog like it's 2004.
Last week as you know the whole family was down with the flu. It was the headachy, sore throat, feverish kind of flu, and I was so thankful that no vomit was involved. We would that up on Valentine's Day, so that by Monday, I was more than ready to get outdoors and enjoy our February summer.
The weather was in the 80s for half the week, so I forced everyone outside to walk with me. There was a fair amount of grumbling (It's sooooo hot!), but it was worth it! It was sooooo nice to be up and about with blue skies and birds singing.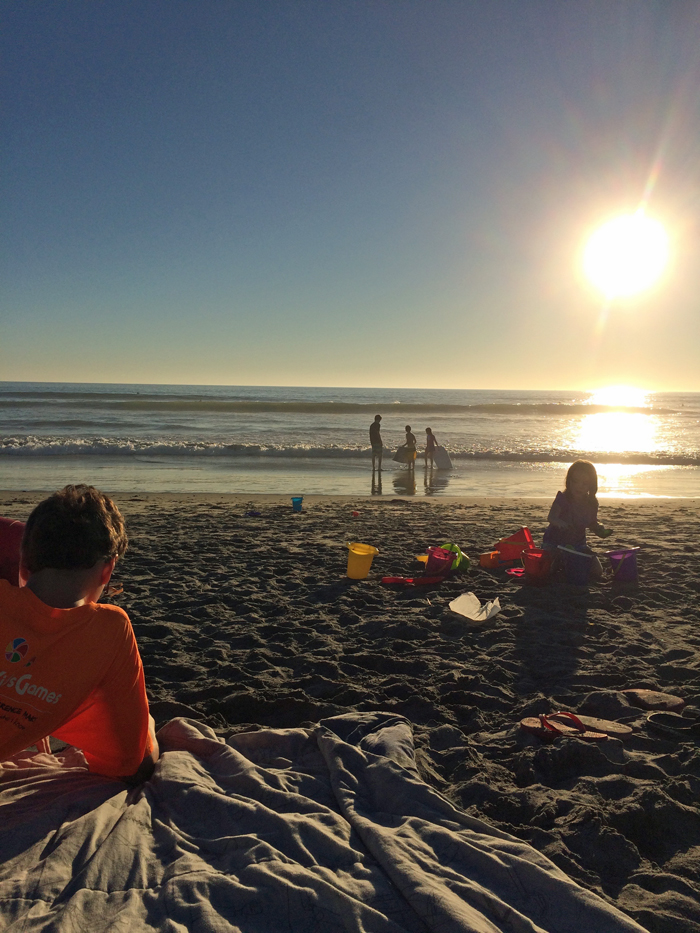 We even took the family to the beach on Tuesday afternoon. It was 86 that day and we almost had the beach to ourselves. I even put on my bathing suit and GOT IN THE WATER, something I've not done in years.
You see, my dad told me when I was little that a wave would suck me out to see. And I believed him. Until I was 18 and a college roommate told me that wouldn't happen.
I have always had an extreme fear of the water as a result — and a fair amount of bitterness toward misguided parental warnings. Growing up in Southern California, I should have been able to enjoy the water, but I never have. I'm hoping to conquer this fear this year. Not sure how, but I want to.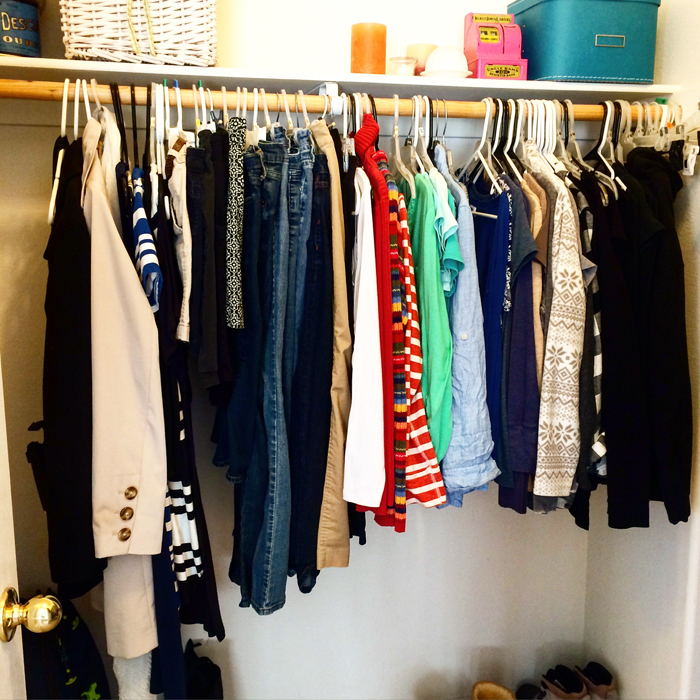 While I was on a roll and feeling good, I also knocked out the closet project that I told you about. I ditched a bunch of clothes that I don't like and kept what I did. Though, to be honest, I have mixed feelings about that black and white striped dress and that black and white skirt.
But, my closet is definitely streamlined. It's not the ideal wardrobe for me, but it's doable. More on that later this week when we do the full Zone Defense Check-In. I hope you're ready! Here's your assignment, in case you forgot.
I'm hoping to show you a clean and fancy, updated master bath at that time.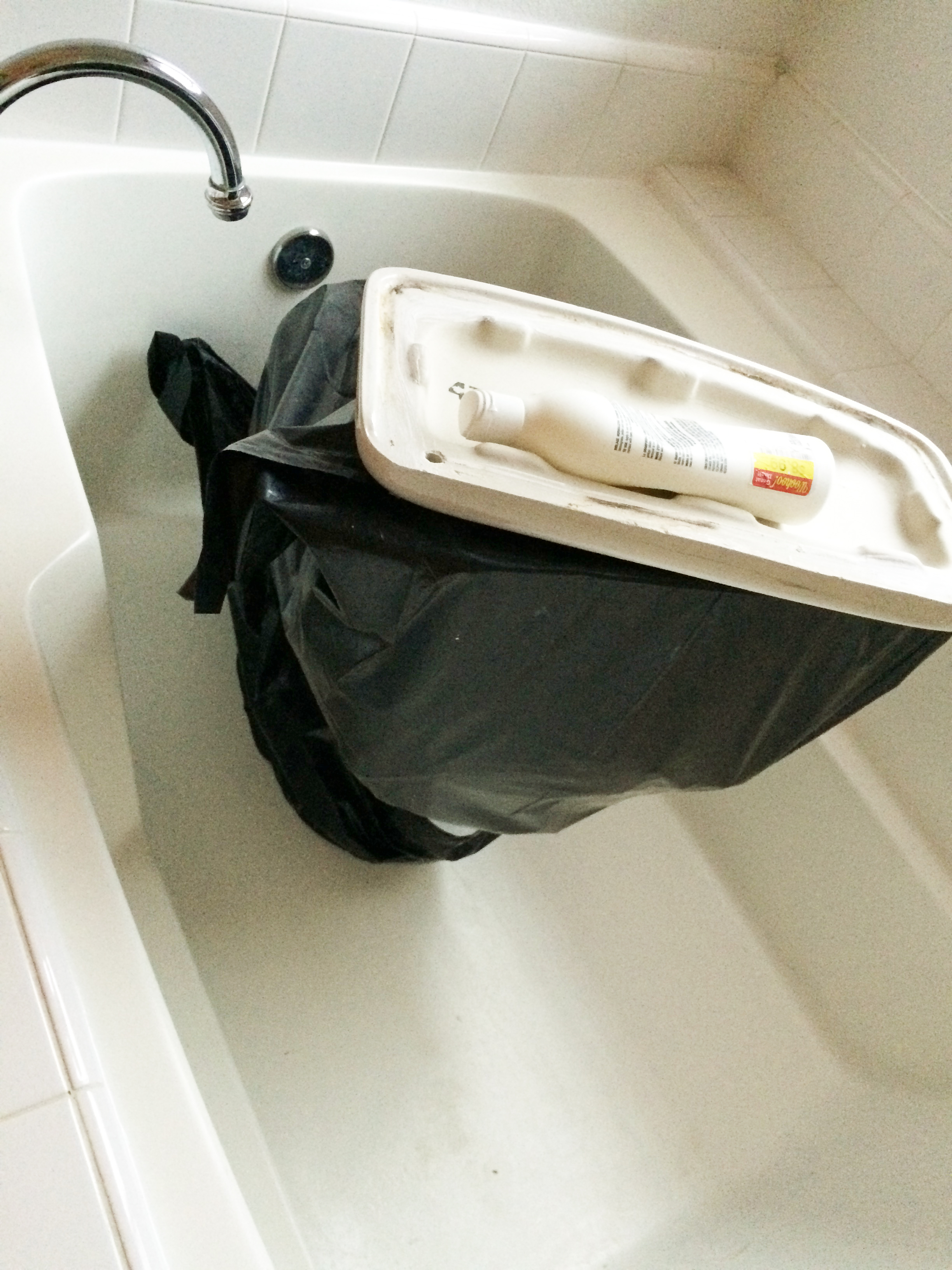 At the moment, this is where my toilet is. In my bathtub.
The owners of our house have wanted to do some repairs and renovations in the bathrooms for over a year now. For some reason the old management company wasn't able to get those done, so the new crowd is tackling those.
It is a weird thing for me to have workmen in and out of my house since FishPapa has remodeled the three homes we've owned and even one that we rented, doing the work himself. Due to legal/liability issues, he's not doing the work on this house and we're both a little weirded out.
It's not my house, but I love the owners so I'm very protective of their house. Here's hoping it all turns out to be good work. Previous vendors have done really crappy work here, but that was with the old regime. I'm hopeful that the new management company and their contractors are gonna do better work. Here's hoping.
Here's also hoping that the stomach flu that hit FishBoy15 on Thursday doesn't spread to the entire family until we've got all the bathrooms online! Once our bathroom is done, there will be work done on the boys' bathroom, so we'll be down a bathroom for a couple weeks.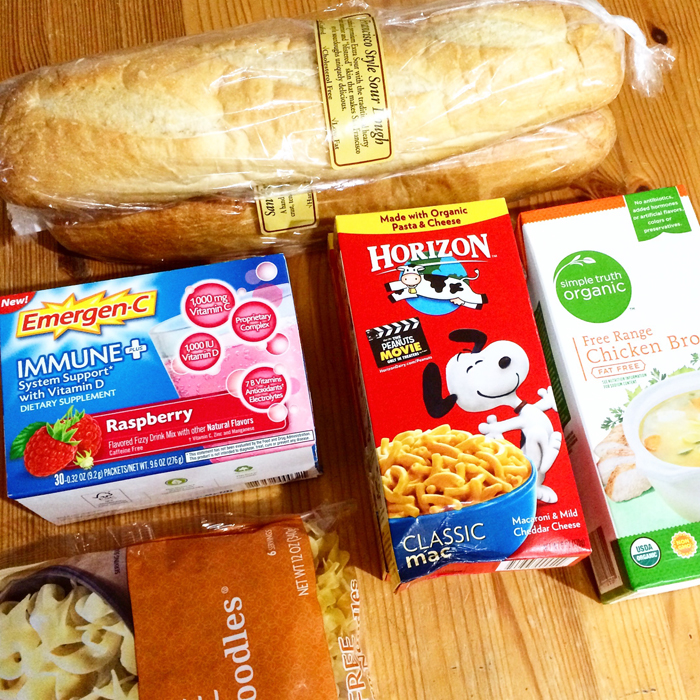 This was my impromptu shopping trip on Thursday night. I wasn't feeling all that great myself, so I picked up easy food that wouldn't be too gross in case someone got sick. I've cleaned strawberry smoothie throwup out of the carpet before and it wasn't a pretty sight.
And yes, I love boxed mac and cheese. My children do not. Neither does FishPapa. Haha. I ate most of it. And so far, no one else has gotten sick and FB15 is on the mend.
As if that wasn't enough, my blood tests came back with a "very slight suggestion of hyperthyroidism". Since I've been feeling some of the symptoms come back since I went off the meds, I'd say that the test was leaning in the right direction. So….. I'm back on the smallest dose of the meds. Sigh.
Whew. What a week. Stick a fork in me. And make me one of these sandwiches, please.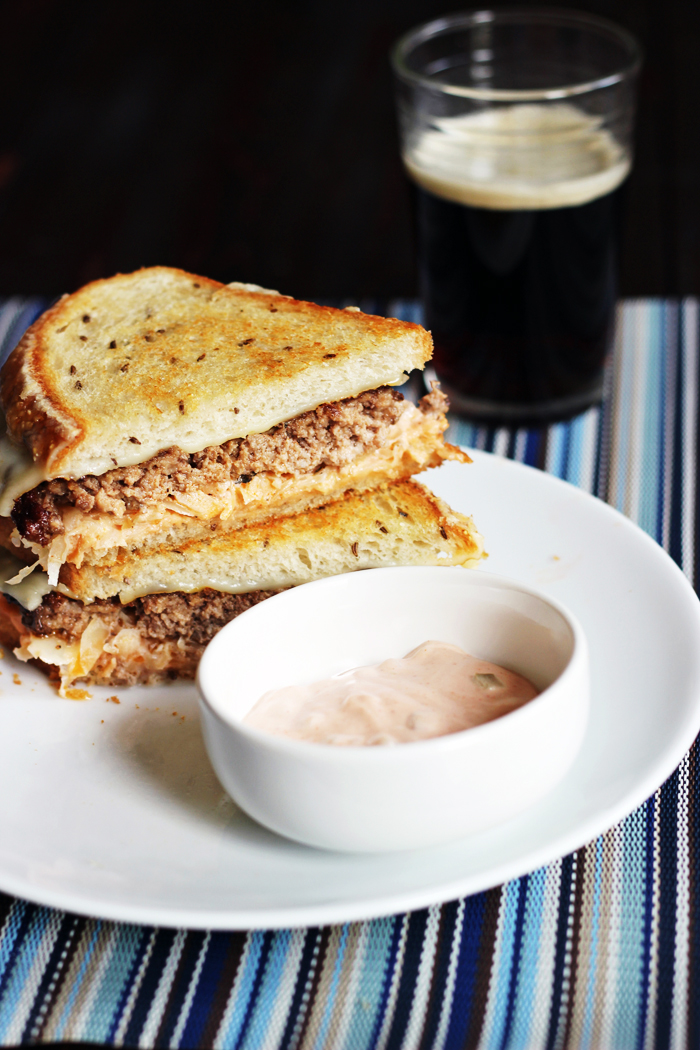 Meanwhile, here's what's been happening on the blogs:
Coming next week:
a new site design/navigation!
What Motivates You
Zone Defense Check-in
Making Healthy Food on a Budget
Hearty Gluten-free Meatballs
Ham and Spinach Egg Bake
a new Comfort Foods Meal Plan
Do ya get the newsletter?
If you already get the newsletter, you know that I've been handing out freebies and special bonuses over the last few weeks. If you're not on the list, then you don't know what you're missing out on.
Be sure to sign up for bonus offers, surprise giveaways, extra content, and special deals for Life as Mom "insiders".