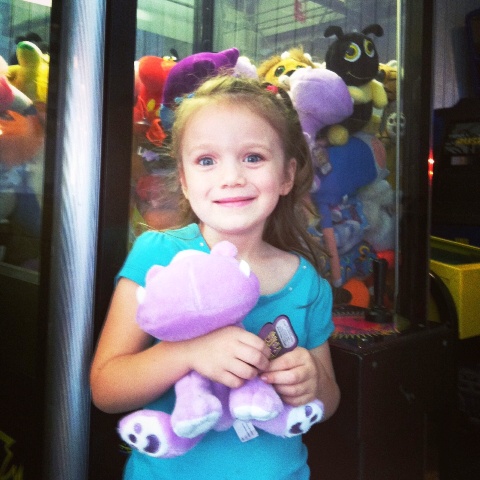 This girl? She put 50 cents into the claw machine and won a purple hippo on her very first try. I wish I had a picture of her big brother and big uncle's faces. They had each spent a small fortune to win the girls each a pink flamingo. That's what we did this week. Among other things.
I had a great time speaking at a MOPS group in Santa Clarita, talking about how to feed your family without losing your mind. It was almost like a step back in time as I chatted with young moms who are in the stage of life I was in fifteen years ago. Oh, what an exciting time that is! It was very humbling to get to ramble, er, speak to their group.
I took the under 12 crowd with me to Santa Clarita so we could visit my parents and brother and sister. They spoiled us, as usual. That's a nice perk to going home!
This week we also caught up on the Marvel's Agents of SHIELD series (affiliate link). My dad had it DVR'd, so the young'uns and I watched it there, but then for our Friday night "movie" we bought the episodes (in HD and without commercials) from Amazon Instant Video. I think it's a very fun show, despite what the critics say.
Meanwhile, here's what's been happening on Life as MOM:
Coming next week:
another printable Weekly Meal Plan
more Falling for Fun
7 more days of Kitchen Time Savers
Learning about Food Allergies
5 Great Color Combos for Fall
Be sure to let me know what stories and articles are helpful to you and what you'd like to see more of in the coming weeks. I want to make your "life as MOM" as fun and as easy as possible.