The weekly ramble: where I blog like it's 2004.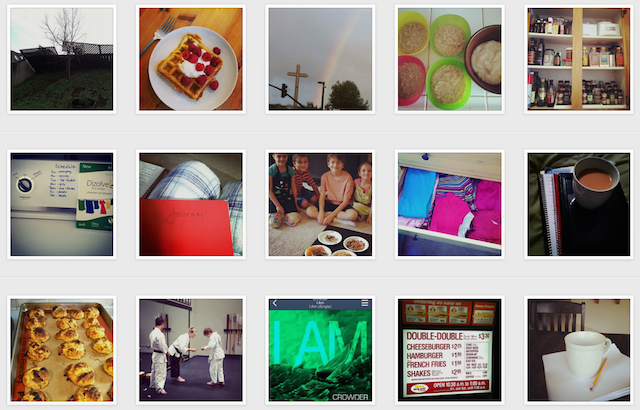 Did you miss me? I suppose my unplanned hiatus this week is proof that I'm a real live person and not some conglomerate posing as a homeschool mom of six. I took my computer into the shop on Sunday because my year's membership to Geek Squad was expiring. Yes, I totally should have done that back in December when I had a planned vacation from the internet. But, I didn't.
Just like I leave tax prep and bill paying to the last minute. But we won't talk about that. I still have 45 days to get my tax act together.
The funny thing is that these tasks weigh heavy on my brain, so I might as well do them right away and clear some cerebral clutter. Yes? Yes.
Anyway, I took ye olde laptop into the Geek Squad, hoping that they could work their magic again on my 4-year old Dell laptop and return it to me like brand spanking new. Unfortunately, that's not how this story went down. The motherboard was going out, which I had kind of expected. They couldn't even clean it because the machine couldn't pass the stress tests they put it through. It was five days before I got it back and the diagnosis was that it's on its last legs.
Since it could go out on me at any moment, it was time to computer shop.
Please note that I am neither a car person or a computer person. I do not window shop for these things. I just want one that will do what I need it to do. I don't care about the bells and whistles. I just need it to obey my commands.
I don't window shop for anything. This is a problem in some ways since I've realized that "shopping" when you need that thing right then and there takes a lot of time. I suppose window shoppers know what they want when the time comes. I don't.
Computer shopping is worse than the cola wars were: processors, RAM, storage space, doodahs and doohinkies, enough already! Ugh. Lest, I start an in-house debate among all us moms, I confess that I made The Switch. I bought a Mac. So far, I like it.
And it better last me ten years like all you MacHeads claim it will.
In other news, I had a lovely time giving my brain a break from writing. If you follow me on Facebook, twitter, or Instagram, you probably saw the photos of the week and all our doings, everything from the oven breaking to karate testing to fences falling over in the rain to playing Chopped to cleaning like a fiend.
It's been a good week. I'm glad to be back.
Meanwhile, here's what's been happening on Life as MOM:
Here's what's been happening on Good Cheap Eats:
Coming next week:
all those things that I didn't post this week, of course!
Zone Defense, a Frozen Cake, How to Reduce Sugar in Your Family's Diet, New Meal Plans, and How to Organize with Free Apps
Be sure to let me know what stories and articles are helpful to you and what you'd like to see more of in the coming weeks. I want to make your "life as MOM" as fun and as easy as possible.