The weekly ramble: where I blog like it's 2004.
This was probably one of the best meals of the week: Guinness Beef Stew, made in the slow cooker. Easy and delicious and I felt like a miracle worker that dinner was already taken care of by 9am. Make it on Monday if corned beef isn't your thing. It's totally not ours.
We started the week up in Santa Barbara. We've been trying to make a road trip on a monthly basis. We know it's a lot of work to load everyone up, and admittedly, it's work to catch up once we get home, but we rarely regret having made the trek. Needless to say, we spent a lot of time in the car.
Here's us at the beginning:
and here's the view from the backseat on our way home:
and a lovely shot of my back fat. I didn't know I had back fat until now. And I can't unsee it. Oy!
I love seeing pictures from my kids' perspective. So eye-opening, if yet blurry.
My days are crazy busy right about now. I knew it was coming. I'm not sure I'm ready for it. That's one of my day's schedule. Obviously, I didn't have to go get my hair cut or watch SHIELD. Wait, yes, I did.
I'm really trying to balance busy with self-care/fun stuff. Getting a trim or watching a movie with my peeps is part of that.
The highlight of the week was probably watching my kids enjoy their real live game of Chopped. The littles watch this show all the time. A few months ago they asked if we could do a Chopped at home. We've done it a couple times and I'm always amazed at what they pull off.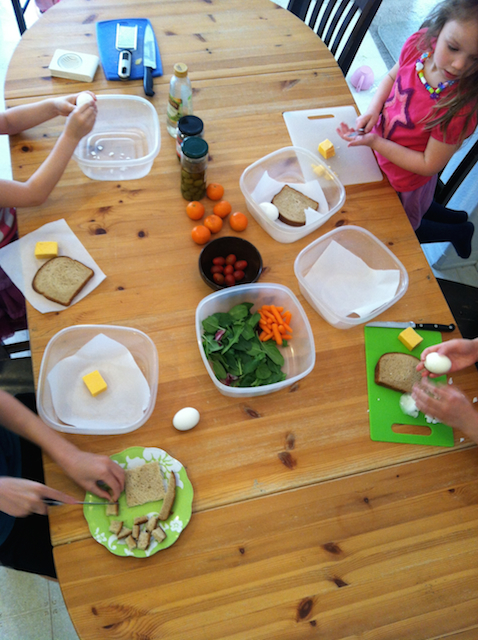 I'll be sharing next week how to play it. Your kids will LOVE it. It's really fun, especially if you have a child who can perfectly "host" the show, "Chef, it looks like you're making some type of salad. What can you tell us about your dish?"
These guys were so stinking cute, I couldn't help but tweet the host, Ted Allen, and Food Network. It was pretty exciting when both left comments on my twitter and instagrams. Like I said, the kids watch this show (via Amazon Prime) all the time, so that was a little thrill. We'll call it a FishFam claim to fame. 😉
That's about it for the week. Onward and upward!
Meanwhile, here's what's been happening on Life as MOM:
Here's what's been happening on Good Cheap Eats:
Coming next week:
A Real Life Game of Chopped – for Kids
Making Healthy Meals Happy Ones
Great School Volunteer Opportunities
Free Resources Featuring the Disney Movie Frozen
Tips for a Clean, Clutter-free, Productive Desk When You Work-from-
Home
How to Get a Jump on the Day
Be sure to let me know what stories and articles are helpful to you and what you'd like to see more of in the coming weeks. I want to make your "life as MOM" as fun and as easy as possible.