The weekly ramble: where I blog like it's 2004.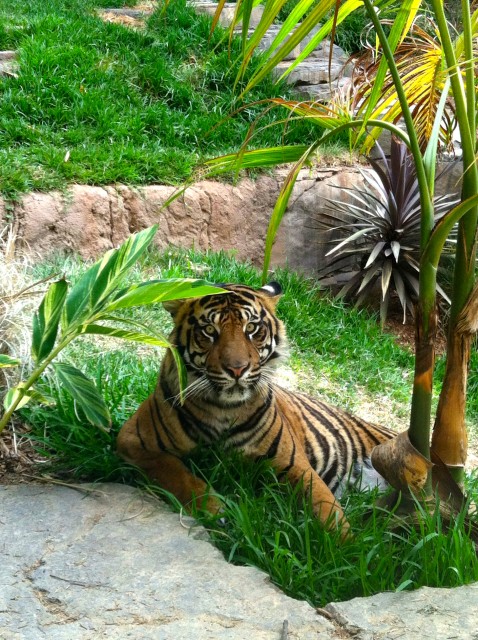 I stood two feet from this tiger earlier this week. Of course there was glass between us, but still. That's a pretty good view of a tiger!
The kids and I were invited to a media preview* of the new Tiger Trail at the San Diego Zoo Safari Park (formerly the San Diego Wild Animal Park). It was FishBoy9's birthday and I let him decide if we should go. He thought it would be fun. And it was!
Previously, the tigers could only be seen from a distance; their new enclosure allows you an up-close and personal look at the six tigers the zoo cares for. Four of them were born on site. We got a chance to talk with the tiger's trainer as well as explore the new tiger exhibit. It opens to the public this weekend.
The weather was absolutely perfect that day, and we had a great time. All six kids and I went. Birthdays are school holidays at our house, but this was a great educational field trip, so bonus!
FishBoy13 said it was his best time there ever. The weather was cool (note: sweatshirts) and the park wasn't too crowded for most of our time there. We've gone there enough now that we are a little familiar with where things are.
Familiarity breeds comfort, I think. I used to take the big boys to the miniscule Charles Paddock Zoo when they were little and a season's family pass was $35. It reminded me of that season. I'm glad the littles got a chance to explore a zoo this week. They could have shut the place down, but the biguns were itching to leave. Those of you with teens understand exactly what I'm talking about.
(I'll share more Safari Park features this summer as part of a Tour of San Diego series. It really is a beautiful venue.)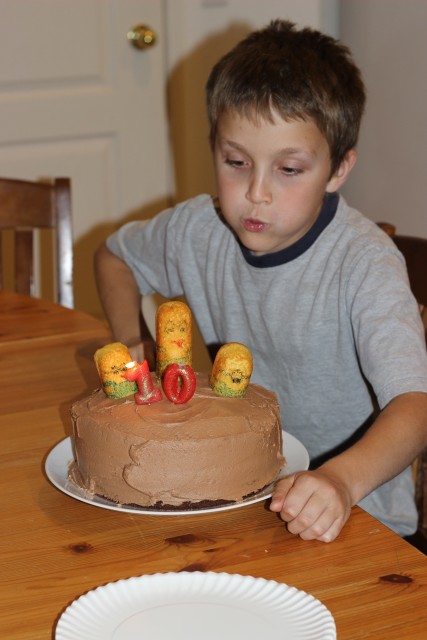 We came home to continue birthday celebrations: a playdate with FishBoy10's best buddy who happens to be our next door neighbor, presents, a neighborhood-wide water fight, dinner out at Rubio's, and home for a Minion Birthday Cake.
While it's not my best work, it's not bad for 15 minutes on the fly at 8 pm right before eating it. And yes, I bought Twinkies for the cause.
Most of my kids had never had a Twinkie. I know. Crazy, huh? My dad told me earlier this month that that was my standard breakfast as a toddler: a Twinkie and a cup of milk. I'm not sure who gets Parent of the Year, him or me?
Anyway, Twinkie's make great minions. I used food-safe markers to draw on their faces and clothes. And now I have a box of 8 left that no one wants to eat. Ha!
The rest of the week has been busy with school, library, running club, and working on Cookbook #4. You can guess what I'll be doing for the long weekend.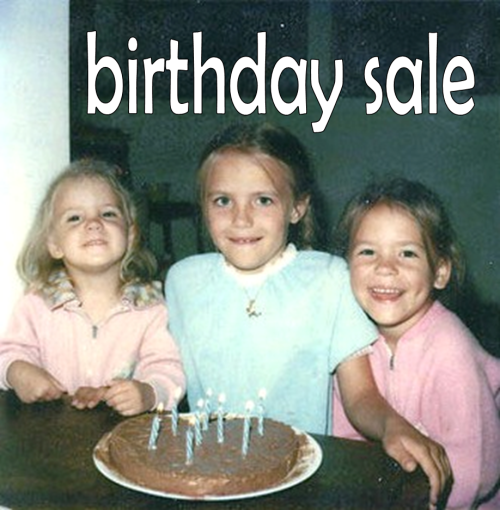 I'm hoping to take a breather on Tuesday, my 42nd birthday. Can you believe it?! I haven't changed much in 34 years, have I?
To celebrate my young age, the arrival of summer, and YOU, I've marked down the price on the Summer Survival Guide. You can get it for five bucks from now through my bday. If you're not sure what to do with your kids this summer, it's the book for you. Details are here.
Don't forget! My newest ebook, On the Road to Joyful Motherhood is also available for $5 until the end of the month.
Meanwhile, here's what's been happening on Life as MOM: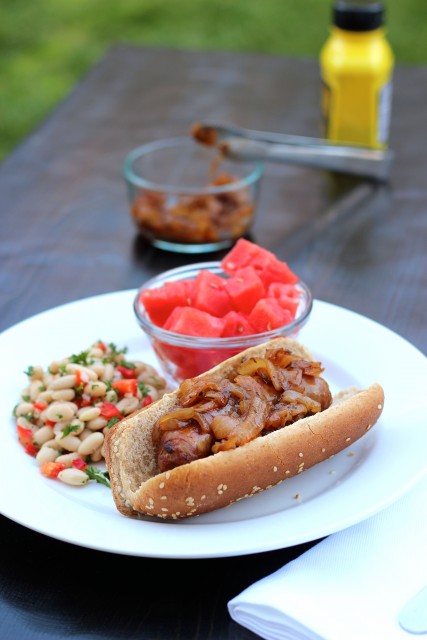 Here's what's been happening on Good Cheap Eats:
New to Life as MOM? Check out this good SUMMERY stuff from the archives.
Coming next week:
9 Things Your Kids Will Love to Do
Booking It: Our Favorite Books Ever
Zone Defense Check-In (your assignment is here)
Growing in Patience & Parenting a Child with Special Needs
30 Things That Are FREE and FUN to Do… Any Time of the Year
Be sure to let me know what stories and articles are helpful to you and what you'd like to see more of in the coming weeks. I want to make your "life as MOM" as fun and as easy as possible.
*Disclosure: I received complementary entrance to the San Diego Zoo Safari Park. All opinions are my own.