The weekly ramble: where I blog like it's 2004.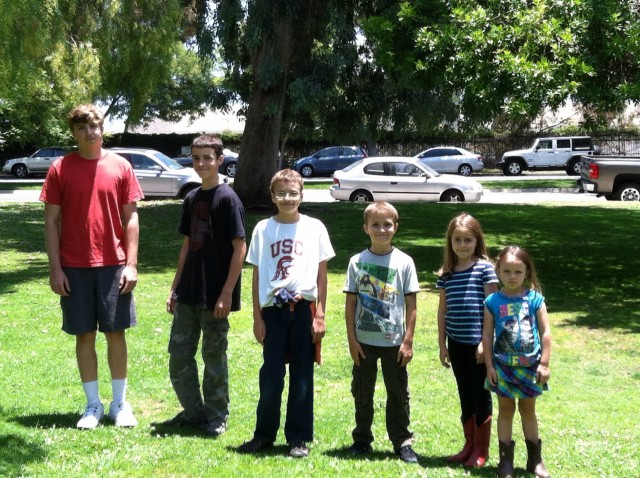 I love this picture. Wow. How did we get here?
For the last few years, FishBoy17 has towered over the others so they were no longer the "stair step" kids they had once been. But, FishBoys 13 and 12 have had growth spurts, so it looks like my little peeps are a little more evenly spaced. I breathe a happy sigh seeing this picture. Once upon a time, we thought we could have one child, yet God gave us a whole six-pack. I am very thankful.
I took this picture at Balboa Park this week. We went for another free Tuesday. The Science Center was like Chuck E Cheese on educational steroids. Not fun. The ladies in the gift shop tried to sell me on coming another day and paying $95 for the 7 of us. Yeah, right. I asked what it was like during the school year. They said it was "deader than dead". Alrighty then, we'll be back in September for a free Tuesday!
We headed over to the Nat (aka the Natural History Museum). It was a little less chaotic, but not by a ton. Plus, they charge extra for special exhibits, so free day is not all it's cracked up to be. It was nice, don't get me wrong; dinosaurs and bones and lots of open space to soothe my crowdophobia.
All the same it was a really good dress rehearsal for our big European Vacation. We had a chance to talk about what to do when you're bored or hungry while everyone else is enthralled by the activity at hand. Hopefully, our next trip will be a bit less tainted with boredom and hunger. And yes, it will feature a bag of tricks: snacks, books, and a note pad.
We all agreed that the atmosphere at the art museum a few weeks ago was nicer.
Date night was fun on the social level — my husband is pretty awesome. It was a bit of a bummer on the food level. We went to one of my favorite Italian places that is family-owned and has always served great food. We've always said "Rosina's is expensive but we never have a bad meal." Since I got a great deal on a Living Social coupon ($18 for a $40 voucher), we figured we'd have a great meal at a great price. Unfortunately, that was not the case. It would have been an expensive, mediocre meal with bad service. Makes that easy to cross it off the list now.
I had a Mom Lunch this week. I met a reader-turned-friend at a restaurant with a wait staff and no playground. It was really fun. We talked for hours and probably could have continued if we didn't have people waiting on us at home. It reminded me how important the face-to-face contact is — and what a rare blessing it is to find someone who gets you. (Thanks, Cory, for getting me!)
Our talks at lunch helped me bust out of my comfort zone and take "American" scones to our new neighbors. I tend to be a bit of hermit and figure people will think I'm a total dork. Bet you didn't know that, did you? That I am a total dork….
I ditched yoga on Wednesday after ditching it all last week. My body feels it. I went back this morning. Sylvie is the butt-kicker teacher on this particular Saturday. She was true to reputation. I'm sore, but in a good way.
The apple pie — I ended up going slab style so we could have an easy double batch — and homemade vanilla ice cream was too much for Nanna to resist. She braved the traffic and the heat to come visit us. We are so much fun, who wouldn't, right? It's been fun to visit with her and catch up. She and the girls bond over crafts. She and the boys bond over our back-to-back National Treasure marathon. It's been a good weekend, even if we forgot about the fireworks. Oops!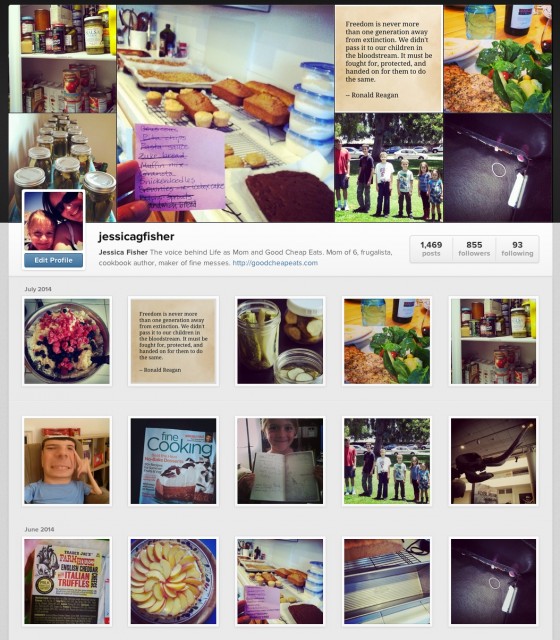 Meanwhile, here's what's been happening on Life as MOM:

Here's what's been happening on Good Cheap Eats:
New to Life as MOM? Check out this good stuff from the archives.
Coming next week:
Year-Round School & Our Homeschool Update for the New Year
Tips for Family Travel
Pantry Challenge Do's and Don'ts
A Snacks and Baking Freezer Cooking Plan
Be sure to let me know what stories and articles are helpful to you and what you'd like to see more of in the coming weeks. I want to make your "life as MOM" as fun and as easy as possible.