The weekly ramble: where I blog like it's 2004.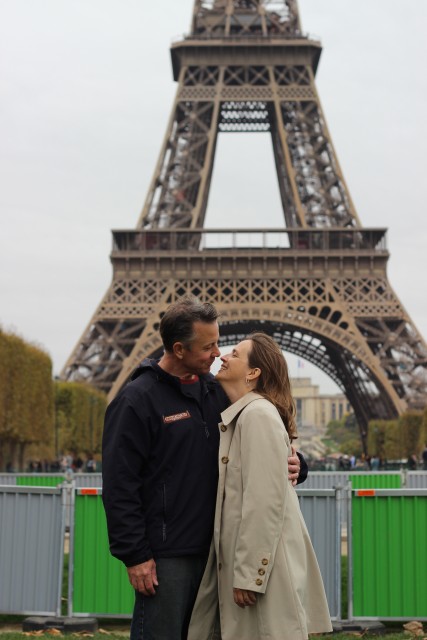 Guess where we've been? Several of you suggested that we recreate our Eiffel Tower picture of long ago, so we did last week on our last day in Paris. We climbed to that second level observation deck with the kids and then shot out to the Champs de Mars to take pictures.
I showed this picture to friends earlier this week and many commented about how romantic it was. While FishPapa and I had a great time — and even got in a dinner date in Paris — it wasn't exactly "romantic" as far as vacations go. When you've got all the kids in tow and you're tired and overwhelmed by cultural differences, getting through the day without mishap is a major achievement. There isn't always time for wine and roses.
Actually, on those days, there is always time for wine.
Don't get me wrong. It was a fantastic trip. But, as with all things on the internet, you need to know it wasn't all rainbows and pixie dust.
But it was good.
On our last day at the Eiffel Tower, we also took pics of each of the kids. Like this.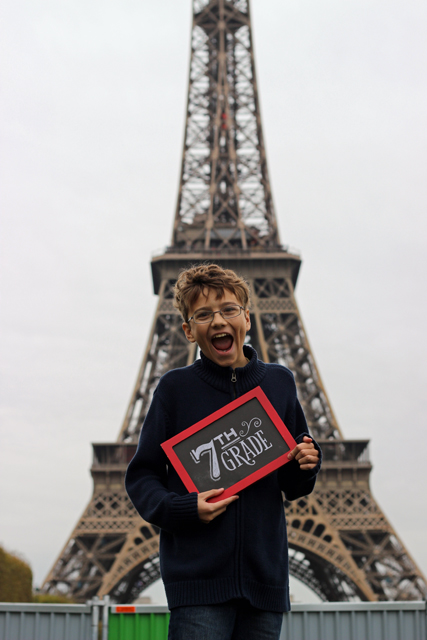 Not everyone had the exuberant smile that this child put on for his mother. In fact, we were close to mutiny with one child. Very, very close, but we all escaped without tears or repercussions. It did, however, prompt me not to attempt a family photo, so we don't have one. Bummer!
Again with the real life. 😉
I know that I've talked about family travel for a full month now, so I don't want to press my luck on another week's worth of posts. That's like watching your Great Uncle Joe's slide show of his vacation to Las Vegas in 1972. I'm really excited to share our trip with you, so I'll be peppering the posts throughout the next couple months. We learned so much!
I have so much to process about life in another culture, parenting, eating, and otherwise enjoying the good things in life. I'll be sharing all that in the context of stories about this amazing monthlong trip to England and France.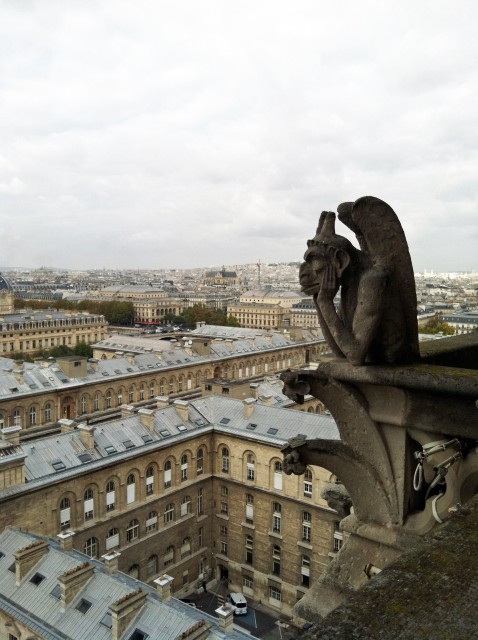 In the meantime, I would love to get your opinion on something. As you know, I've been at this blogging thing for 6+ years. A lot has changed since the start. I've tried really hard to share practical help and real life experiences. We're all in this together, you know? I found friendships on the internet that have lasted longer than some of my dishes.
I think I have a good sense of what you like to read, what prompts you to comment, and what helps you. but sometimes I'm wrong. So, if you've got a minute to chat, I'd love to hear from you.
What do you like about Life as MOM?
What would you like to see more of?
I want to keep this a place where you are encouraged and helped. So, let me know how I can do that?
Thanks!