The weekly ramble: where I blog like it's 2004.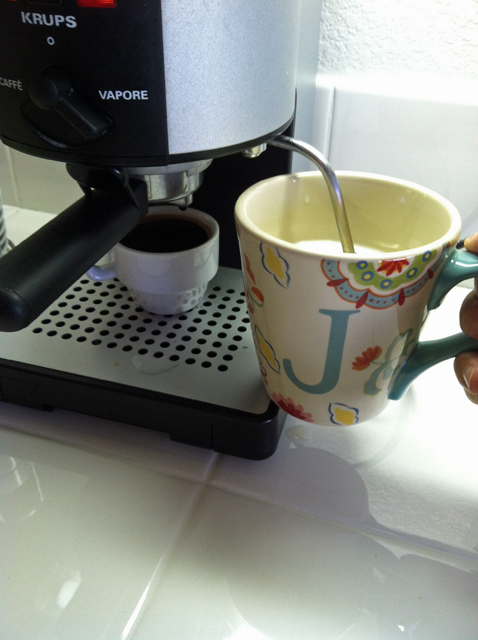 On Monday I woke up to a pristine white counter. See above. FishPapa removed the grout on one section of the kitchen counter and replaced it with bright white. Oh my! It's like my soul has been cleansed!
Keeping white grout clean has never been one of my strong suits. One of the things I loved about our Kansas house was the formica countertops. No grout to get stained and dingy, shouting to the world that I am not the best housekeeper ever.
I had no idea you could just remove grout. I thought you had to redo the counter tops. For five bucks and a little  elbow grease, I can feel like a new woman. Well, at least my kitchen can. (Post and tutorial is forthcoming. He's only done one section so far, but I am thrilled! Christmas came early!)
In other news, that espresso machine is over 20 years old. The Great Aunt Cass bought it for us when we got married. It's still going strong. It's not as fancy as the Nespresso that we used in France, but since it uses regular coffee grounds instead of pods, it's a frugal way to have a cappuccino every morning.
Clean grout and a cappuccino? What more could a girl ask for?!
So, what did I do all week?
I don't rightly know. I'm struggling to fit into each day the things that I need or want or should do.
On the weeks that school hums like a well-oiled machine, I get no writing done. On the weeks when I'm up to speed with my work obligations, school is like a bad substitute teacher. I'd love to find some equilibrium between the two, preferably that I wouldn't land in a spot where both kinda suck.
The kids and I chatted about it; I figured they could help me troubleshoot and maybe take ownership of some of the solutions. There's also that whole thing about food and home maintenance. I'm far past the point where "I can't do it all".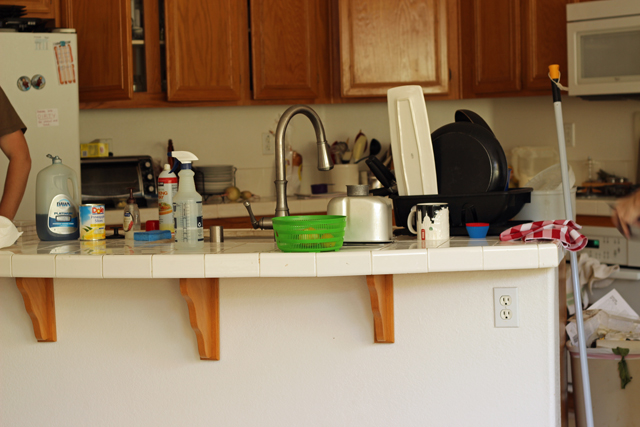 Their suggestions were interesting — and mostly revolved around food:
I could cook a meal each week IF I got to choose what it was.
We could have a build your own kind of thing, like sandwiches.
We could go back to packing lunches ahead of time. (follow discussion about how there is no room for six lunches in the fridge)
We could have a bar. (No, she wasn't suggesting we all start doing shots together, see point 2)
We should do those things called freezer meals (said tongue in cheek by my husband in a separate conversation.)
I don't know that food is our problem as much as fitting in food-for-sustenance and food-for-my-job-as-a-recipe-tester. I don't have a guest house on a ranch where I can go cook for cowboys and take photos uninterrupted. Ha!
But managing our meal times better is a good place to start and the kids are motivated to do it. So, here goes.
Finding equilibrium.
I guess I'm trying to figure out that work-balance thing. Plenty of moms struggle with this. I know when I only had home and school to manage, I struggled with it. As much as working from home is great, it also doesn't have too many boundaries. Work never ends, whether that be school, home, or writing. That's my current challenge.
I unplugged for a month in France. My only obligations were to feed and clothe and entertain/educate my kids. That's not sustainable in my real life. But, neither is working 24/7. Ha! So, I've got some trouble shooting to do. I'm tired of my work never being done.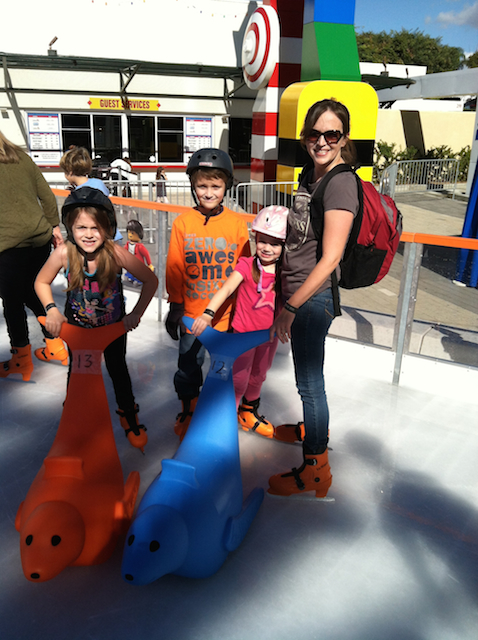 On the flip side of work/life balance, the littles and I got to go to Legoland yesterday for a blogging event. We got to try out the snow and ice skating, the sledding, the holiday food sampling, and basically have fun at the park for a day. I didn't tell them in advance so it was a super surprise for them. We hung out with Muffin Tin Mom and her family which was super duper fun, so, I guess the whole melding of my life and work isn't entirely a bad thing.
I am so grateful for this weird, unusual life I have. I just want to do better at it. Know what I mean?
I'm going to get all introspective this weekend, clean my office, work on tweaking my weekly schedule, and try to build in boundaries in my day. I want to clock out from the kitchen, school room, and office for a couple hours each day.
Think that's reasonable? Or am I just dreaming?
PS. We've been having some fun little chats on Facebook in the early mornings, talking about the day's challenges and brainstorming solutions. Follow me on Facebook so you can join in the discussion. If do already and you're not seeing updates, that's Lord Facebook's efforts to keep me in the dungeon. Go to the Life as MOM wall and click on follow. That should help my status updates see the light of day.
Meanwhile, here's what's been happening on Life as MOM: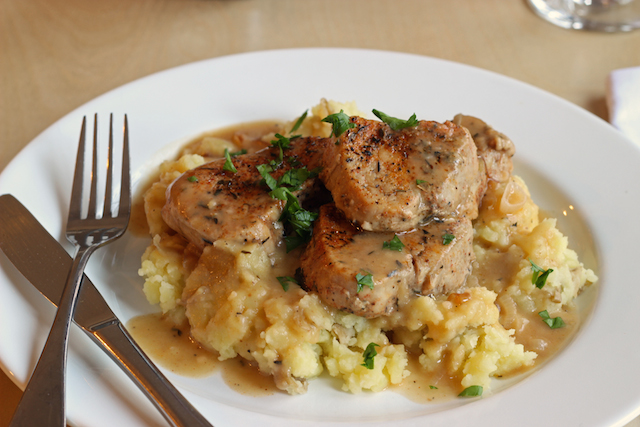 Here's what's been happening on Good Cheap Eats:
New to Life as MOM? Check out this good stuff from the archives.
Coming next week:
5 Ways to Be More Content this Holiday Season
Our European Vacation: Brittany
Booking It
Another "Dinners for $70 or Less" Meal Plan
Ways to Observe Advent
Be sure to let me know what stories and articles are helpful to you and what you'd like to see more of in the coming weeks. I want to make your "life as MOM" as fun and as easy as possible.