The weekly ramble: where I blog like it's 2004.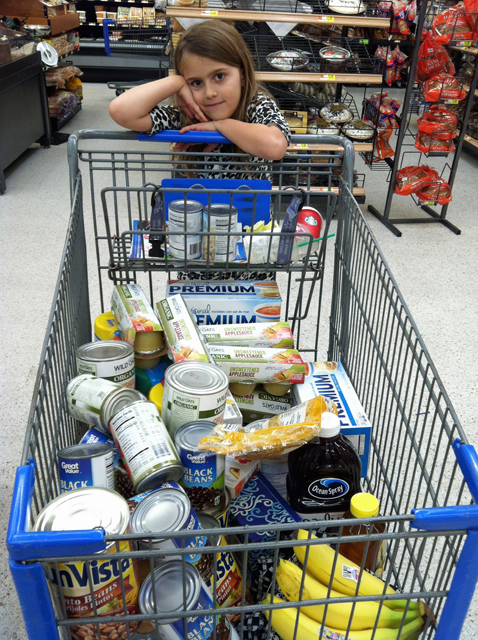 This chick? She got sick Saturday night. Big girl that she is, she took care of herself and didn't even wake me up. Sunday morning she told me that she had thrown up twice in the night. Huh.
I didn't think anything of it until Tuesday night when her five siblings all started violently vomiting in the same two hour span. Tuesday night was fun. So was Wednesday when my girl and I headed out to Walmart to stock up on applesauce, bananas, yogurt, saltines, and the makings of chicken noodle soup.
(Don't worry. I didn't feed my sick kiddos beans. Walmart's just the cheapest game in town for canned beans.)
Anyway, talk about a way to mix up your week's schedule! The rest of the week has whipped by me so fast I think I have whiplash. Oy! One of the highlights? Besides everyone getting well. Our pediatrician, Dr. P, a young mom at least ten years my junior, said I was a smart mom. Whew. So glad to hear that. She also said my kids got weird stuff going on.
Monday morning I spent with FishBoy14 at the oral surgeon's. Turns out he has an odontoma, an abnormal growth under the gum line. It appears to be a cluster of 7 or 8 teeth near the roots of his adult teeth. Weird. Weirder still is that Delta won't pay for the surgery to remove it. Thanks, Delta. You'll pay for the braces that the odontoma will ruin if they erupt through the surface? Nice.
Turns out the world record is 232 tooth-like growths. Yikes. I wonder if that kid's insurance paid for it.
Anyway, I broached the topic with Dr. P. She was stunned that dental wouldn't pay for it. She also had no clue how we go about getting medical to pay for it. Oy! (Weird child thing, #1)
We were seeing Dr. P for the removal of a ginormous wart off the foot of FishBoy12. (I just asked her about the absent FishBoy14 because why do I want to pay another co-pay?) The wart appeared while we were in France. Blech. FB12 has an amazing tolerance for pain. Dr. P. could hold that smoking-gun-freezer-thing on his foot for over a minute without his flinching. Thatta boy. Next week she's going to scalpel it. Good times.
Since FB12 already had an appointment, I took FishChick6 with us (yes, I paid that copay), to have her eye looked at. No one puts Baby in the corner, remember? She had another outbreak of herpes (cold sores) on her eyelid this week. It was brewing for several days but was milder than she normally gets it. She usually knows it's happening, like people with chronic shingles know when it's coming on, but this time it tricked us both. I wasn't sure that's what it was until Wednesday when five kids were down with the stomach flu, puking all over.
Did I mention it was a crazy week?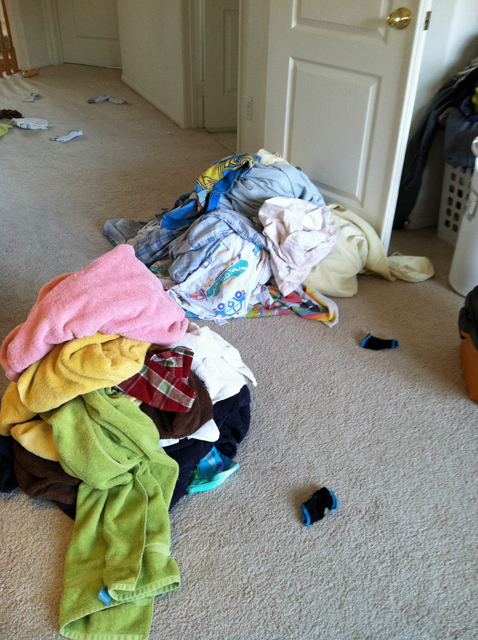 We keep antiviral meds on hand all the time — yep, took them to France, too. Really interesting how TSA tested them, too. Anyway, I started her on the acyclovir on Wednesday night as soon as she could keep down food. We saw Dr. P on Thursday. She was stunned. In her words: "She's a normal kid (read: no chemo or compromised immunities); why is this happening?!" My thoughts exactly.
Interestingly enough, while I've done some research on the effects of lysine on herpes, none of the docs at our clinic are familiar with this — I've asked all three — despite the fact that they all googled it in my presence and came upon the same NYU medical paper that I've read.
We now have referrals to Ophthalmology and Infectious Diseases down at Children's. Yay. Doesn't that sound fun?
The highpoint of all this comes in when Dr. P says, "I want them to give you a protocol for dealing with this, so you don't have to keep coming in here. You're a smart mom. You know how to take care of this."
Thank you, sister. I need to hear this.
I also liked the confirmation that odontomas, large warts, and chronic herpes are not normal things. No wonder these thing stress me out. But, hey! At least they don't get ear infections.
Meanwhile, here's what's been happening on Life as MOM:

Here's what's been happening on Good Cheap Eats:
New to Life as MOM? Check out this good stuff from the archives.
Coming next week:
freezer meals
teachers' gifts
furniture makeover
lavender soap
more about our trip
Be sure to let me know what stories and articles are helpful to you and what you'd like to see more of in the coming weeks. I want to make your "life as MOM" as fun and as easy as possible.