The weekly ramble: where I blog like it's 2004.
Big doings around here. It only took me 42.8 years, but I finally learned that the cause of my messes is too much stuff for the space that I own. I know, brilliant.
Believe me when I say that I read every organizing and tidying book written between 1990 and 2000. At that point I gave up, tweaking different systems to make things work. While I was doing better than I had as a child or young adult, my house still reverts to messy. This past week I've been reading The Life-Changing Magic of Tidying Up. A light bulb went off. I'm now on a mission to declutter our home once and for all.
()
Laugh, if you will. Let's talk again in six months, my goal for the Whole House Makeover. I'm just so sick and tired of messes. The kids and I spend way too many hours cleaning up and I can only guess that it's 1. too much stuff and 2. no homes for the stuff. I hope is that by mid-September I will be able to say you can come over without any notice.
A girl can dream, right?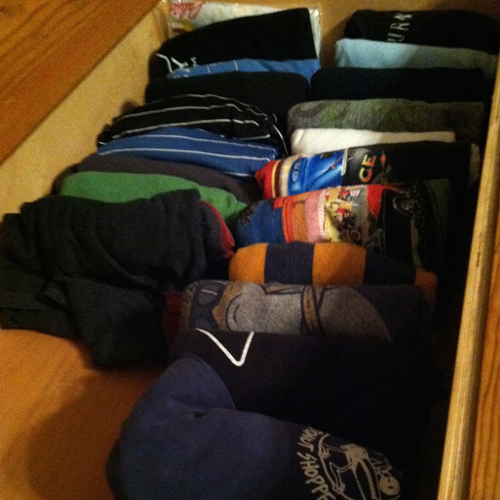 from instagram
This is evidence that at least one idea in the book works. I was so excited to try it out that once I tackled my drawers, I refolded all FishPapa's clothes. He has two drawers for shirts and pants/shorts. Both were overflowing and I still had two stacks to put away. Once I refolded according to the Konmari method, everything fit plus he could see everything he had. Mind officially blown. When he came upstairs, I had to show off. His jaw dropped to the floor.
Here's to more life-changing tidying at our house.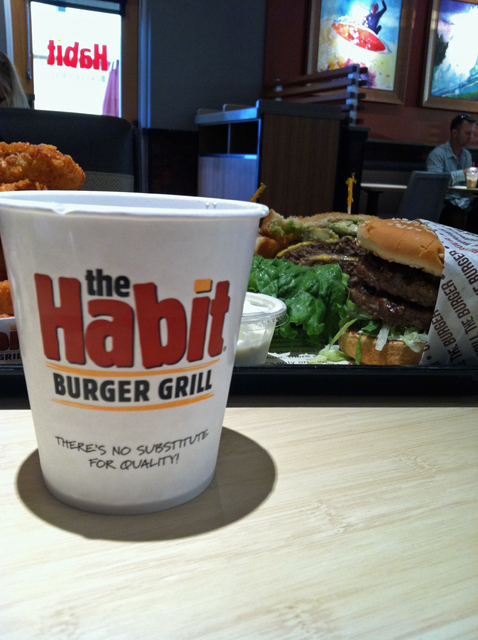 In other news, we had our money meeting earlier this week on date night. I know, you're not supposed to talk about kids, work, or money on date night, but we break all those rules. We went to The Habit, a Santa Barbara original that has expanded to San Diego. Not as high quality as Burger Lounge, but almost half the price. Since I spent almost all of Tuesday crunching numbers, I was ready for a cheap date. In-N-Out would have been cheaper. Either way, I was happy to see that our family has really good taste in fast food.
(Mamas with babies, the day WILL come when you can have a date night without paying a babysitter. Hang tight!)
Anyway, so we had our money meeting. We've got a lot of ground to reclaim since the Big Blue House Debacle of 2014. Having that property vacant for nine months, performing repairs, and then paying the negative to get out from under it was not fun. And some days it's really hard not to be bitter at the property managers who dropped the ball. But, the monkey's off our back and now we can work toward building a house fund of OUR OWN. Yay!
I got some kind of virus earlier this week. Four days of sore throat culminated in one big Fever and Chills. I spent most of Thursday in bed. I feel like I've been in a time warp, but I'm starting to feel better. Amen to that.
Tonight we're watching Guardians of the Galaxy and heading to STEM Saturday tomorrow. I'm hoping to take the girls to Cinderella on Sunday. Shh. Don't tell them. It's a surprise. Big weekend! I hope yours is a great one!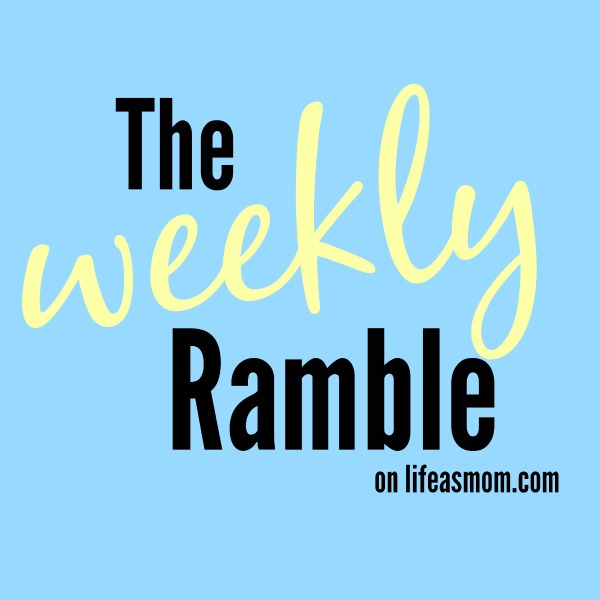 Meanwhile, here's what's been happening on Life as MOM: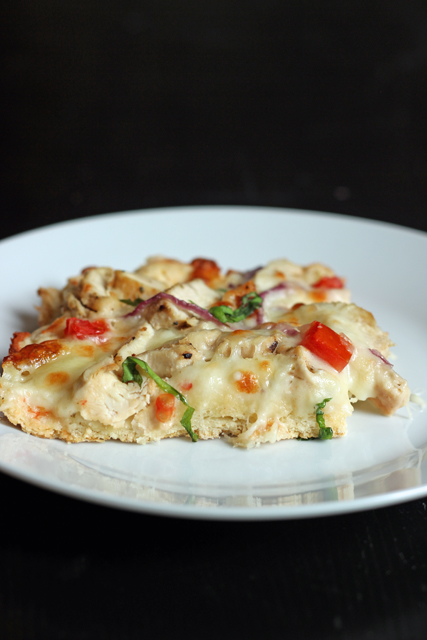 Chicken and Biscuit Pizza
Here's what's been happening on Good Cheap Eats:
New to Life as MOM? Check out this good stuff from the archives.
Coming next week:
Easy Dinner Ideas
How to Be Kinder to Yourself
My Review of the Book: The Life-Changing Magic of Tidying Up
Our European Vacation: London and Home Again
Apps to Help You Save Money
Be sure to let me know what stories and articles are helpful to you and what you'd like to see more of in the coming weeks. I want to make your "life as MOM" as fun and as easy as possible.