The weekly ramble: where I blog like it's 2004.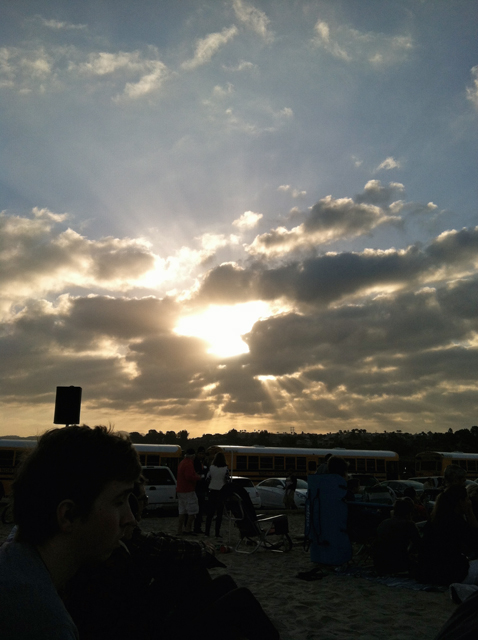 It wasn't easy getting everyone up by 6 am on Sunday morning. Getting out of the house by 6:30 is something we NEVER do. But, it was worth it to be at the Sunrise Service for church. It wasn't too terribly cold, there was space for our blanket. And FishPapa found a parking space. Eventually.
The girls built this cross with the girls sitting next to us.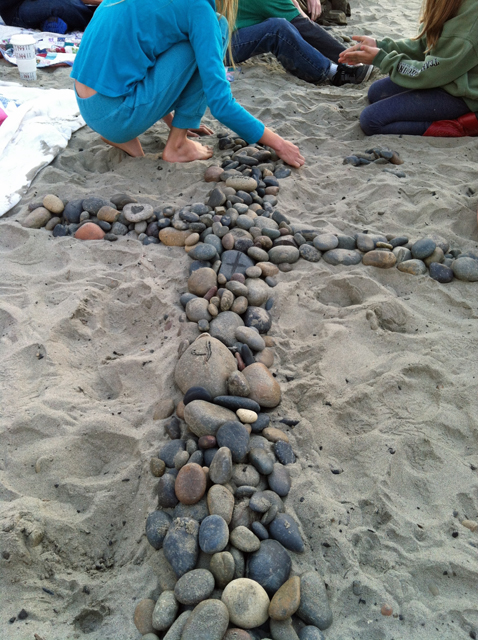 Their dad said that they do it every year. I have a feeling it may become a tradition for us as well. The beach is so rocky that the girls didn't need to go far to dig up rocks. Great way to do church. No fidgeting!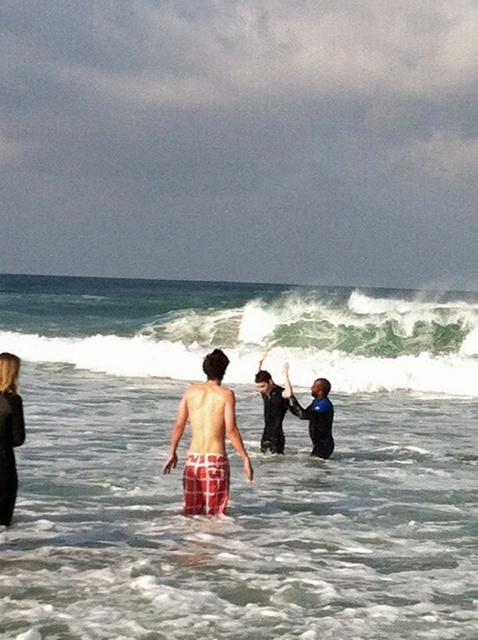 One of the kids got baptized, too. He's been wanting to do that for several years so this was a great opportunity. How neat to be baptized on Easter, huh?
We came home to make a grilled fish lunch and decorate the cake. I ended up making fish packets in the oven since a rat had visited the bbq. Yuck. We won't talk about that in any more detail.
The tomb cake was fun to decorate. The night before my six year old pointed out that we needed girl Playmobil for the cake since the women were the ones to go visit the tomb. Just when I think she's not listening. Boom! She surprises me with something profound that I had never thought of.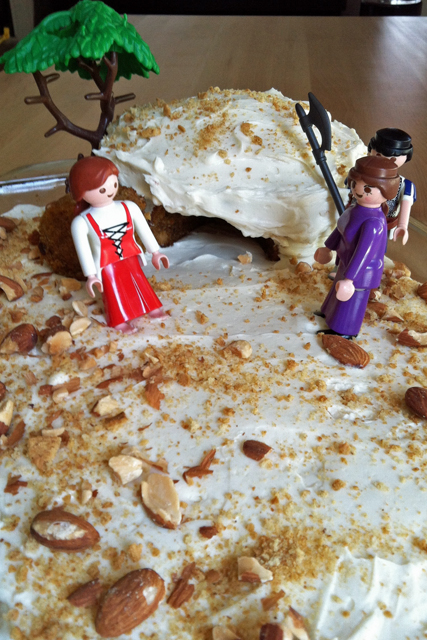 It never occurred to me to add the women to the cake. Huh.
This year I combined my favorite Easter dessert (Carrot Cake) with the decor of the empty tomb. The cream cheese frosting was my white sands of the dessert with almonds and graham cracker crumbs providing the texture of dirt and rocks. I was thrilled to be able to pull it off without crazy food coloring. (FishChick6 is not allergic to almonds and I check for cross-contamination warnings.)
After Sunday, the week was fairly rough. Teens and tweens are more mentally challenging than toddlers. Be forewarned. Cathy is right. It's all good, but it's not all a piece of cake after they're potty trained.
It was nice to have a date with my hubby. We do this once a week now that we've got three kids old enough to hold down the fort. So nice! So, even though your brain will take a beating, at least you get to go out to eat!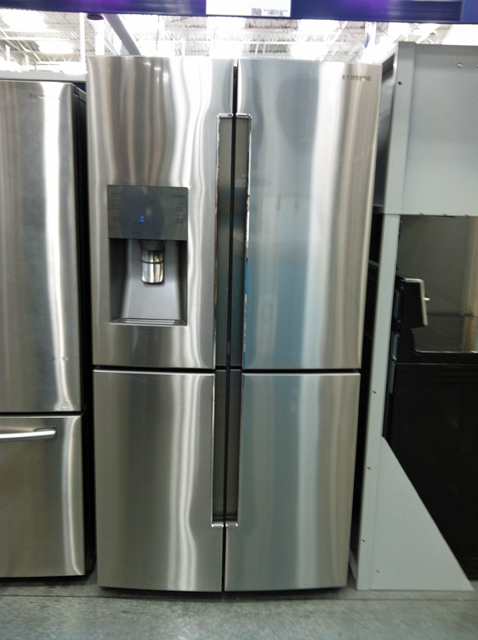 I've been pining away for a second fridge for the last month.
1. I realized that most big families have two. Who knew.
2. I'm tired of running out of room before half the groceries are put away.
3. The water spout area is disgustingly gross after 12 years of use and hard to keep clean.
We found my dream fridge on date night. It's a Samsung 4-door refrigerator. FishPapa really doesn't like the drawer freezers that are standard on most appliances now. The four door gives you the spacious convenience of the french door refrigerator, but the bottom freezer compartments are separate. In fact, a reader told me that one of the bottom freezer compartments can be reverted to refrigeration. I am sold!
Except for the price tag. This particular model is $4k. Yikes! No, thanks. I found it half price at Sears Outlet, so I may be swayed — once I save the money. We shall see.
In the meantime, I scrubbed and scraped at the water spout area and got it looking a lot better. I keep a wash cloth there to catch the water drips. Looks good after two days now, so that's something. And it's cheaper than four grand.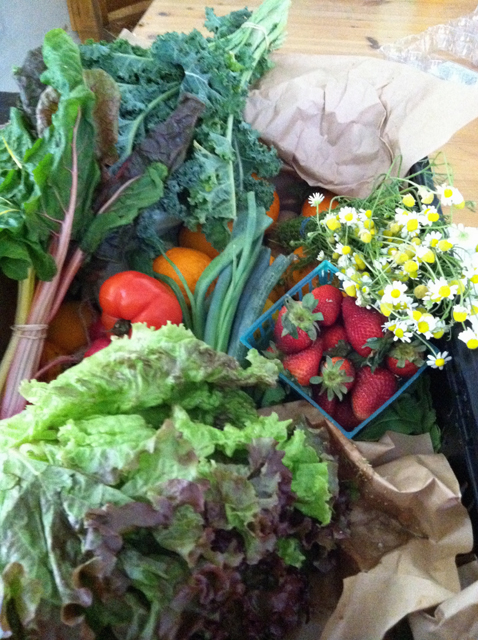 The produce box was beautiful this week! Look at that! Chamomile flowers, strawberries, oranges, and the first tomatoes of the season. Very yummy!
We get a large box from Abundant Harvest Organics about twice a month. Love it!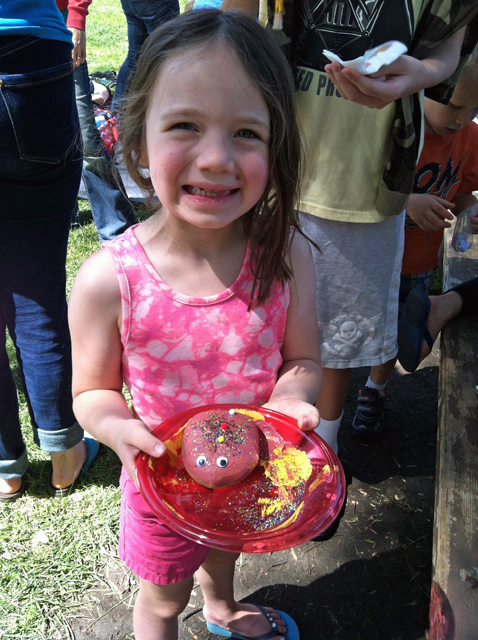 We capped off the week at our monthly homeschool park day. I'll be honest, after six years of attending, we still struggle to fit in and connect. We keep trying, though.
This girl loved making a pet rock.
FishBoy12 loved buying a venus flytrap from his friend. Heaven help us.
Afterwards we went to a nearby Target so she could buy this. It was cheaper at Target, thank goodness. And in stock in that particular Target. It's been hard to find. She was so thrilled.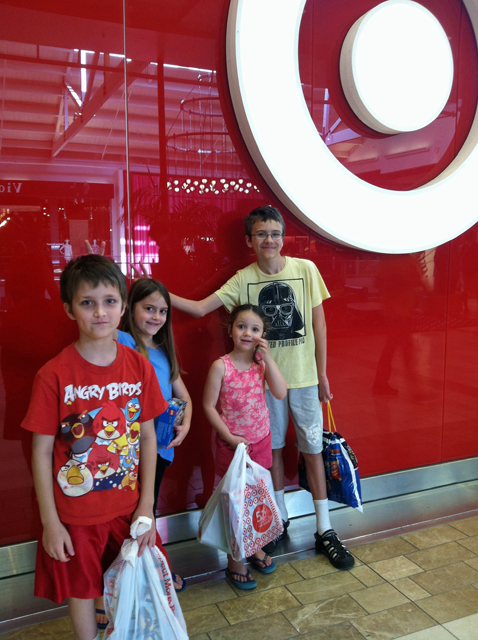 The thrill of Target was not just getting a new Lego. This particular Target is a three-story baby in the mall! We'd never been here, but it was quite intriguing. Every kid commented how much it reminded him or her of France. Ha!
So, the week was a full one, eh?
Meanwhile, here's what's been happening on Life as MOM: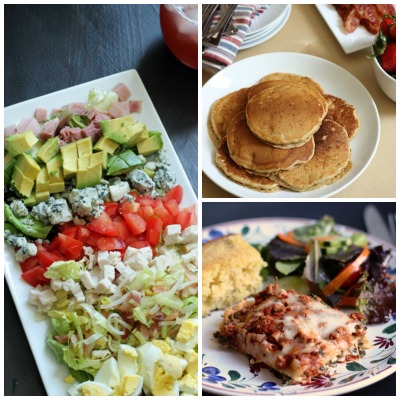 Here's what's you might have missed on Good Cheap Eats:
New to Life as MOM? Check out this good stuff from the archives.
Coming next week:
When You're the Mom Who Doesn't….
Food Presentation Tips and Tricks
Tips for Traveling in Europe
Apps to Help You Save Money
Be sure to let me know what stories and articles are helpful to you and what you'd like to see more of in the coming weeks. I want to make your "life as MOM" as fun and as easy as possible.