The weekly ramble: where I blog like it's 2004.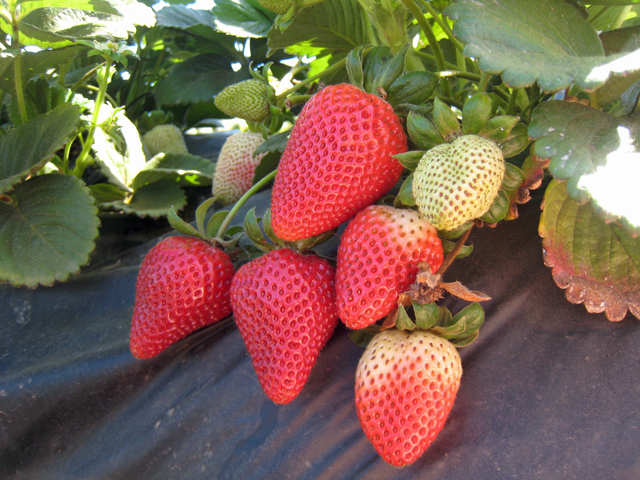 The weeks just fly by faster and faster these days. I can't slow them down. Life is full. to. the. brim. Yet, there's really nothing I want to cut out. Unless you're talking about cleaning house. But, honestly, I don't think I could cut back any more on that. Ha!
So, what all have we done? Well, my dad had a full knee replacement last week. He went home late Sunday, but then was back in the hospital on Monday night with pneumonia. While I wasn't able to go up to LA to see him, there were many frenzied texts among my mom and siblings as well as calls to him to shoot the breeze and take his mind off his pain. Hopefully, he will heal quickly.
Among my texts to siblings are questions about pronation, where to get fitted for running shoes, and whether or not my fitter-than-I-am siblings will join me for a 5k in June. I know. 5k and me in the same sentence? What is happening?

Luke the Brave
Well, our friend Luke is a 10-year old boy battling osteosarcoma. We had a great time with he and his mom and sister last November at Legoland. Within a couple weeks he had a diagnosis and he started cancer treatment on Christmas! This family has been amazing to observe as they battle cancer a second time. Luke's mom, Michelle had cancer several years ago.
So, friends of the Syberts are holding a 5k fundraiser in June. You can't imagine the costs that incur when a child needs regular medical treatment. The funds raised can really help relieve some pressure off this sweet family. They've got enough to worry about right now and don't need to think about how to pay for parking downtown.
And while I could certainly just walk it, I want to take on the challenge of running it. I come from a family full of great runners. My dad and two brothers all were major competitors in high school and college. I'm the brains of the family. Ha! But, I'd also like to learn to run. I'm following this training schedule from the Mayo Clinic.
You can sign up for the Luke the Brave 5k — I would love to meet you! Or you can donate directly through Luke's GoFundMe page. Also, Luke's got a Facebook page. The more the merrier! I so appreciate whatever you can do to encourage this family. Believe me when I say they are amazing.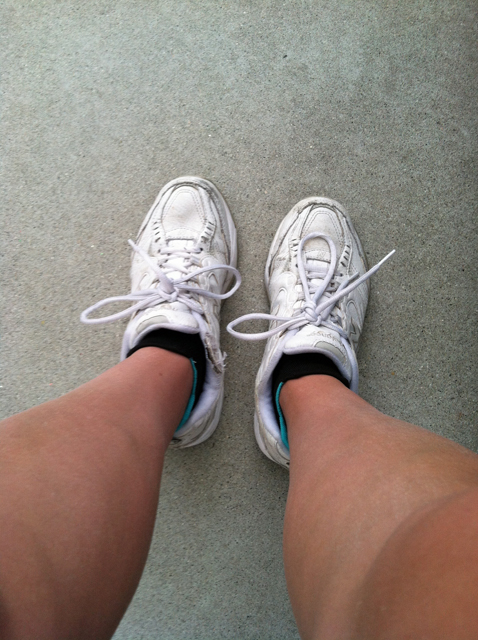 Parenting class? Who me?
There's a parenting class starting at church. When I first heard about it, I shrugged and told myself that I don't need a parenting class. As the weeks went on and I realized what an intense season of parenting we are in, I decided, yeah, maybe I do. The pastor teaching the class is the husband of a lady I've known through homeschooling. I like her and her thoughts on things have always been reasonable, so I went for it. I was encouraged on a number of fronts. While I didn't learn a lot of new things, per se, it was great to be reminded of the things that I sometimes forget.
He did say that the hardest ages to parent are 18 to 24. Gah! Weren't we just talking about how the teen years were harder than the toddler years?! That tidbit had been passed on to him from an older man with the rationale that between 18 and 24 your child is making serious decisions that can impact their lives at a time when you can only influence, not control, what they choose. Makes total sense — and OH MY WORD.
Just as it was sobering yet helpful for Cathy to tell me this about teens, I'm thankful to have the heads up for the young adult years.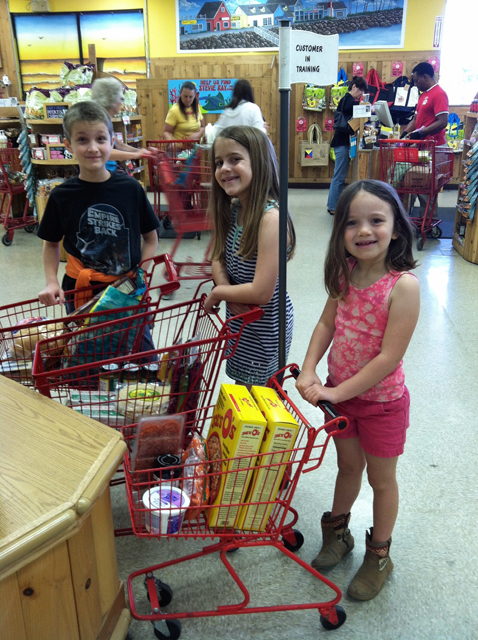 Tiptoeing
On Monday, FishBoy12 and I went to the orthopedist. He's walked on his toes since he was a toddler. He was a late walker as well. I've asked pediatricians about this for many years and was thrilled that Dr. P. referred us to physical therapy. When he was a non-toddling toddler (what do you call the kid who's 14 months and not even trying to walk?), one specialist had suggested cerebral palsy. There had been some trauma during his delivery. Yikes! The PT told me that someone could go 12 years with undiagnosed CP. Double yikes!
So, as insurance would have it, subsequent PT sessions were not approved until we saw an orthopedist. Lots of questions, walking, running, and an X-ray later, the doc said he didn't know what the reason was, but that it was not serious and there had been no damage to his hip joints. (I had no idea there was a risk of that, but with prolonged toe-walking, there is.) So, we wait for the insurance to approve a series of physical therapy and fitting of a boot to wear at night to stretch his tight tendons.
While we were there, the doc commented on FB12's "religious name". (All our kids are named after Biblical places.) Dr. W wanted to know more about that and what other names we had chosen. Upon hearing the long list of names, there was the inevitable "How many kids do you have?" Also, in the course of the medical questions came the fact that we homeschool.
Inwardly, I'm rolling my eyes inside because "religious", large family who homeschools doesn't often garner a positive reaction from the general public. Apparently, Dr. W's sister is "very religious", so I think we passed. I should have asked if he liked his sister….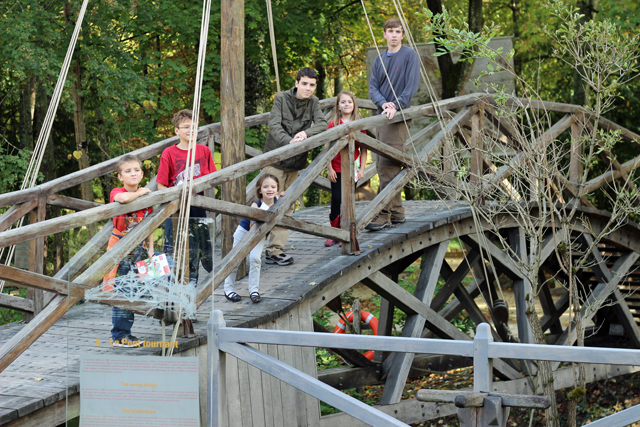 Big Religious Families who Homeschool
Anyway, this produced an interesting conversation with my son about how what we think is great about our family isn't always considered great in the outside world. In fact, apparently a man confronted my husband IN THE CHURCH PARKING LOT about how many kids we had, implying it was a bad thing.
FB12 told me that he understood; he had shared some of his opinions in his Minecraft group once and he'd been met with resistance. He'd also not been kicked off the server, so apparently the owner was okay with his voice of dissent.
This child is the most unbiased person I've ever met — he's always quick to defend anyone and their right to respect — so the fact that he was able to express his convictions in a setting of peers with different opinions, completely free from parents' presence, did this mama's heart good.
I realize that we've chosen an out-of-the-box life. We've walked in many different circles and found ourselves "not fitting" perfectly anywhere. While it sometimes feels like we're "men without a country", I think we're finally finding our groove.
How do you define yourself?
People aren't defined by a single belief. People are defined by their love.
If we can love people and still be okay with not holding all the same opinions, well, I think that's a good place to be. I wouldn't change our out-of-the-box life for anything.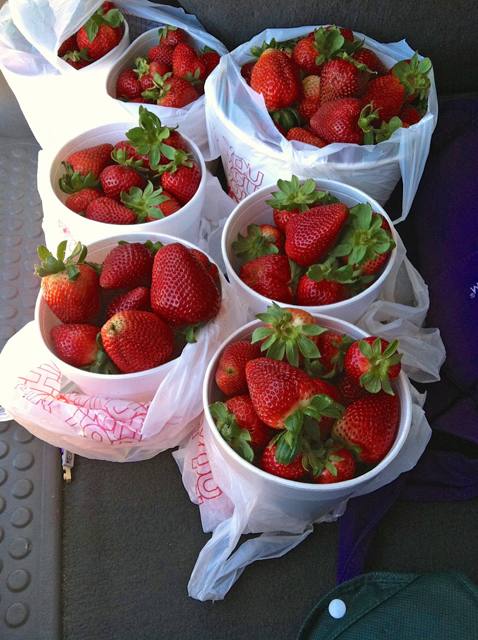 Oh Berries!
We also went berry picking today. I paid $40 for all this. My main mission was just to get a ton of berries for yummy things like jam, smoothies, shortcake, etc. Recipes to come. I had no idea HOW MUCH FUN the kids would have. They are quick pickers, and we had all our buckets done in less than an hour.
Over and over I heard, "This is the best thing ever." "Thank you for bringing us."
I guess that was a win. Needless to say, we'll be doing it again next year. If you're in San Diego, check out the Carlsbad Strawberry Company. We got half off because we went as a group, so these pickings would have been $80. Ouch. Your mileage may vary.
Regardless, my kids had a great time!
Oh Yummly
I added some new sharing buttons below. Well, my designer Joy did. Thank you for sharing the love. There's a new button you might not recognize. It's Yummly, a recipe box/recipe sharing site. Sign up for a free Yummly account and you can easily save your recipes. There's a Good Cheap Eats yummly page as well as one for Life as MOM if you'd like to save some of those recipes.
It's a great way to track your recipes visually. Thanks for trying my recipes and sharing them with others. In case you didn't know, sharing is probably one of the biggest and best ways that you can help my sites. So thank you for your support!
And that's my week in real life.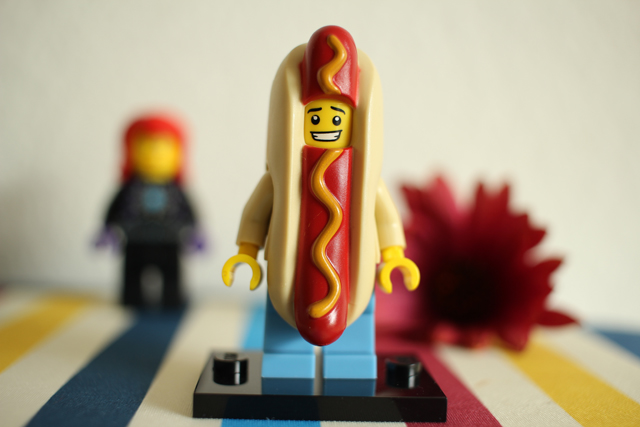 Meanwhile, here's what's been happening on Life as MOM:
Here's what's been happening on Good Cheap Eats:

New to Life as MOM? Check out this good stuff from the archives.
Coming next week:
Tips for Caring for Your Home and Family
Preparing to Send a Child to College
Answering Your Child's Questions about Special Needs
Make Your Table Pretty
How Cleaning and Decluttering Can Save You Money
Be sure to let me know what stories and articles are helpful to you and what you'd like to see more of in the coming weeks. I want to make your "life as MOM" as fun and as easy as possible.