The weekly ramble: where I blog like it's 2004.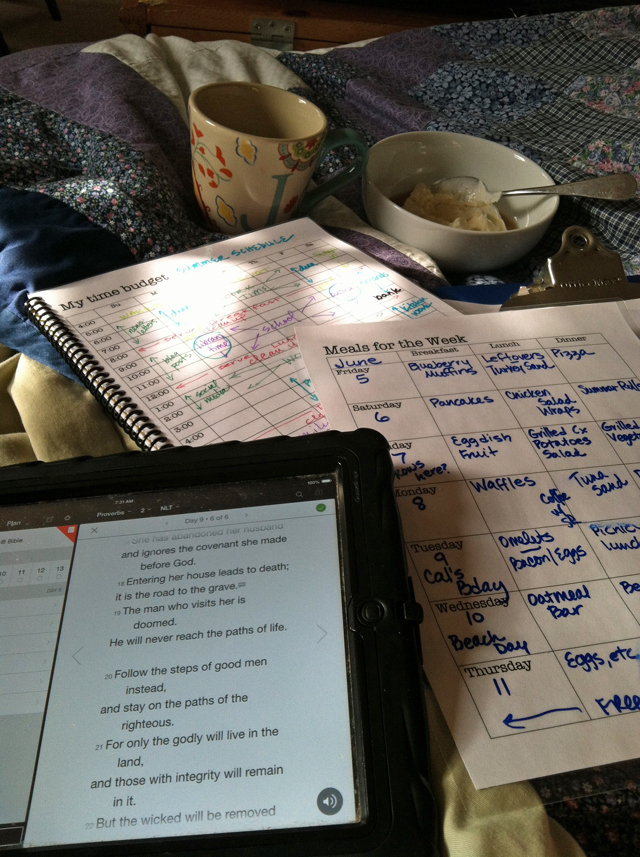 Hello, my friends! What a wild week it has been! It was not as homebody domestic as last week, which is how I prefer things. It took me a few days to used to a new rhythm and tone, but once I looked at the calendar and realized this will be my reality for the next few weeks, well, let's just say that I'm trying to embrace the crazy.
Anyone else envision that Donna Reed's days obeyed her like clockwork?
So, what did we do all week?
My mom and dad came Sunday morning after attending the American Ninja Warrior finals (semi-finals?) in San Pedro on Saturday night. My brother's company builds all the scaffolding and challenges for the competition. He's been on the road for the last few months as the show tours the country. My dad loves to attend these, so that was his priority for the week — and of course, a family-wide reason to brag on my brother. 😉
Knowing that my dad was hitting the road for his annual summer trip, we celebrated his birthday and Father's Day which are both on June 21st this year. We get a 2-for-1 deal often. Not sure how he likes it, but it makes it easy. Haha!
As you might know, my parents started the Whole 30 in February and have both lost at least 20 pounds. They look great! They've transitioned to a mostly paleo diet, so I tried to make it a celebrating in that style: Spice-Rubbed Pork Tenderloin, Steamed Green Beans, Dill Potatoes, and a Whole 30 Fruit Cake.
You can tell my dad was pretty thrilled.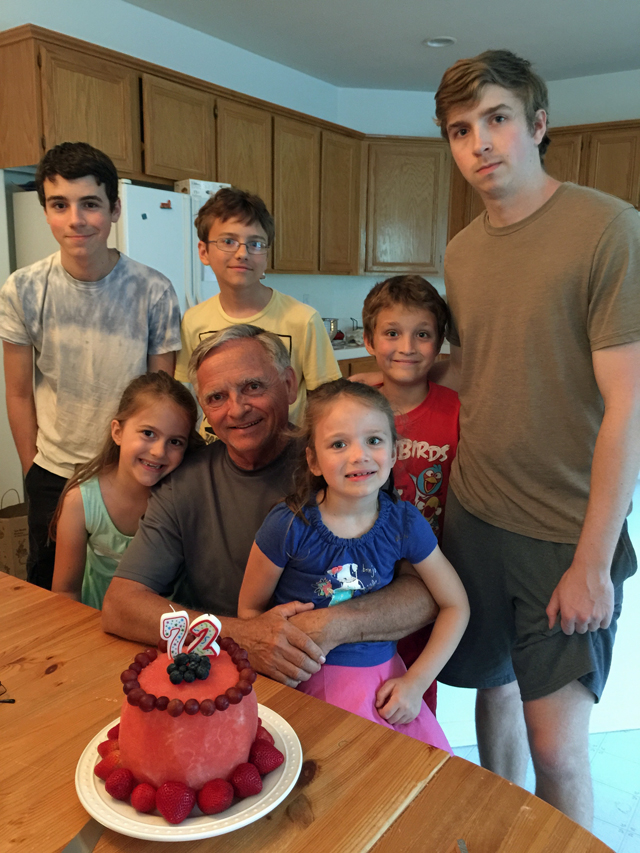 On Monday morning, I did a little "self-care" in going to yoga and later having coffee with a friend. I really need to make both a regular gig. The youngers and I went to the library and shopped Costco.
Tuesday was FishBoy13's birthday. We had friends over for lunch and swimming. That was a full day. I was really glad he had chosen a local family-run Mexican food restaurant for dinner. No cooking for me. The bday boy also chose The Amazing Spider-Man 2 so that we could stay up far too late watching a far too sad ending movie.
Sequels can be so disappointing.
I paid for that late night. Wednesday found me in a total snit because the house wasn't as tidy as last week, and I hadn't been as "on the ball" as last week, either. Remember Wednesday is often the tipping point for me on the great week scale. And for whatever reason, I felt like I was losing.
FishPapa insisted on a date night. We ate Chipotle, bought me some new shoes, and watched as a robbery started to go down in the shoe store, complete with security guard chasing the guy down. I've lived in many different places, and I've never seen that before in my life.
On Thursday, we found out that FishPapa would have knee surgery — the next morning. Yikes! That did not feel like enough time to plan!
I finished up my freezer cooking that day and took FishBoy13 to physical therapy where we learned that there had been a shooting at our local Target — in the same neighborhood as the shoe store! What the heck! Not sure what's the matter with this town, but it has me wondering!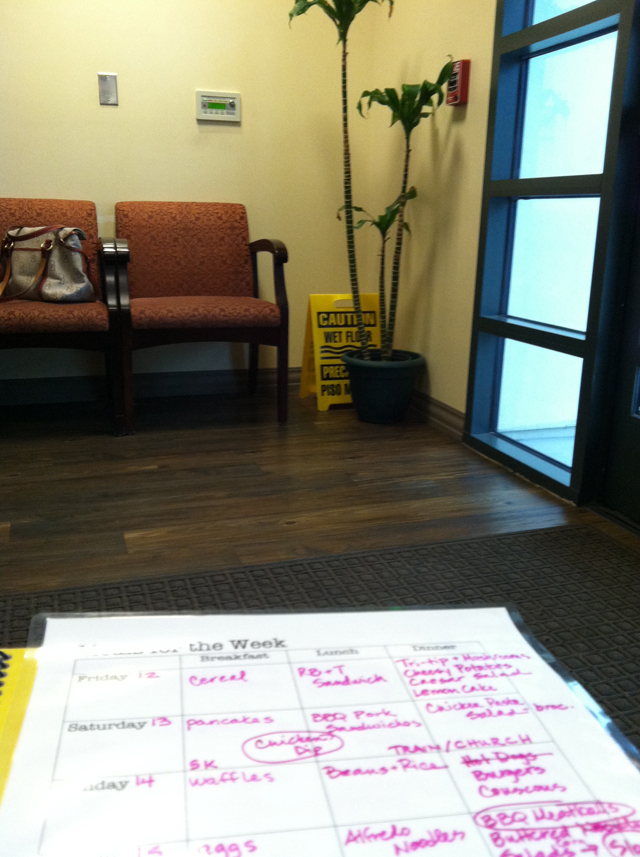 If you follow along on instagram or Facebook, you got the play by play of surgery day. It has been a long road since FishPapa's injury back in March.
We are thankful that the surgery went well, and that his case managers at work and with the insurance agency have been so wonderful. When I had trouble with the prescription, folks tried to move mountains to make it happen, even calling me on Saturday to make sure we had what we needed.
The only surgery in our marriage previously was my last miscarriage in 1999. I'll admit, it can be nerve-wracking!
Today five kids and I walked/ran in the Luke the Brave 5K. I'm so thrilled that the fundraiser brought in almost $19,000 for the Sybert family. Yay! You might know Michelle's blog, Muffin Tin Mom. I'm not sure there's a sweeter, more fun family than these people. Michelle, Trevor, Luke, and Kya have been amazing example of faith and humility as they battle cancer as a family. If you'd like to donate to their expenses, you can give money here.
It was really fun to do the 5K with my kiddos. We kinda paired off: boys 14 and 10 together at the front, FC8 and I in the middle, and FB13 and FC6 pulling up the rear. Us stragglers didn't know there were TWO LAPS to run. We quit at lap 1. I probably could have pushed it, but I stuck with the three kiddos while we waited for the other two to finish their second lap.
Turns out that was a good idea. FC8 lost sight of us for awhile and got a little distraught. We had a great teachable moment about what to do:
Pray for wisdom. God is always with you.
Look for a brother.
Find a mom with kids.
It all worked out fine. We headed home for lunch and then went back out for meetings at church and church. I'm bone tired. It's a lot of work to do all this on your own. My hat is off to single parents everywhere. Bless you for flying solo!
Meanwhile, here's what's been happening on Life as MOM: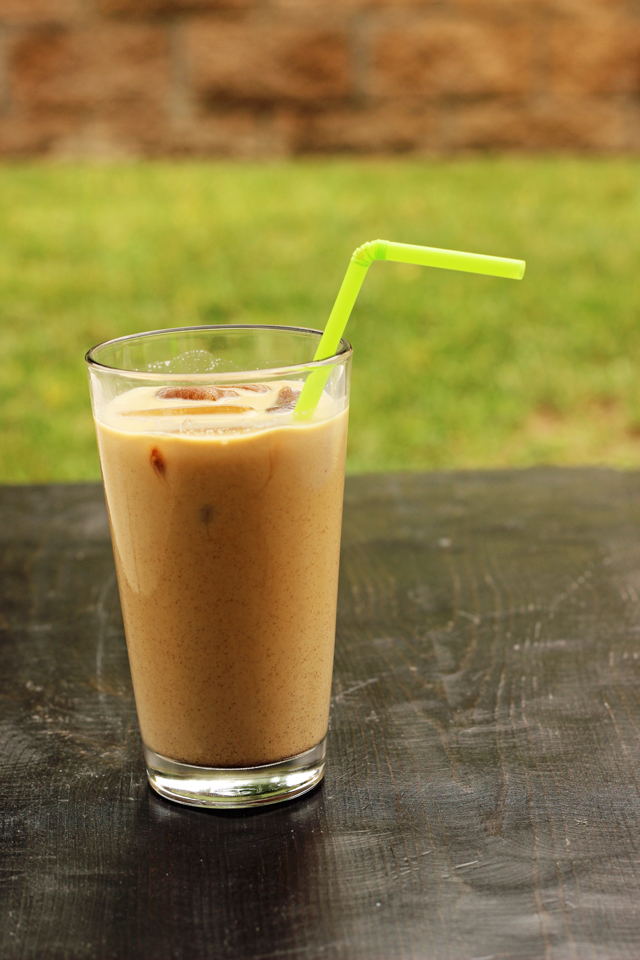 Here's what's been happening on Good Cheap Eats:
New to Life as MOM? Check out this good stuff from the archives.
Coming soon:
Do ya get the newsletter?
If you already get the newsletter, you know that I've been handing out freebies and special bonuses over the last few weeks. If you're not on the list, then you don't know what you're missing out on.
Be sure to sign up for bonus offers, surprise giveaways, extra content, and special deals for Life as Mom "insiders".