The weekly ramble: where I blog like it's 2004. 
This week flew by in a flash. I know, I say that every week. Why can't time stand still?
It was a pretty mellow week, started by my day of rest. Did I mention this already? I am reading through the Bible via a chronological reading plan from YouVersion. A month or two ago, the day's reading was the 10 Commandments. When I got to the part about working on six days and resting on the 7th, I was convicted. Not in the Little House on the Prairie, don't-do-anything-fun-on-Sundays-kind-of-way, but in the what does this passage say kind of way?
So, since then, I've been trying to be deliberate about resting. Getting an autoimmune disease diagnosis kinda clinched it, you know? Over the last 5 years I wrote four cookbooks (all while schooling six kids and writing two blogs), and I'm tired and worn out. 
At first "resting" was hard, especially since the house is usually a wreck by Sunday morning. My current weekly pattern is school and survival M-F, do blog/cookbook work on Saturday with church on Saturday nights. If I'm locked in my office for most of Saturday, people do what they want, and cleaning up after themselves is not typically "what they want".
We're working on this, though. The dishwasher broke. Again. This is the 4th time since we moved into this house in 2009. Handwashing never killed anyone, but my kids were a little surprised when I instituted the DRY AND PUT AWAY practice. The kitchen has never been so clean for two days in a row. We'll see how that goes!
Anyway, after that initial "learn-to-turn-a-blind-eye-to-the-mess" Sunday, I'm getting more and more excited for Sundays to come. I'm finding things throughout the week to plan for Sunday. This past week it was coloring with my girls and watching Brave, my all-time favorite Disney Princess movie.
When my new coloring book came, I wondered if the girls would "need" new coloring books of their own. They did. I'm sorry to say that Walmart has a very sorry collection, but Michaels kinda rocks it.
The day also had some errands in hot weather with whiny children – not exactly restful and it made me crabby — but I'm learning. I'm learning. You pull the ox out of the ditch, you take one for the team, and you try to be restful.
On Monday, FishBoy18 started his first day of classes. I just might have cried on the drive to the train that day. You can read more about that here. It's a sobering moment when you realize that your kids are growing up before your very eyes. And I do insist that the times goes by too quickly, and I wish I could go back.
Since I can't, I'll just do the best I can with what I've got left.
I will confess that I was thrilled when he asked for my help on something later in the week. And DO YOU KNOW HOW EXPENSIVE TEXTBOOKS ARE, MY PEOPLE? Wow! I'm very thankful that he got financial aid this year. We are saving our pennies to fund next year. Just wow.
(Edited to add: he did buy some used books, however several of his classes only use Connect resources which means the information is all online and access codes are non-transferable. Digital is not as freeing as one would think.)
Tuesday was my appointment with The Irishman. Turns out he isn't Irish-born. He's a Canadian-American with Irish heritage and did his medical studies in Ireland.
I'm still calling him the Irishman.
FishPapa went with me, and we fought our way through early morning traffic together. The Irishman was very nice and a super good listener.
"I've read what your records say, but I'd like to have you explain to me what's going on."
Major points right there. He disagreed with my GP on a number of points, including the iodized salt controversy.
Me: My GP said that I caused this since I was using non-iodized sea salt. And that it would stunt my children's growth.

IM: Um, no.

Me: Does it matter what kind of salt my family uses?

IM: No.
Certainly, YOU need to do what's best for you and according to what your doctor says, but if my previous post caused some unrest, I thought I'd share.
Needless to say, we both felt really good about this doctor, about his professionalism, and how with-it the staff was. He might have started me on a lower dose of meds, but said it was fine; we'll do labs in a couple weeks to see where things are at.
Overall, it's still "autoimmune hyperthyroidism". He didn't call it Graves' because I don't have the antibodies, but said it is probably Graves' due to the fact that cousins of mine have Hashimoto's, another autoimmune thyroid disorder.
He said it's easy to treat and we'll try to get off the meds as soon as possible. We had a big discussion about diet. He would love to know that diet would work, but there's no data to support it, only anecdotal evidence. (To be noted, he did not act like I was some weirdo in asking, so he gets some more points there.)
I'm a little conflicted about the whole gluten-free thing. I'm not super pleased with the ingredients lists of gluten-free products. They don't seem that "nutritious". So, for the moment, I'm focusing on making wise choices that have the most nutritional value. This would put baked goods and breads lower on my list anyway, so we'll see.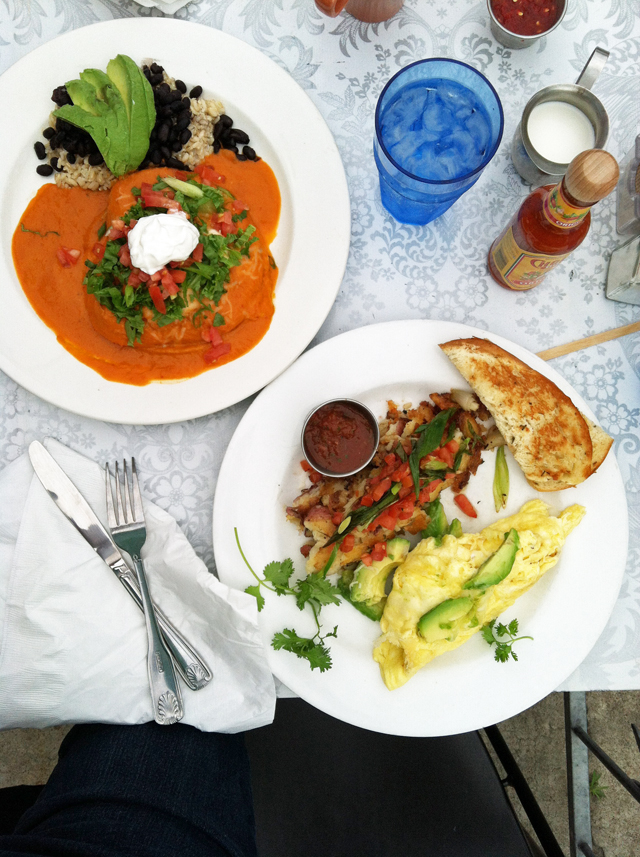 Since FishPapa and I were in La Jolla, we made the most of the day by heading to The Coffee Cup to use up the Groupon I bought in 2011. Go ahead and laugh. We did. The waiter didn't know they did Groupons. Well, that's because they don't. anymore. Haha!
It was a really good meal, but not cheap. Hello, $3 Coffee, where did you come from?
For some reason we explored La Jolla a fair amount when we first moved back to California. I have no idea why we chose that chi-chi town, but we did. It was funny to walk around without six kids in tow.
After that it was only a short drive from there over to IKEA where we became grown-ups. 😉 We've had the same metal bed frame for over 20 years. We upgraded and bought a real bed and two new bedside tables.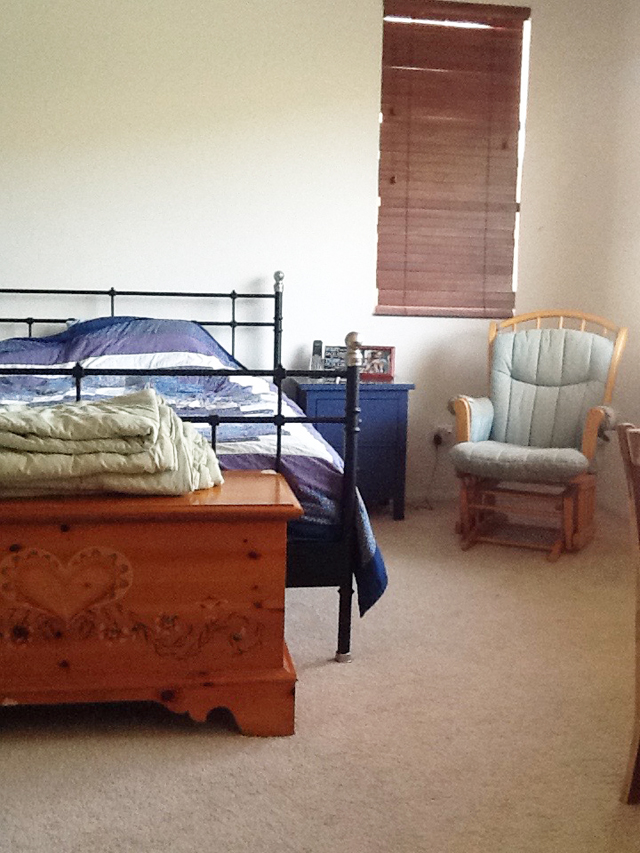 The other furniture in our room is honey pine: a chest of drawers that FishPapa built when we were newlyweds, our first kitchen table-turned-desk, and my hope chest, circa 1986. The glider is a Dutailier that we bought in 1997 for FishBoy18. Needless to say, our room design looks "vintage" at best. But, I think I'm okay with that.
Someday, I will transition the hope chest and glider to a guest room for grandbabies, right? So they are worth holding onto, I think. Then I'll match my gramma furniture.
I'm springing for replacement cushions on the glider. They have a number of different patterns to choose from. Search product 11780 here if you want to give me your suggestions.
I'm also in the process of making over my office. This includes lots of decluttering and lifting of heavy items. Not a good thing when your back is threatening to go out. Again. I will need to find a minion to do the heavy lifting. I found a sofa bed at IKEA that I want. Believe it or not, I'm leaning toward the orange.
So that's what's going on around here.
Meanwhile, here's what's been happening on Life as MOM:
Here's what's been happening on Good Cheap Eats: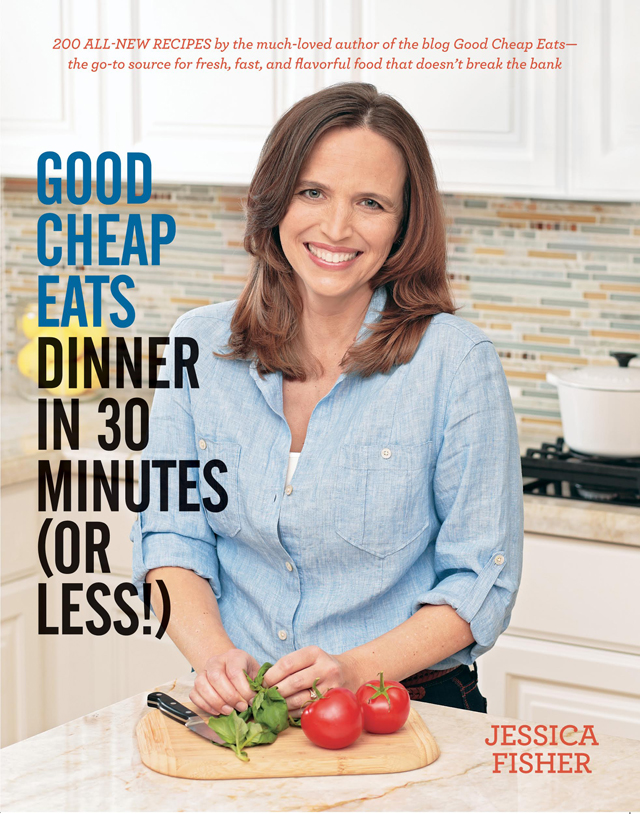 Coming soon:
My new book is shipping soon! Pre-order your copy now so that you get it in your hot little hands as early as Tuesday!
A New Month of Meals – This Month of Meals is FREE! Grab your copy now.
Allergy-Friendly School Snacks
An Emergency Supplies Checklist
Freezer Cooking Days! Watch your newsletter for the new Freezer Cooking Plan and to chat on Facebook on September 8th at 6pm.
Do ya get the newsletter?
If you already get the newsletter, you know that I've been handing out freebies and special bonuses over the last few weeks. If you're not on the list, then you don't know what you're missing out on.
Be sure to sign up for bonus offers, surprise giveaways, extra content, and special deals for Life as Mom "insiders".
Last week several people said that they did not receive theirs. It usually goes out on Sunday afternoons. Shoot me an email or leave a comment here if yours is MIA as well? I pay big bucks for the delivery service. If they're not going out, I want to know! Thanks!