The weekly ramble: where I blog like it's 2004.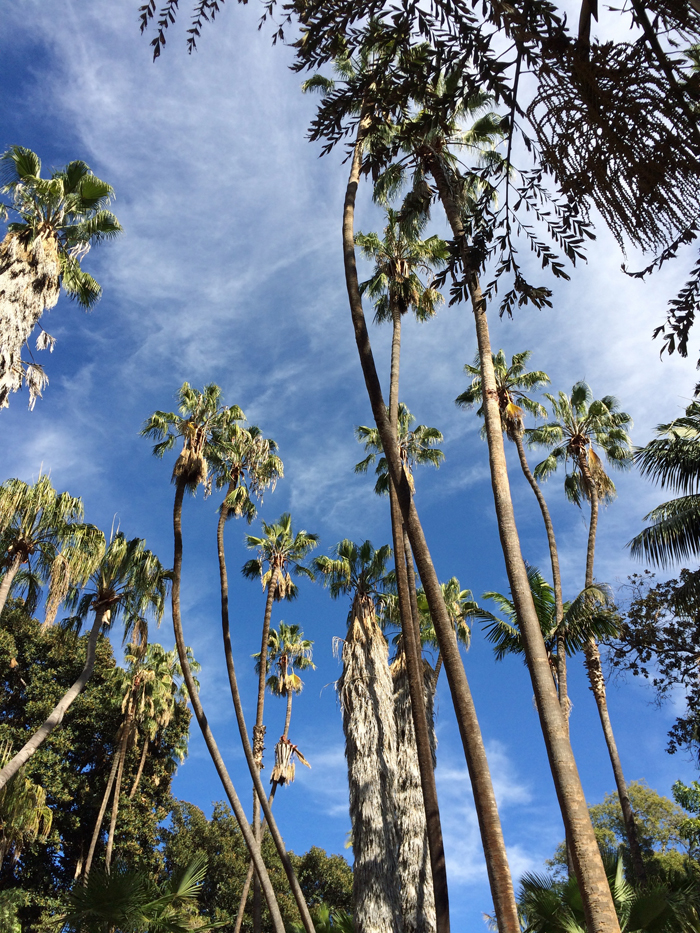 Whew! It's been a long day! FishPapa took a vacation day so we could have an outing. San Diego has always treated us well when make an effort to get out and about, so we were both looking forward to it. Now that our kids are pretty satisfied to stay home and play video games, it takes a concerted effort to get out the door to do something else.
It didn't come off exactly as we expected. We had been sent tickets to see the new exhibit at the art museum in Balboa Park. That ended up being a pretty horrible experience. You can read my rant over here. I don't want to give the place too much press, but let's just say it made the short list of Things Never to Do in San Diego.
Seriously. With or without children, I would be hard pressed to recommend a visit there which is a shame since the building is gorgeous and they've got a very decent collection of pieces. It was such a far cry from the lovely gallery strolls we enjoyed last fall! My family's behavior was never questioned at the Louvre, Musee d'Orsay, Versailles, or a host of other amazing museums, so I was really surprised at the treatment we received in our own town as invited guests. Turns out this is just how they do things. Their follow up email said as much.
If they think that you are within 12 inches of a painting, they will come harass you — regardless of whether or not you really are within 12 inches. It was really distressing to be followed and hassled every time we stopped to examine and discuss a painting. As one reader said of her own experience, "That's exactly how I felt a couple months ago. Too close was like 4 ft away."
That said, we will laugh in years to come about uptight art docents and arbitrary measurements!
In the meantime, if you've got a recommendation of an art museum in Southern California that you love, please let me know! We had pockets of true joy when we saw a painting, location, or artist we recognized, so it would be great to enjoy an art gallery again sometime soon.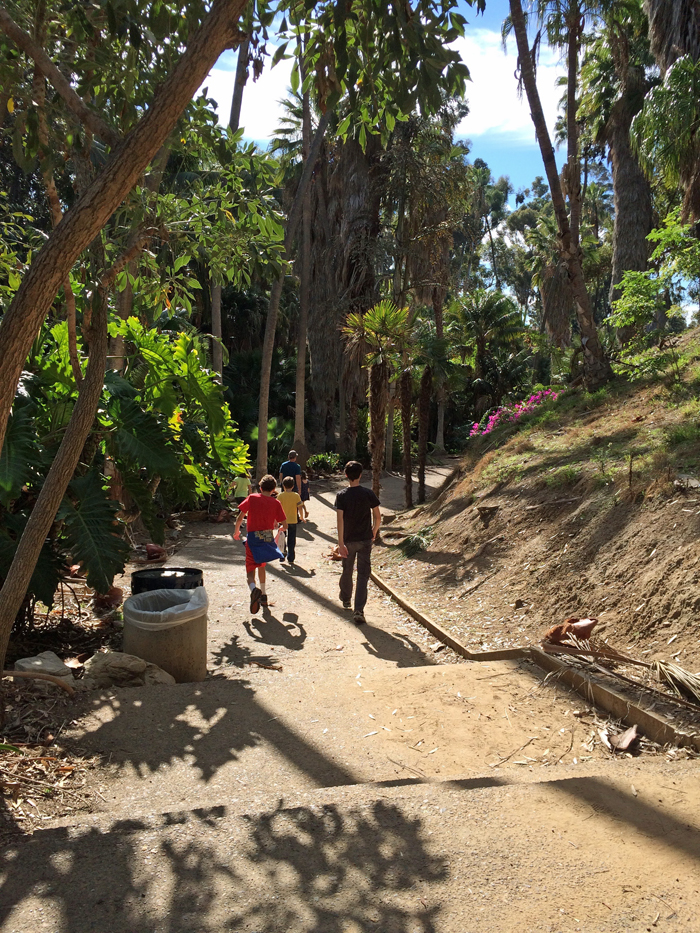 So, how to redeem the day? While some children wanted to rush home and check out Amazon Black Friday Ads, I was resistant to throw in the towel so quickly. We found a beautiful trail that meanders through Balboa park. It's lined with palms but there's also a huge Moreton Bay Fig Tree that is really amazing.
Parking in Balboa Park is free, so it's definitely worth exploring the trails they have. The Park is home to the San Diego Zoo as well as a number of museums and attractions. There are also "houses" designated for a number of countries. We walked by the House of Hungary right as we were getting a little hungry, so that sparked some laughs we needed, as did this: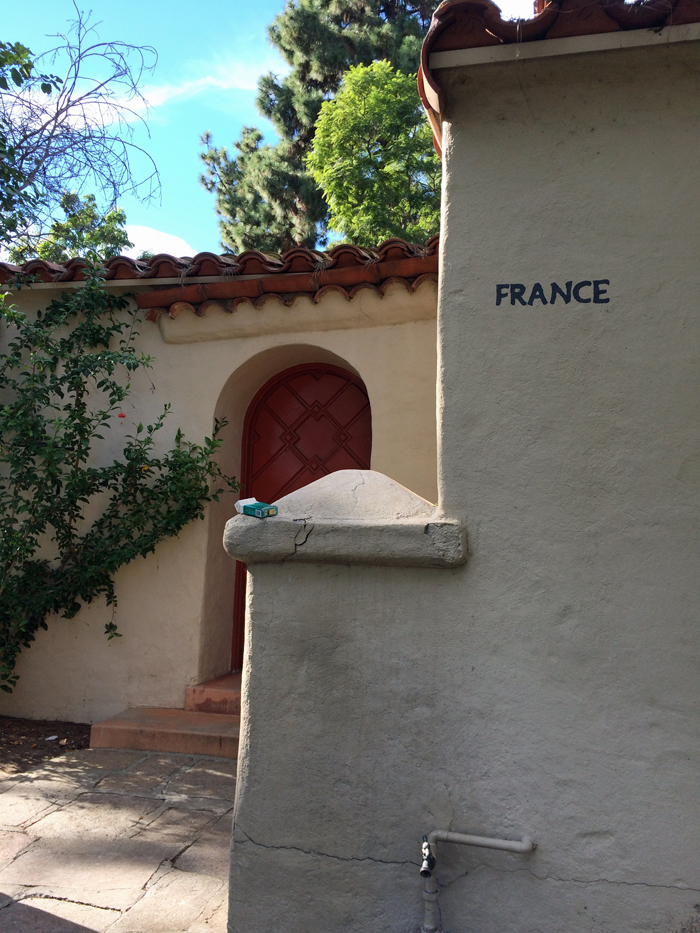 The House of France, complete with a pack of cigs. It would have been perfect if they had been Gauloises, but I don't think they were.
We headed home and had some good talks about the experience with our kids. They are not perfect, to be sure, but they are a great pack. They are kind and polite, attentive and generous. I felt so bad that they had been treated the way they were earlier in the day.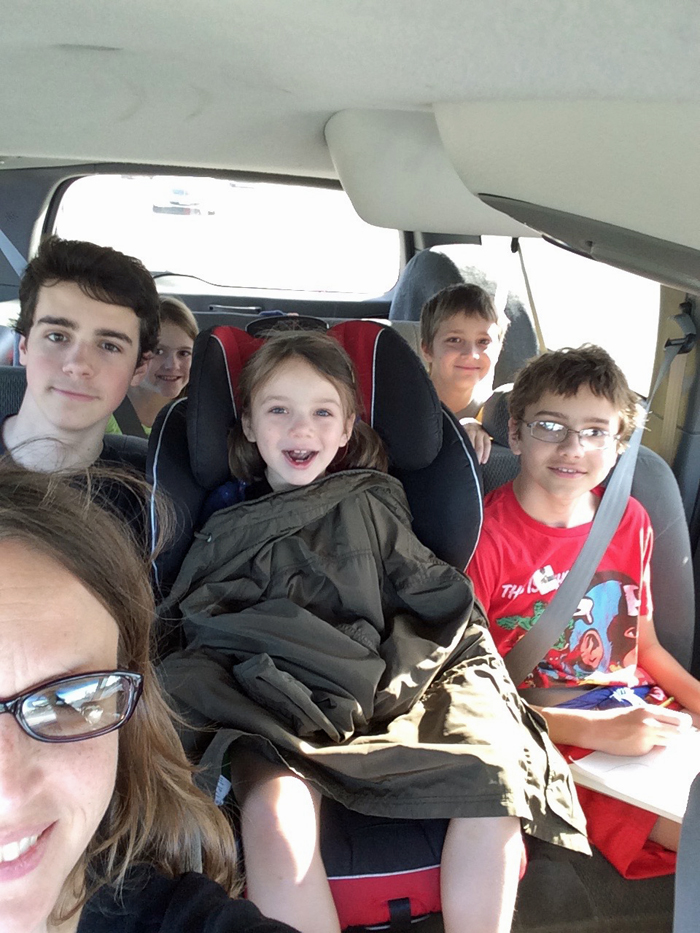 But they are such good sports. I have a lot to learn from them. It was great to hear them talk about things that they knew in relationship to what they saw in the different paintings, sculptures, and art work. Even Little Miss had something to add. Plus my kids know their Degas from their Dali, so my mama-heart is happy.
We decided to move pizza night up to lunch time and stopped at Pizza Port on the way home. Over pizza the kids shared a pitcher of root beer while Papa and Mama were happy to unwind with a brown ale and a cab, respectively. 😉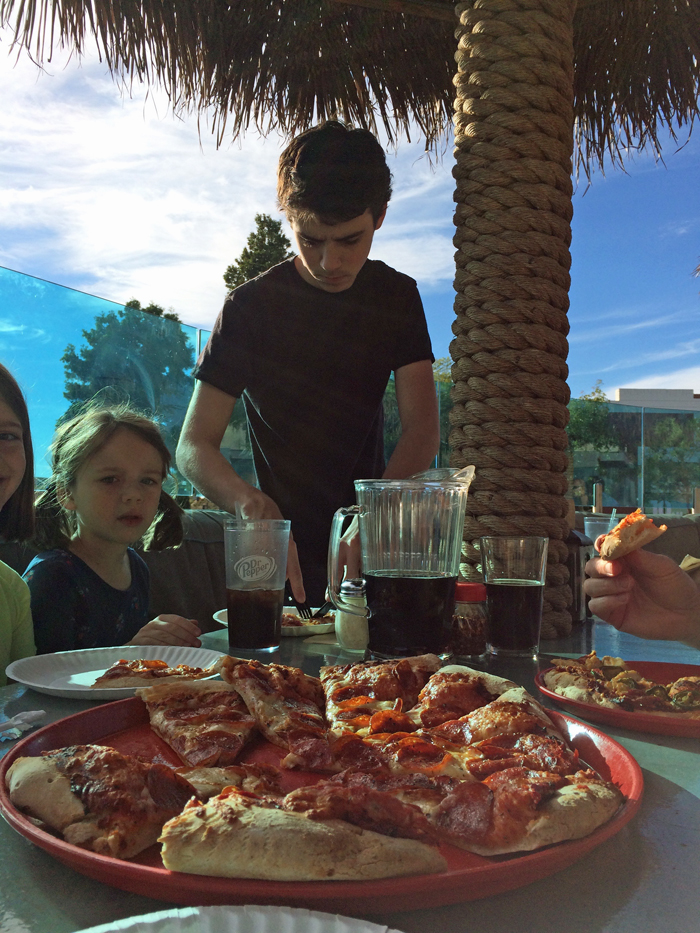 That boy? Cut up his sister's pizza without being asked. He just saw that it needed to be done. (That was my seat, but I had moved to take the picture.) Be still, my heart. I'm so thankful for these people!
A funny story. Since I was trapped on the bench seat, I asked one of the boys to go ask for a cup of ranch dressing. He came back and reported, "Mama, you don't have to ask for it. It's right there to take." Younger child pipes up, "Yeah, so's the marijuana." (Apparently, there are no 1-ft docents here!)
Upon investigation we found out it is marinara that is available for the taking. We're not that chill in California. 😂
Needless to say, I think we did a good job of turning the day around. I'm so thankful for my husband and kids who make the bumps in the road easier to bear.
Meanwhile, here's what's been happening on Life as MOM: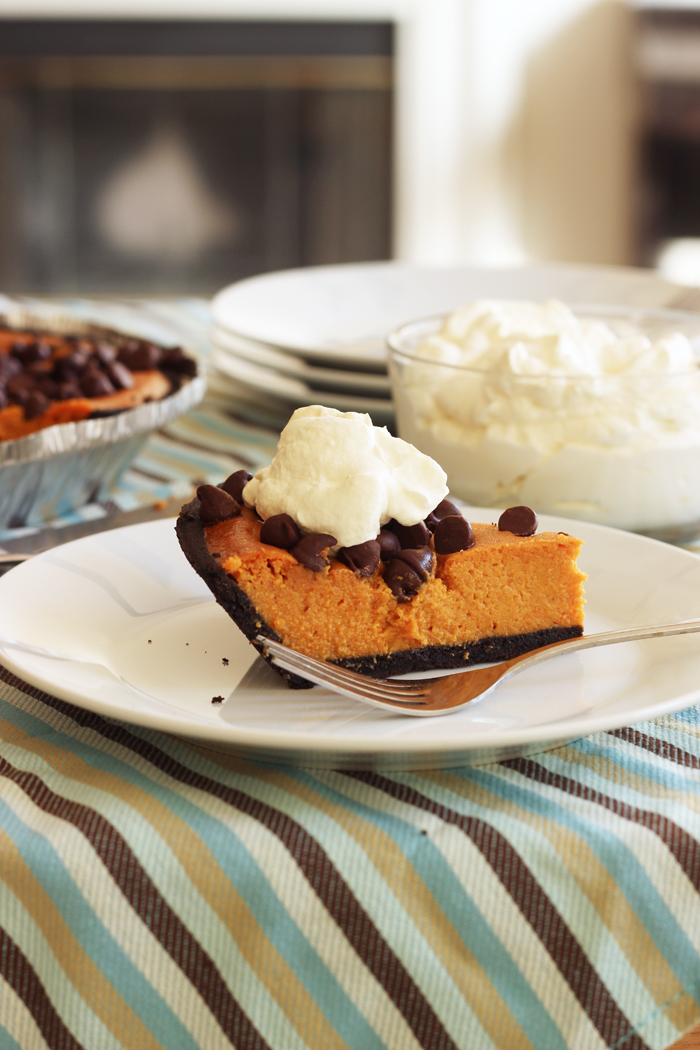 Here's what's been happening on Good Cheap Eats:
Coming soon:
Travel Essentials for the Holidays
Freezer Meals for Company
Housekeeping at the Holidays
Best Ever Christmas Cookies and Treats
Christmasy Things We Love
Do ya get the newsletter?
If you already get the newsletter, you know that I've been handing out freebies and special bonuses over the last few weeks. If you're not on the list, then you don't know what you're missing out on.
Be sure to sign up for bonus offers, surprise giveaways, extra content, and special deals for Life as Mom "insiders".