The weekly ramble: where I blog like it's 2004.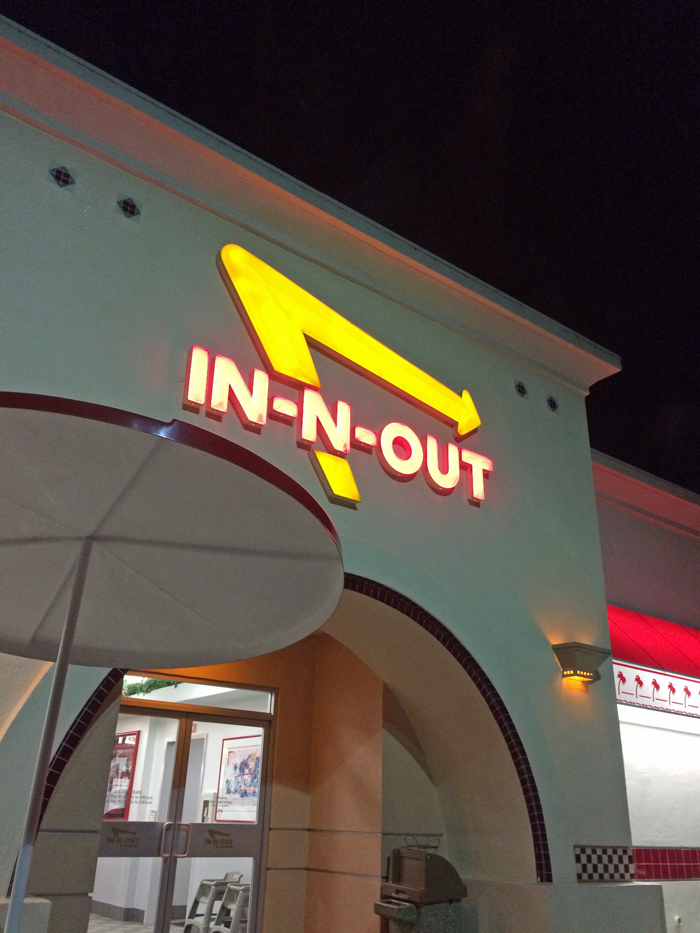 Those of you who've been following along with my Pantry Challenge this month know that we are eating down the household. Our house has termites and will be tented sometime in the next few weeks. Apparently, you have to store your food in a special way during that tenting process so I want there to be as little as possible.
So far the freezer is about half depleted. Proteins are pretty slim as are some of our regular staples. I'm not restocking anything unless we truly can't live without it. Things should get interesting.
One thing that I am holding on to, however, is my Sunday night trip to In-N-Out burger. We don't eat out much as a family, particularly during a pantry challenge, but back in November or December I realized HOW MUCH IT HELPS to have a planned take-out meal on Sunday nights. Whew. Yes, ma'am. So, we start the week with burgers and fries — and a clean kitchen. Amen, hallelujah.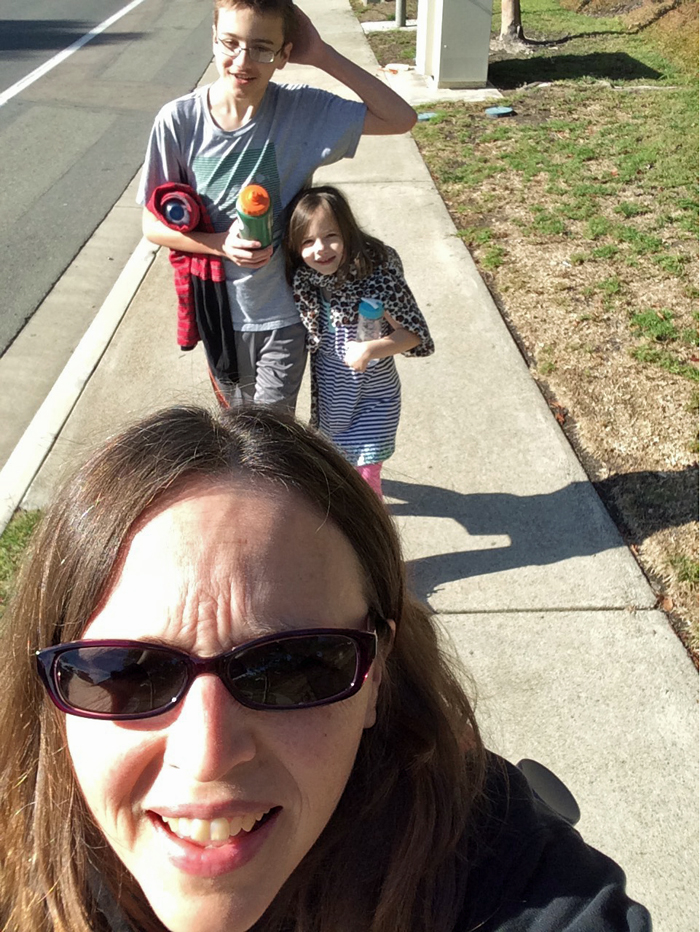 I haven't been that organized in other areas of my life, however. Two weeks in, we still aren't up to full speed when it comes to school. But on the flip side, we have worked in more socializing and more exercise. So there's that.
I made it a goal for myself to do some kind of exercise every day. I started on Christmas Day and except for taking a break last Sunday when I wasn't feeling well, I've kept to my goal! I've been active 22 of the last 23 days, either walking 2 miles, taking a yoga class, or following the Couch to 5K app on the treadmill. Yay!
I've got some issues with shin splints which a friend says will go away soon, but otherwise, I'm feeling really good.
I've included the kids in many of these get fit activities which has been enlightening. Earlier in the week we had a homeschool playday at the park. The park is about a mile from our house. We walked. Ha! The kids were stunned when I said we weren't getting in the car.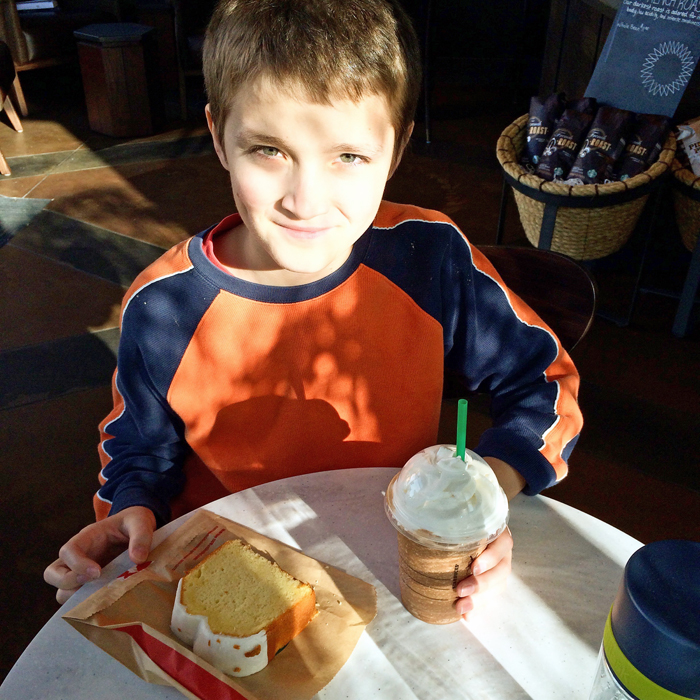 We live in the burbs and there aren't too many shopping centers or sites of interest too close to our house, not like living in Paris or anything. But, we've got the essentials.
This guy was a little surprised when I switched up our Lunch Lessons experience. About 18 months ago I was rotating one kid a week to take to lunch in anticipation of our trip to France and restaurant dining. Over the holidays the kids asked that we start doing it again.
I quickly realized that our budgets (both money and time) don't ideally work for lunch out every week, so I adapted the idea. Coffee Walks are the new thing. Starbucks is about a mile away. Bwahaha! The walking mama made this guy work for his treats. He scored with a free drink coupon I had which allowed him a dessert as well. Good thing we were walking. (More on Coffee Walks and one-on-one time with kids next week!)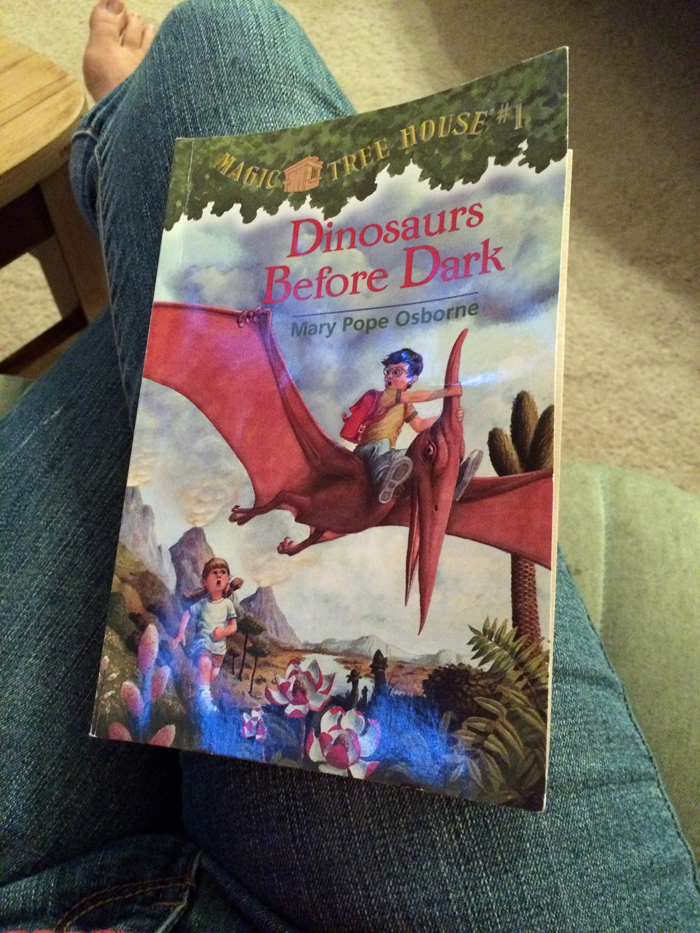 School has focused on literature and math, with lots of read alouds for the littles. FishChick7 is ALMOST an independent reader. ALMOST. Dinosaurs Before Dark was a gateway book for the other kids; they were off and reading after doing the first chapter with me.
Not so with little miss. We read the whole book together. I'd never read a Magic Tree House book before and was highly annoyed. With the lack. Of punctuation. In the proper places.
Stick needles in my eyes, why don't you? Sheesh.
However, on the plus side, my girl loved reading with me, ran all over the house telling everyone she finished, and was ready the next day. With the next book. For us to read. Together.
Heaven help me with the punctuation! No wonder some of my kids have struggled with punctuation over the years. I heard these books were safe! Oy!
So, that's the bulk of my week. And it's been good. I'm looking forward to next week being better because I have a few tricks up my sleeve. If you saw Saturday's scope, you know what I'm talking about. 😉 More on that soon….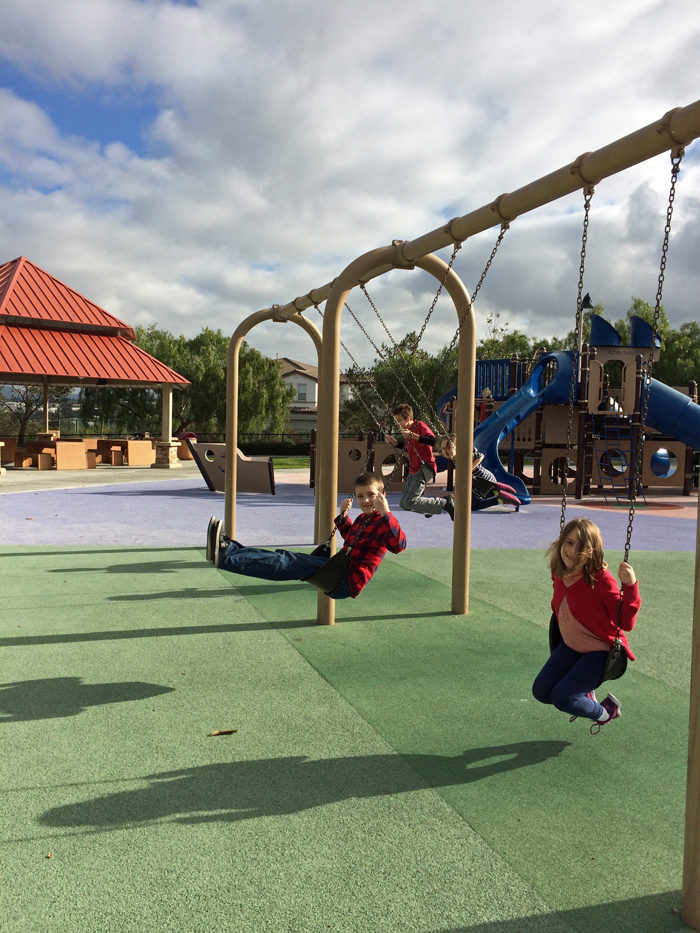 Meanwhile, here's what's been happening on Life as MOM:
Here's what's been happening on Good Cheap Eats:
Coming soon:
Push Goals, a Time Budget, and Getting My Act Together
Video Games are Not the Devil
Where Will Your Money Go This Year?
Daily Periscopes to help YOUR life as Mom – 8 am PST, M-Sat (Catch past scopes here.)
Do ya get the newsletter?
If you already get the newsletter, you know that I've been handing out freebies and special bonuses over the last few weeks. If you're not on the list, then you don't know what you're missing out on.
Be sure to sign up for bonus offers, surprise giveaways, extra content, and special deals for Life as Mom "insiders".