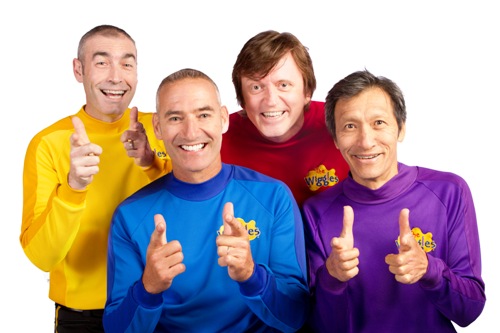 Generations of children have latched onto a special childhood character, band, or television program. The songs, games, and characters find a special place in the hearts and memories of kids.
For me, Mister Rodgers' Neighborhood now brings tears to my eyes. It was such a special season of my life. And his songs and stories had a huge impact on my growing up years. My sisters loved watching Kids Incorporated.
The Wiggles are one such childhood presence in my kids' experience. I'm not exactly sure how it started. We just picked up videos and DVDs from the library over the years. In recent years the entrance of cable television into our home has brought the songs of Anthony, Jeff, Murray and Greg into our environment. To be honest, I find myself dancing when their songs come on.
One of the things that I appreciate about the band is that many of the band members are students of early childhood development. While it's rare for men in the States to follow that career path, it's not uncommon in other countries, like Australia, the home of The Wiggles. It comforted me that the show my children were watching wasn't merely about entertainment.
The Wiggles Celebration Tour
While half my kids have moved on from The Wiggles' target audience, my girls and my youngest boy are still interested. When I mentioned the idea of going to a Wiggles show, they jumped at the chance.
And we're going this summer! My kids have only been to one other live performance, so this will be interesting to see how they do. But, we're a music family, so I can't wait to see how the kids like the show.
Here are the details, in case you get a chance to take your kids:
After 21 years of entertaining and educating children around the globe, Red Wiggle Murray  Cook, Yellow Wiggle Greg Page and Purple Wiggle Jeff Fatt have decided to hang up their trademark colored jerseys. This year's summer tour will be the last opportunity for families to see the Original Fab Four from Down Under perform together. Come Celebrate with Anthony, Greg, Murray, and Jeff when they bring their Celebration Tour to a city near you!

The Celebration Tour, which will correspond with the release of their new DVD and CD, "The Wiggles Big Birthday," will honor over two decades of Wiggly singing, dancing, and performances for children and their parents.

The Wiggles are excited to bring their highly interactive, fun and educational message across the United States this summer. Stops will include: Dallas, TX; Long Island, NY; Philadelphia, PA; Chicago, IL; Los Angeles, CA; and Atlanta, GA. The Wiggles are also proud to announce that they will visit Tropicana Field in St. Petersburg, FL on August 5th for a special performance following The Tampa Bay Rays vs. The Baltimore Orioles game!
Check the website for a show near you. If you've got advice for taking three squirrely children, ages 3, 5, and 8, to a live performance, I'd love to hear it!
Do you have a favorite childhood character, band, or show?
Disclosure: I have complimentary passes to the Wiggles Celebration Tour. All opinions are my own.