A week or two ago we got something really cool in the mail. Really cool.
This: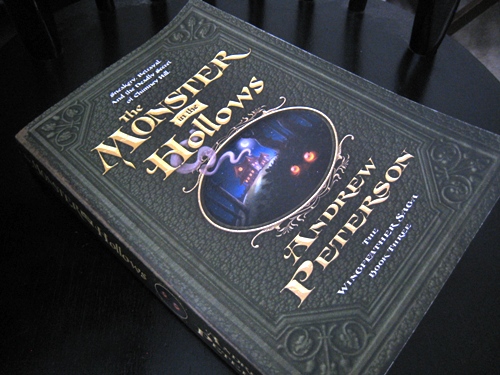 Oh my! The boys and I have had a blast digging into Andrew Peterson's third installment in the Wingfeather Saga. The saga tells the tale of Janner, Kalmar, and Leeli Igiby Wingfeather. In the first book:
We meet the children and their good ole' dog, Nugget. We get to know their no-nonsense mother and their reformed pirate grandfather. We meet the mysterious Peet the Sock Man. We learn of family secrets along with the children. We visit the town of Glipwood which is ruled by the wicked Fangs of Dang and their leader, "a nameless evil, an evil whose name was Gnag the Nameless."
The second book, North! Or Be Eaten, follows their journey filled with more Fangs, hidden identities, and a fight for freedom and to preserve the Jewels of Anniera, their homeland.
The Monster in the Hollows picks up where North! Or Be Eaten left off. I can't blow the story, of course, because I want you to read it. But I will say that there are some unexpected twists and turns, that I love the characters even more, and that I am reminded to remember that I am a child of the King.
Also, having a box of Kleenex nearby is essential. I read ahead (yes, yes, I did) and so I knew how it ended. One would think I'd be prepared to read without bawling. But, no, last night when the boys and I finished, I was reading through my sobs.
These books are really good! And great for both adults and kids.
This week I've got one set of The Wingfeather Saga to give away, complements of the author, Andrew Peterson.
To Enter:

Simply leave a comment on this post.

For extra entries:
This giveaway will be open until Sunday, May 29th at 8 pm PST. Winner will be chosen at random and notified via email.
This giveaway is now closed. Congrats to Amawest@!
Disclosure: I received a review copy of the book. I was not compensated to publish positive statements. All opinions are my own.