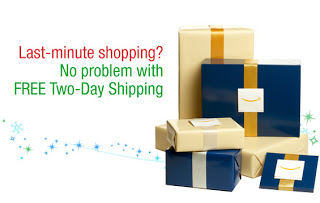 I did the bulk of my Christmas shopping this year online, mostly by ordering through Amazon
. I scrambled to get my orders in last week so that everything would arrive prior to Christmas, using free Super Saver Shipping. That window has closed, but Amazon
still has another way to get your packages to you before Christmas and at no extra cost. Try out a month's free trial of Amazon Prime
.
I tested this service a few years ago and was quite pleased. It provides free 2-day shipping. Right now new subscribers can try out the service for free for one month. If you decide not to keep the service after the 30 days, you can easily manage your subscription through your Amazon
account.
And don't forget: you can always get a gift card!
Now if only they could send some little elves to wrap all this stuff for me!
Have you tried Amazon Prime? What did you think?