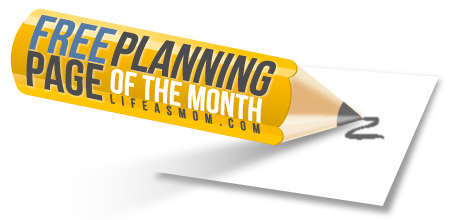 Though I do live in a digital world, there are some things that I enjoy having paper and pencil for. Many of you have purchased Organizing Life as Mom (thank you!) and know that my household notebook is one of those things that I like to keep my hot little hands on.
Each month on LifeasMOM, I'm offering a free planning page. These brand new printables will differ from month to month and only be available for that particular month. Then they will be unavailable.
Pantry Staples Checklist
This month's planning page is a Pantry Staples Checklist. Not only does it list what I consider to be regular grocery items that I want to keep on hand to have flexibility in the kitchen, but it is also "checkable" and fillable so that you can add items that you want to make sure you have on hand.
The form is super handy to keep with you while you grocery shop. Take inventory before you go and then when you see a great sale on rice or flour or some other pantry staple, you check your list to see if you need that particular item. If so, feel free to stock up. Budget permitting, or course.
By doing so, you'll better be able to build a frugal pantry and have the makings of some great pantry meals on hand any day of the week. Stockpiling in this way will also save you money.
Friendship has its Privileges
All my Facebook fans and subscribers will have FREE access to download this planning page during the month of February.
Want to sign up to receive a free daily digest and subscriber perks? Go here to sign up and make sure you verify your subscription shortly afterward. Every day in February, there will be a download link in the footer of the email or feed.

Prefer to follow LifeasMOM on Facebook? Hit the "Like" button over here. Once there, click the Freebie tab to get download instructions.
What pages do YOU need?
I'm intent on building planning pages that help your life as MOM. Got an idea you'd like to see fleshed out? Let me know.