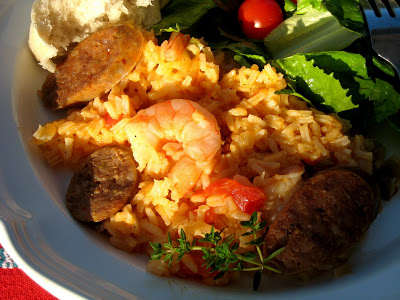 Over the last couple weeks, the grocery store sales have enabled me not only to stock up on some great bargains, but also to experiment a little in the cooking department. Some dinners were homeruns, others, like my jambalaya which was delicious, did not go over well with the younger set. I've got a handful of picky eaters, and that's gotta stop — someday.
In the meantime, I'll plug along, hoping that they'll like some of my new concoctions.
Here's what's on the menu this week:
Hamburgers, Fruit Salad, French Fries
Lasagna, Green Salad, Garlic Bread
Beans and Rice with Toppings
Shredded Chicken Soft Tacos*, Beans and Rice, Green Salad
Chimichangas, Fruit Salad
Pasta with Homemade Red Sauce, Green Salad, Corn Muffins
Pizza, Salad
What do you got cooking this week?
For some meal planning inspiration, visit I'm an Organizing Junkie every Monday.