This  week's meal plan is full of comfort foods, can be shopped at Trader Joe's (though you don't have to) and comes in under $70. What's not to love?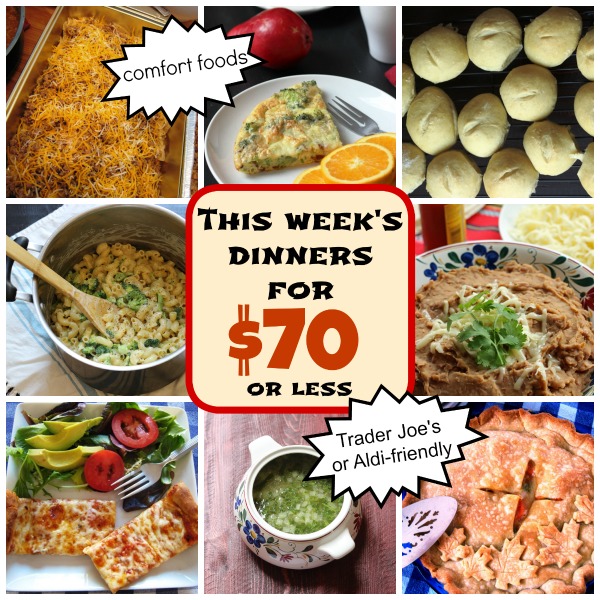 Hey everybody! This Week's Dinners for $70 or Less is back! I'm so excited that these budget-friendly, kid-friendly, sanity-friendly meal plans are so popular. I made the first one for Amy, but now I make them for me! And for you, of course.
I'm thrilled that you like them — and that they help your life as mom.
If you missed the first three, they are still available here:
Plan 1: Mostly Chicken (chicken sliders, chicken & bean burritos, salsa verde chicken, sausages and rice, tortellini pasta salad, soup, and pizza)
Plan 2: Mostly Meatless (green chile burritos, cheese enchiladas, egg sandwiches, Popeye's burgers, meat sauce and pasta, vegetable soup, pizza)
Plan 3: Pretty Meaty (pasta with meat sauce, chili beans soup, pizza, tacos, sandwiches, and chicken)
A comfort food meal plan
This week's plan is all about comfort food. While we're still having warm days in November in San Diego, the evenings are chilly enough that I am ready to hunker down with a big ole pot of Mac and Cheese or a plate of Lawnmower Taco. These are the ultimate comfort foods in this plan. And the price tag is pretty sweet, too.
If you've got a good stock of spices on hand already, you can easily bring this meal down in price from my $70 target. And that's even with buying the bacon!
(I've added some alternatives to the four slices of bacon needed, so you can trim costs if you like.)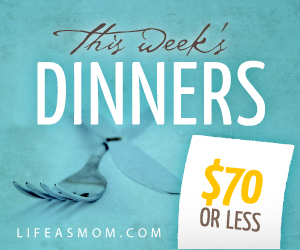 As always, I've included some cheats in the meal plan notes. Be sure to read all the notes! They'll give you accommodations for the recipes to make them just a little more economical and to fit into the bigger picture of the week's meals.
For instance, testing this plan out, I used corn tortillas (99 cents) instead of tortilla chips in the Lawnmower Taco. This shaved the price down and my family preferred the casserole with tortillas. Bonus points, the dish ended up a bit healthier without the added fat and salt of the chips.
So, be sure to read the notes, print out all the recipes, and get thee to the store.
Per design, this is all shoppable at Trader Joe's — and readers tell me Aldi, as well. You don't have to go there, but regulars at these stores know that you can't find EVERYTHING there. Well, you can find EVERYTHING for these meal plans there which makes wherever you shop, a one-stop shopping experience. Booyah!
Be sure to tell all your friends about these Trader Joe's meal plans! 😉
Here are the meals included in the plan:
You can download the meal plan for free along with the grocery lists, prep instrux, and cheat sheet.
In addition to the 40+ meal plans already available on Life as MOM, we're now preparing meal plans with a week's worth of recipes that build on one another and that cost under $70 for the whole week of dinners.
Obviously this type of plan is a little more time-intensive to prepare than previous meal plans, so we won't be posting them on a weekly basis, at least not at the start. Any constructive feedback you can offer as we work out the bugs, is greatly appreciated. You can leave a comment here or email janel(at)lifeasmom(dot)com or jessica(at)lifeasmom(dot)com. Thanks!
Now let's get cooking!