This meal plan is mostly meatless, can be shopped at Trader Joe's (though you don't have to) and comes in under $70.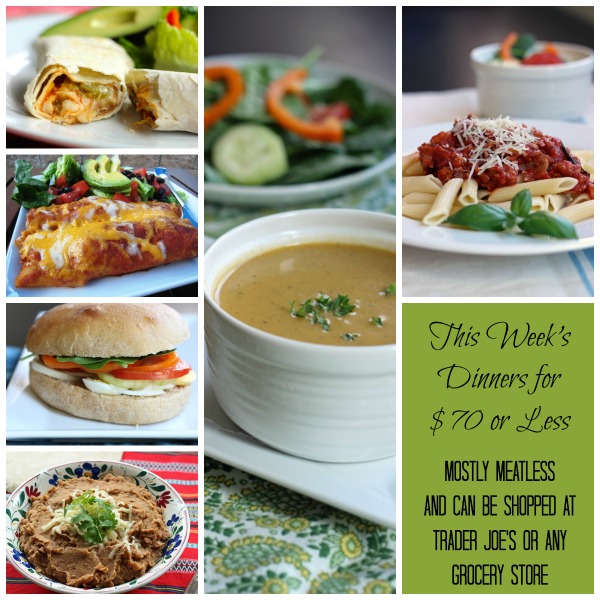 Yay for a new meal plan. This one was really fun to shop and cook. It's mostly meatless which is a great way to cut costs and eat lots of fresh, fiber-rich foods.
This plan is designed to feed 4 people generously. It can be shopped at Trader Joe's, but you don't have to. I am afraid that was one confusion that surfaced over Plan #1. For those who don't know, Trader Joe's doesn't carry all the typical ingredients that you can get at the grocery store. I wanted to make a plan that could be shopped at Trader Joe's if you wanted to. The only item on the list that can't be found there all year round is the yeast. They carry it during some times of the year, but not all.
Anyway, you don't have to buy these groceries at TJ's, any grocery store should have all these ingredients, though they might not have this pricing. Some prices will be better and some not.
Of course your mileage may vary. Be sure to read all. the. notes. I've included lots of little cheats to help you keep costs down as well as have an easy meal plan to work through during the week. The notes are where your cost and time savings will be explained. So read them!
You can do a lot of the prep on one day and then simply assemble supper as the week progresses. You can even delegate dinner prep to spouses, babysitters, or kids because the heavy lifting is already taken care of.
At times, we veered from the recipe a tad in order to save you some coin, so be sure to read the notes.
This week's meal plan really lends itself to freezer cooking. Many of the components can be made in advance and frozen. So, if you knew you were coming up on a busy season, you could pretty much make the whole week's meals on one day. Bonus points if you make double or triple batches of some things.
Speaking of which, IF you tripled your ingredients list and made three batches of each thing each night, you could stash the extra two meals for later. Booyah! You could fill the freezer just by doing a little extra work each night for a week. Then you'd have 14 meals stashed for later without much extra effort.
Hmmm…. may have to turn this into a freezer cooking plan, eh? Wait for it….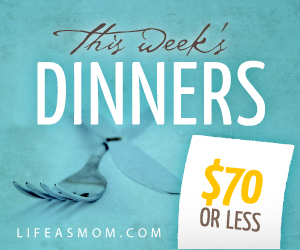 The plan is formatted as a full-color pdf. If you don't want to use the colored ink, be sure to change the setting in your print window. Alternatively, save a tree and save the pdf to your iBooks or other pdf library on your tablet or phone. Just be sure to take your device to the store with you.
Recipes in the meal plan:
Here are the recipes in the plan. See? No cookbook purchase required. 😉 These are mostly meatless recipes, but you can add meat or even sub out the meat in the two dinners that are carnivorous. But basically, most of the work is done. You have to shop and cook.
You can download the meal plan along with the grocery lists, prep instrux, and cheat sheet here.
In addition to the 40+ meal plans already available on Life as MOM, we're now preparing meal plans with a week's worth of recipes that build on one another and that cost under $70 for the whole week of dinners.
Obviously this type of plan is a little more time-intensive to prepare than previous meal plans, so we won't be posting them on a weekly basis, at least not at the start. Any constructive feedback you can offer as we work out the bugs, is greatly appreciated. You can leave a comment here or email janel(at)lifeasmom(dot)com or jessica(at)lifeasmom(dot)com. Thanks!